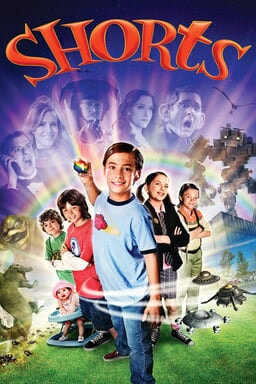 About
Eleven-year-old Toe Thompson is the designated punching bag for the bullies of the suburban community of Black Falls, where his and everyone else's parents work for Black Box Industries, makers of the do-it-all gadget that's sweeping the nation. But during a freak storm, a mysterious Rainbow Rock, which grants wishes to anyone who finds it, falls from the sky.
Suddenly, the neighborhood that Toe already thinks is weird is about to get a lot weirder. As the Rainbow Rock ricochets around the town—from kid to kid and parent to parent—wishes-come-true quickly turn the neighborhood upside down in a wild rampage of everything from tiny aliens to giant boogers.
From Robert Rodriguez, director of Spy Kids, comes a magical fantasy adventure told through a series of shorts that each brings to life the sometimes wonderful, often terrible, and totally out-of-control wishes that become far more than Toe and his neighbors ever imagined.
Shorts stars Jon Cryer, William H. Macy, Leslie Mann, James Spader, Jimmy Bennett, Kat Dennings, Trevor Gagnon, Devon Gearhart, Leo Howard, Rebel Rodriguez, Jake Short and Jolie Vanier.
TM & © 2019 Warner Bros. Entertainment Inc. All rights reserved.