October 6, 2014 at 3:47 PM PDT
And the Winners Were....
Looking Back on Past Emmy Awards
With the 66th Annual Emmy Awards just around the corner (Monday, August 25), we thought we'd take a look back over the decades and check out just a few of the past Emmy winners that now reside in the Warner Bros. Library. We've pulled together a blend of TV Movies, Miniseries and past shows for you to discover (or rediscover!). Enjoy the trip down Emmy Lane....
Maverick
Warner Bros. Television, founded in 1955, scored early hits with iconic westerns like Cheyenne and a few years later with Maverick featuring the late James Garner for the first three seasons. Maverick put WBTV on the Emmy stage with its 1959 win for "Best Western Series."
The Waltons
For nine seasons, starting in 1972, The Waltons became America's family and scored 39 Emmy nominations during its run (including more than a dozen Emmy wins). America finally say "goodnight" in 1981. The Waltons became part of the Warner Bros. family through the acquisition of Lorimar Productions in 1989.
Sybil
Sally Field left the Flying Nun behind with her stunning Emmy-winning performance of Sybil Dorsett, a woman suffering from multiple personality disorder. The miniseries, which won three other Emmys, brought much attention to the issue of multiple personalities upon its release in 1976, and its one-word title would become layman slang for describing patients who suffer from it.
Roots
One of television's defining moments as an estimated 85% of American homes saw all or part of the Roots miniseries when it first aired in January of 1977. Nominated for an astounding 37 Emmy Awards, Roots ultimately won nine of them (including three acting awards for Louis Gossett, Jr., Ed Asner and Olivia Cole). Pictured is Levar Burton in his now-legendary role of African slave Kunta Kinte.
The Gathering
This 1977 TV Movie has become a perennial favorite of those looking for some holiday season tears. Starring Ed Asner as a terminally ill man who tries to make amends to the family he has ignored in lieu of his career, The Gathering was nominated for five Emmys and won for Outstanding Special. Maureen Stapleton received an Emmy nomination for her role as the long-suffering wife.
Dallas
Beginning in 1978 and going on for a staggering FOURTEEN seasons, Dallas was the most popular primetime soap opera the world had ever seen. The late Larry Hagman turned his character J.R. Ewing into the most despised man on the little screen, and who doesn't remember where they were when they first heard the question: "Who Shot J.R.?" All in all, Dallas received 21 Emmy nominations, with only Barbara Bel Geddes winning an acting nod for her role as the Ewing matriarch.
The Thorn Birds
Second only to Roots in miniseries ratings at the time of its airing in 1983, The Thorn Birds featured an astounding cast, led by Richard Chamberlain, Rachel Ward (pictured above), Barbara Stanwyck, Richard Kiley, Piper Laurie, Jean Simmons, Christopher Plummer and Bryan Brown, all of whom received either Emmy or Golden Globe nominations. This epic miniseries set against the sweeping backdrop of the Australian outback tells of the taboo desires between a beautiful woman and an ambitious priest. Nominated for sixteen Emmys, The Thorn Birds ultimately brought six of them home.
Night Court
During its nine seasons, beginning in 1984, the hit sit-com Night Court would receive 31 Emmy nominations. But it was John Larroquette (pictured above in the center of the action) as the cocky Assistant DA Dan Fielding who made the Emmys his personal trophy shop scoring four consecutive "Outstanding Supporting Actor in a Comedy Series" awards.
North and South
This first of three epic miniseries based on the John Jakes bestselling trilogy of novels remains in the Top Ten of highest rated miniseries in television history. Nominated for seven Emmys, North and South rightfully won for "Outstanding Achievement in Costuming" as demonstrated above by Jean Simmons, Patrick Swayze and Lesley-Anne Down.
The Betty Ford Story
Gena Rowlands won the "Outstanding Lead Actress" Emmy (and the Golden Globe) for her riveting portrayal of First Lady Betty Ford who secretly struggled with alcohol and prescription drug abuse, and went on to found the now-legendary addiction clinic better known as the Betty Ford Center.
Murphy Brown
Earning more than 60 Emmy nominations during its ten seasons, Murphy Brown was THE sit-com of the late Eightes/early Nineties, winning eighteen Emmys (and the ire of then Vice President Dan Quayle). In her role as the title character, Candice Bergen alone scooped up five of those Emmys for "Outstanding Lead Actress in a Comedy Series."
My Name is Bill W.
James Woods picked up the Emmy for his performance of Bill Wilson and James Garner picked up an Emmy nomination for his take on Dr. Bob Smith; the two men who co-founded Alcoholics Anonymous. Airing in 1989, My Name is Bill W. received a total of seven Emmy noms.
Babylon 5
The popular sci-fi soap opera Babylon 5 received six Emmy nominations during its five-year run, and, not surprisingly the series picked up its one Emmy win for the innovative makeup artists behind the scenes. Not currently running in syndication, the entire Nineties series and subsequent movies are available on DVD.
ER
Running for fifteen seasons (1994-2009), ER is the longest running primetime medical drama in American television history, during which time it received an unprecedented 124 Emmy nominations, winning 23 of those. George Clooney (pictured above) received two Emmy nominations for his role as Dr. Doug Ross.
Friends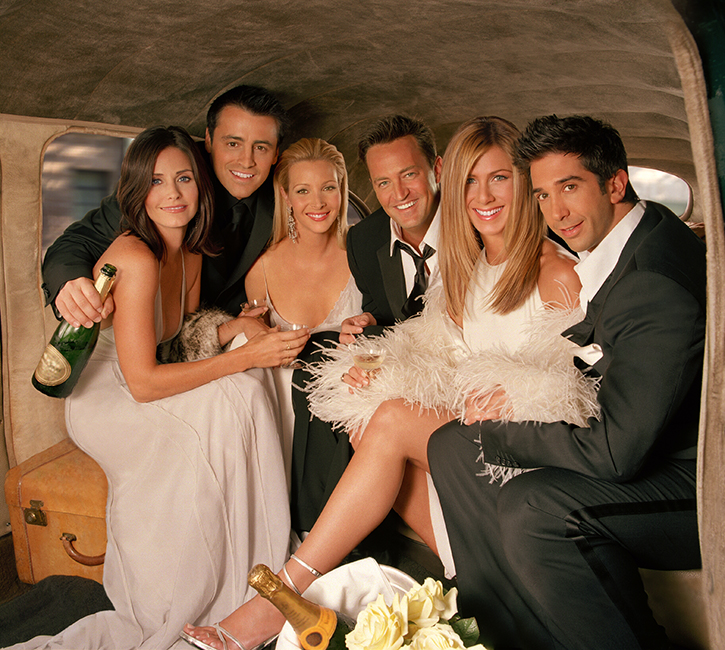 For ten seasons (1994-2004) Friends was much more than a sit-com, resonating with fans in a manner usually reserved for hour-long dramas. With more than 60 Emmy nominations, Friends won six (including ones for stars Jennifer Aniston and Lisa Kudrow). The series finale was the fourth most-watched series finale in history.
The Heidi Chronicles
Jamie Lee Curtis, Tom Hulce and Kim Cattrall starred in this 1995 TV Movie that received four Emmy nominations (and an "Outstanding Supporting Actor" win for Hulce). Based on the Pulitzer Prize winning play about one woman's quest for fulfillment, The Heidi Chronicles is now available on DVD through the Warner Archive Collection.
Stephen King's The Shining
At three times the length of Stanley Kubrick's theatrical version, Stephen King's The Shining took its time to capture all the detailed nuance found the in novel (oh, and it didn't hurt that the author himself penned the script for this miniseries). With three Emmy noms, the miniseries did capture two Emmys including one for "Outstanding Makeup" as illustrated why here.
The West Wing
No show has busted into the Emmys with the force that The West Wing did when it arrived in September of 1999. By winning an unprecedented nine Emmys in its first season, the political drama series simultaneously set the record for "Most Emmy Wins for a Series in its First Season" AND "Most Emmy Wins for a Series in a Single Season." The show would go on to win the Emmy for "Outstanding Drama Series" in its first four seasons, ultimately reaching a total of 26 Emmys wins during its seven-year run (tying the record with Hill Street Blues for most wins by a Drama Series).
The New Adventures of Old Christine
During its five-year run (2006-2010), the sit-com starring Julia Louis-Dreyfus picked up nine Emmy nominations, with the star winning the "Outstanding Lead Actress in a Comedy Series" Emmy in the show's first season. Louis-Dreyfus has subsequently landed two more Emmy wins for her current role in the HBO hit, Veep.
The Closer
With seven Emmy nominations during its seven-year run (2005-2012), The Closer was almost always a bridesmaid, but after four consecutive nomiinations for "Outstanding Lead Actress in a Drama Series," star Kyra Sedgwick (pictured above) was finally able to say, "Thank Ewww" when she won the Emmy with her fifth consecutive nomination. Since the ending of The Closer, most of the cast moved over to the spinoff and current hit TNT series Major Crimes, led by Mary McDonnell.