October 6, 2014 at 10:38 AM PDT
Movies Hot as Summer
Steamy Films Guaranteed to Light Your Fire
With summer in full swing and heat waves splashing down everywhere from Los Angeles to New York, we thought we'd gather together some movies that'll push the mercury even higher! So here are 30 films from the Warner Bros. movie library that will forever raise the passions (and the temperatures) of their viewers. From the naughty to the inexplicable and the romantic to the unnerving, these films are guaranteed to steam up any sized screen.
Body Heat
Lawrence Kasdan's steamy nod to film noir in 1981's Body Heat set audiences aflame with the seductive pairing of Kathleen Turner and William Hurt. The electrifying scene with the teasing Turner and the glass-shattering entrance of Hurt remains a classic. Hell, one only needs to take a look at the pit stains of Hurt's shirt to know the heat was on!
9 1/2 Weeks
In 1986, newcomers Mickey Rourke and Kim Basinger embarked on a controversial cinematic journey detailing a deadly serious game of sexual dominance never captured so compellingly on screen before. With 9 1/2 Weeks, director Adrian Lyne unlocked a door to hidden dreams to show the darker side of fantasy, pain and ecstasy.
Eyes Wide Shut
Back in 1999, director Stanley Kubrick's final film, Eyes Wide Shut, was controversial for a number of reasons. First off, it starred then-married Hollywood couple Tom Cruise and Nicole Kidman as a couple who explore their most hidden sexual desires. Shockingly, Kubrick passed away from a heart attack less than a week after showing the final cut to Warner Bros. executives. And, of course, some post-production magic was worked on the more graphic orgy scenes so the film could be released with an R-rating.
A Streetcar Named Desire
Of the four actors (Marlon Brando, Karl Malden, Vivian Leigh and Kim Hunter) in this classic adaptation of Tennessee Williams' controversial passion-play, only Brando failed to win an Oscar for his sweltering performance - although his passionate (if not overly dramatic) cries of "Stella, Stella, Stella" is one of Hollywood's most memorable, and let's be honest, parodied, moments.
Baby Doll
Five years earlier, director Elia Kazan and writer Tennessee Williams pushed the boundaries depicting passion and possession with A Streetcar Named Desire, but, in 1956, they upped the ante with the controversial Baby Doll, about a child-bride and the two men who lust after her. Not surprisingly, the film earned condemnation by the then-powerful Legion of Decency.
Love & Basketball
While it doesn't feature the big name stars as the other 29 films on this list, nor does it feature gratuitous or controversial sexual scenes or situations, Love & Basketball is one of those romantic tales that seems to have struck a lifelong chord with many fans. Six million Facebook fans can't be wrong, right? Besides the one-on-one b-ball match for clothing is as hot as things can get!
Little Children
Kate Winslet received an Oscar nomination for her portrayal of an unhappily married housewife who finds sexual fulfillment in the arms of the equally unhappily married Patrick Wilson. They may look tame in this photo, but just don't leave these two alone in the basement!
The Hunger
What was in the water in Hollywood during the 1980s? The Hunger is another on our list from the Me Decade, and this one will still pop a button or two from the shirt or blouse of vampire flick lovers. Hypnotic beauty Catherine Deneuve, rock legend David Bowie and Oscar winner Susan Sarandon bring things to a boil in this gothic tale of seduction and immortality.
Red Dust
"Watch those hands, Gable!" Back in 1932, the future Rhett Butler and legendary screen icon Jean Harlow stirred up some Red Dust in this erotic dramedy. The steamy rivalry between Harlow and another Hollywood legend Mary Astor is one for the ages, all helmed by Gone With the Wind director Victor Fleming.
The Postman Always Rings Twice (1946)
Sultry siren Lana Turner and John Garfield take her extramarital affair to a whole new level of sin when they plot to kill her husband. In 1946, bringing James Cain's notorious novel to the screen brought with it much controversy, but the movie-going audience loved it. And 35 years later Hollywood would take another shot at it....
The Postman Always Rings Twice (1981)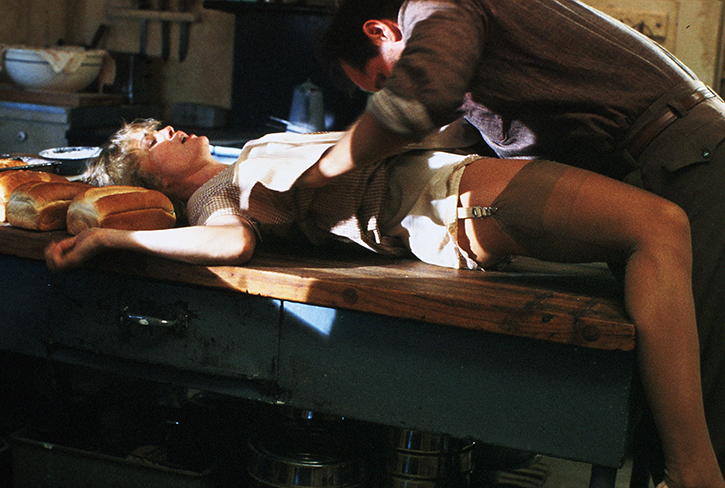 In 1981, Jessica Lange and Jack Nicholson brought new fire and passion to the tale of scheming star-crossed lovers, with the kind of passion and obsession that can melt a brain. But the most important thing we learned from this remake? The kitchen isn't just for cooking anymore.
Dangerous Liaisons
Winner of three Academy Awards and nominated for four others (including "Best Picture"), 1988's Dangerous Liaisons is a twisted romance - dark at its core - but riveting in its seductive brilliance. The entire cast - notably John Malkovich, Michelle Pfeiffer, Glenn Close, and a teenage Uma Thurman in one of her first roles - give memorable performances as 18th Century aristocrats in heat.
Magic Mike
Ten-hut! The gentlemen of Xquisite Strip Club perform a patriotic, shall we say, "interpretive dance" in 2012's hit Magic Mike. The film was loosely based on Channing Tatum's past experience as a stripper. Tatum returns in Magic Mike XXL in July 2015. Ladies, start saving your roll of singles now.
Lolita
Nearly 40 years before he directed the sexually explosive Eyes Wide Shut, Stanley Kubrick somehow brought Vladimir Nabokov's controversial novel, Lolita, to the big screen in 1962. While Kubrick's dark comedy-drama about a middle-aged man's obsession with a teenage girl ruffled more than a few feathers at the time (and still does to this day), it was nevertheless a box-office and critical hit. Then 14-year-old Sue Lyon (pictured with James Mason) picked up a special Golden Globe for her performance in the title role.
Klute
"I love inhibitions because they're so nice to get rid of," says Jane Fonda in her Oscar-winning role of New York call girl Bree Daniels in 1971's Klute. And filmmaker Alan J. Pakula seems to have felt the same way as he directed this taut suspense-thriller of a high-priced prostitute stalked by a psycho, with Donald Sutherland as the private eye who stumbles into the mystery.
10
Dudley Moore and newcomer Bo Derek claimed superstardom with Blake Edwards' hit 1979 comedy, 10, which brought the sexist rating scale of women into the mainstream American lexicon. Derek became an instant sex symbol and the use of Maurice Ravel's "Bolero" in the key encounter between Moore and Derek led to Ravel becoming a best-selling classical composer decades after his death.
Femme Fatale
Audience reaction to this Brian DePalma erotic thriller from 2002 was wide-ranging (there was no real middle ground on opinions), but most will agree that Femme Fatale was one of the steamiest films in the 2000s, and, let's face it, Antonio Banderas and Rebecca Romijn aren't exactly hard on the eyes.
Love in the Time of Cholera
Yeah, we know the movie is based on a Pulitzer Prize winning novel of the same name, but keeping the name of an intestinal disease that causes such fun as diarrhea, vomiting and even death in the title of a romance movie is probably not the best call. Critics largely annihilated the film, but there are plenty of fans who consider the 50-year love triangle between Javier Bardem, Giovanna Mezzogiorno and Benjamin Bratt to be quite... shall we say, "intoxicating"?
Dangerous Beauty
Based on the true story of 16th Century courtesan Veronica Franco, who used her brains, her wit AND her body to influence many of the most powerful men in Europe, Dangerous Beauty features compelling performances that are as seductive as the film itself.
A Very Long Engagement
Released in 2004, A Very Long Engagement is a strong anti-war statement set in France during World War I, but, at its heart, the film follows the undying romance between Audrey Tatou and Gaspard Ulliel with plenty of sexually-charged scenes that bring it to our list.
Risky Business
"Sometimes you just gotta say, 'What the F#@k.'" And with those words, newcomer Tom Cruise burst into stardom with this.... his first starring role. Funny, sexy and smart, Risky Business remains an iconic film of the 1980s, as the timeless nature of those awkward teenage blues still resonate today. And the sweltering scenes between Cruise and Rebecca De Mornay definitely don't hurt that legacy.
Boogie Nights
Surprise! A dark dramedy about the porn industry in the 1970s has a lot of suggestive sex scenes to go along with the laughs and heartbreak. Plus there's a who's who of young talent in the earlier part of their careers, including Mark Wahlberg, Heather Graham and the late Philip Seymour Hoffman. Not to mention the more experienced talent like Burt Reynolds who picked up a Golden Globe Award and an Oscar nomination, as did Julianne Moore.
True Romance
An exhilarating dark comedy adventure from the pen of Quentin Tarantino, 1993's True Romance has only grown in popularity since its release, largely due to the fiery sexual chemistry between Christian Slater and Patricia Arquette (don't forget they received an MTV Award nomination for "Best Kiss").
The Year of Living Dangerously
The heat of revolution is in the air of Indonesia in 1965, but it's also found within the budding relationship between an Australian reporter (Mel Gibson) and a British attache (Sigourney Weaver). While Gibson and Weaver ignite bedroom sparks in this 1983 film, it was Linda Hunt's portrayal of male reporter Billy Kwan that won the Oscar.
Disclosure
This cinematic adaptation of Michael Crichton's novel of the same name starred Michael Douglas and Demi Moore (trust us, that's them in the above photo) in this sexually-charged look at sexual harassment in the workplace, albeit with a twist. Grossing over $200 million worldwide, Disclosure was a huge success and remains topical to this day.
Natural Born Killers
In 1994, Oliver Stone created two outlaws - Mickey and Mallory (Woody Harrelson and Juliette Lewis) - who were so twisted that they made Bonnie Parker and Clyde Barrow look like kids in a sandbox. Their view of everything, including sex, was through a violent prism that only they could relate to. Disturbing in both its visuals and its message, it remains Stone's most controversial film.
The Notebook
Nicholas Sparks is the king of the modern-day romantic novel, but none has resonated on film as much as 2004's The Notebook, due in no small part to the electrifying chemistry of Rachel McAdams and Ryan Gosling. The anticipation of their relationship finally boiling over into unbridled passion is passionate perfection.
The Painted Veil (1934)
Greta Garbo sizzles as an unhappily married woman who accompanies her medical researcher husband (Herbert Marshall) to China where she soon thrusts herself into a love triangle with George Brendt. With an at-the-time staggering budget of more than $1 million, Garbo's intensity and sensuality outshines the opulent visuals.
The Witches of Eastwick
Jack Nicholson gave a tour-de-force performance as a "horny little devil" in the 1987 hit comedy, The Witches of Eastwick, but what man wouldn't be when he has Susan Sarandon, Michelle Pfeiffer and Cher all attempting to seduce him. Another sexy entry from the 1980s.
Striptease
Demi Moore plays a divorced mother who takes up the life of a professional stripper as a means to raise money to fight her child custody battle with her ex in this offbeat comedy/drama. Unfortunately, and despite strong performances from Moore, Burt Reynolds and Ving Rhames (and some scintillating scenes) Striptease resulted in more viewers laughing AT the movie rather than WITH it.