October 6, 2014 at 9:40 AM PDT
Sharp Dressed Men
Saluting Those Who Upped the Dress Code on the Silver Screen
It's been 30 years since ZZ Top's classic hit, but everyone is still "crazy 'bout a sharp dressed man." Whether it's silk suits, black ties, gold watches, diamond rings, cuff links or stick pins, we've seen it all in the Warner Bros. movie library over the past 90 years. Here's just a few of the Sharp Dressed Men who have upped the dress code on the Silver Screen and be sure to share your favs as subtle fashionista advice to the man in your life.... couldn't hurt!
Added by popular demand! On the subject of style Cary Grant wrote in the the Winter 1967/68 edition of GQ, "...simplicity, to me, has always been the essence of good taste." Here he showcases his easygoing elegance in this publicity photo for The Philadelphia Story (1940).
Grace and athleticism leaping through the air in a tuxedo! Fred Astaire always looked simply impeccable on-screen and off, as seen here in the role of Don Hewes from Easter Parade (1948), which was the highest-grossing musical of the year.
From director Clint Eastwood comes the big-screen version of the Broadway hit, Jersey Boys! Here John Lloyd Young stars as Frankie Valli. Frankie may be best known for his unique falsetto but his on-stage fashion sense hit a high note as well.
Speaking of Mr. Eastwood... Many may know him as Dirty Harry but not many men could have looked so good while dealing with such bads guys -- punks and all -- as Clint did portraying Inspector Harry Callahan in five films.
One of the baddest guys on film but sartorially the most intriguing? The Joker. He wore bespoke suits and played with patterns and textures and bold colors. The makeup was maybe a bit much.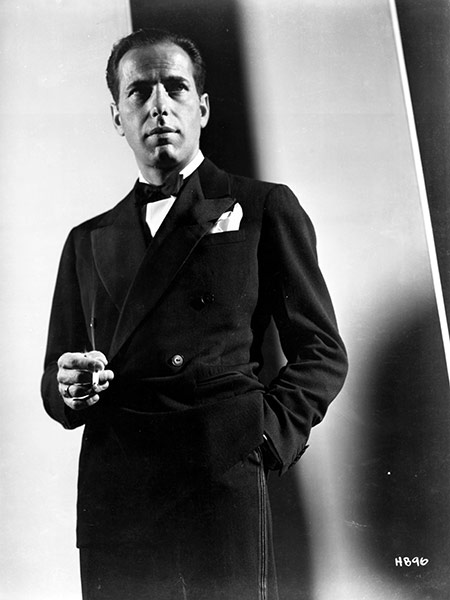 Often imitated, never duplicated. Humphrey Bogart is the quintessential gentleman of Hollywood's Golden Age. Best known for his trench coat and fedora, he cut just as striking a figure in a tux in this publicity shot for Casablanca.
Atta'boy, Gatsby. Catherine Martin won an Oscar for best achievement in costume design for The Great Gatsby. Collaborating with Brooks Brothers and Prada, how could she lose?
Looking quite "Gatsby-like" himself, Clark Gable poses with a custom built Jensen during the production of Parnell in 1937. Even then, your wheels were everything.
A sharp dressed man can give you the shirt off his back and STILL look good! Antonio Banderas as Nestor Castillo and Armand Assante as Cesar Castillo in 1992's The Mambo Kings.
Desi Arnaz fills up the tank to his motor home while wearing a suit and tie (doesn't everyone?) in this still from The Long, Long Trailer. He was later portrayed by his son, Desi Arnaz Jr., in The Mambo Kings.
Life in a turn-of-the-century western mining town was harsh and unforgiving. In Robert Altman's McCabe & Mrs. Miller, Warren Beatty manages to make harsh and unforgiving look good.
While the late '70s and early '80s may not have been our best moment stylistically, cowboy boots and jeans are timeless. Ben Affleck and Alan Arkin pictured in the retro fashion era of Argo, winner of three Academy Awards including "Best Picture."
A sharp dressed man's best accessory? A chin dimple (and some pomade), as demonstrated by Robert Mitchum in 1944's film noir masterpiece, Betrayed.
John Shaft (Richard Roundtree) is looking like a bad mother in a velvet and satin tux in this publicity photo from the 1971 box-office hit, Shaft.
Cutting quite the figure in a glen plaid three-piece suit, James Cagney, perhaps best remembered as the classic Hollywood gangster, played federal agent James "Brick" Davis in the 1931 classic, G Men.
Proving that those three-piece suits never go out of style, Ken Watanabe starred in Inception nearly 80 years later in something strikingly similar.
Not sure if Ryan Gosling is taking pointers from the mannequin or the mannequin is taking pointers from Ryan Gosling. Either way, it works.
Bing Crosby and Louis Armstrong look every bit the title of their 1954 film, High Society, which co-starred another sharp-dressed legend, Frank Sinatra.... but we'll get to him later.
Masked Watchmen vigilante Rorschach is best known for his trenchcoat, matching fedora and, of course, ink blot mask. Scary dark alley is optional.
A dog, a football, the beach, those chinos. Robert Redford looks positively presidential, or at least senatorial, in this shot from The Candidate in 1972.
He made a pair of jeans, a white t-shirt and a red zip-up into one of the most iconic looks of the 1950s, and has never really gone out of style. Simply put: James Dean in Rebel Without a Cause.
Don't forget that good underwear is just as important as good outerwear! Paul Newman certainly didn't in 1966's hit, Harper.
One of Hollywood's most iconic figures, John Wayne was long a fashion statement when it came to big screen cowboys, including this colorful outfit from 1970's Chisum.
And always remember to try and keep your fashion sense age-appropriate. Zac Efron (as Matthew Perry) struggled with that in 17 Again from 2009.
And then there's the granddaddies of style: the Rat Pack. Frank Sinatra, Dean Martin, Sammy Davis Jr., Peter Lawford and Joey Bishop pose outside the Sands Hotel and Casino during production of 1960's Ocean's 11.
And we can't forget Emmet, the Lego-constructed star of this year's blockbuster hit, who proved that you don't have to be a member of the Village People to pull off the sexy construction worker look.
But at the end of the day doesn't it all just come down to this? Edward G. Robinson, back in 1948, as Johnny Rocco in Key Largo.