October 6, 2014 at 1:50 PM PDT
The World Cup Alternative
Sports Films For You Non-Soccer Fans
Are you a mega-sports fan, but not one of the millions around the globe who are caught up in the World Cup? Been avoiding the water cooler until the soccer madness ends? If so, we've got some movie-going sports tips to get you through the next few weeks. We dug through the formidable Warner Bros. film library and pulled out 20+ sports-themed movies to spotlight (along with their original theatrical trailers to watch!); everything from major Oscar winners and overlooked critical favs to iconic comedies and a few guilty sports pleasures from the '70s and '80s. Definitely something for everyone! Play on....
Invictus
Okay, it's not about soccer, but it is about the World Cup (in 1995). Doesn't matter anyway since director Clint Eastwood scored a major goal with this true story based on South African leader Nelson Mandela's commitment to use South Africa's rugby team at the World Cup to instill national pride across the nation.
Kansas City Bomber
Ever wish that you could go back in time when Roller Derby was the WWF of today? Well, at the height of Roller Derby's popularity in 1972, Raquel Welch strapped on some wheels and brought all the speed, fabricated drama and what soccer fans call "embellishment" to the big screen. A fun look back at a bygone era, courtesy of the Warner Archive Collection.
Chariots of Fire
Winner of the "Best Picture" Oscar back in 1981, the Brits scored big with this true story about two runners competing in the 1924 Olympics. Also features one of cinema's most iconic music scores, courtesy of Vangelis who picked up the Oscar as well.
The Blind Side
How about a true story of an athlete who's actually still playing! Sandra Bullock earned an Oscar for her performance as Leigh Anne Tuohy, whose well-to-do family brought a homeless African-American teenager, Michael Oher, into her family. Oher would go on to become an All-American offensive tackle in college and currently plays with the Tennesse Titans of the NFL.
Caddyshack
This comedy with balls remains one of Hollywood's most popular sports movies (even if the fairways and greens play second-fiddle to the outrageous behavior on and off the course). A stone-cold classic, a hole-in-one, a birdie.....you get the idea. The late great Harold Ramis' directorial debut is as timeless as the game of golf itself.
Space Jam
Fans of both basketball and animation remember November 14, 1996 as if it was yesterday. That's right, the very day that His Airness (Michael Jordan) and His Hareness (Bugs Bunny) joined forces on the hard court to play hoops with alien invaders. Jordan is joined by other NBA legends Patrick Ewing and Charles Barkley, not to mention an all-star lineup of Looney Tunes superstars. Still a slam dunk in the game of family viewing. Need more convincing? Visit Buzzfeed's "35 Facts That Prove 'Space Jam' Is Criminally Underrated."
Grand Prix
Director John Frankenheimer's triple Oscar winner Grand Prix starred James Garner and Eva Marie Saint, but it was the director's groundbreaking split-screen and POV camera work that makes this film as powerful today as it was in 1966. Buckle up!
42
The gripping story of two men who not only changed the game of baseball, but also a nation. Chadwick Boseman is Jackie Robinson, the first African-American to break the color barrier in major league baseball. Harrison Ford gives a powerful performance as Brooklyn Dodger General Manager Branch Rickey, who made it happen. A modern-day cinematic sports classic.
Million Dollar Baby
Winner of four Academy Awards, including "Best Picture," "Best Director" (for Clint Eastwood), "Best Actress" (for Hilary Swank) and "Best Supporting Actor" (for Morgan Freeman), Million Dollar Baby is a fascinating and original take on cinema's collective foray into the boxing ring. Controversial upon release (no spoiler here), Million Dollar Baby is one of a kind.
Without Limits
In one of cinema's most overlooked sports films, Billy Crudup stars as legendary American distance runner Steve Prefontaine as the movie explores his relationship with his coach and future Nike co-founder Bill Bowerman (Donald Sutherland). A major critical hit, Without Limits is now available through our very own Warner Archive Collection.
American Anthem
We've also dug out some guilty pleasures from the WB sports vault, including this 1986 melodrama starring four-time Olympic gymnastic medalist Mitch Gaylord as.... well, a gymnast. Directed by Albert Magnoli of Purple Rain fame means you also get a heavy dose of synth-laden 1980s music. Call it Fame with a pommel horse!
We Are Marshall
Matthew McConaughey gives a memorable performance as real-life coach Jack Lengyel, who takes over the 1970 football team of West Virginia's Marshall University only months after a plane crash killed 37 players and the entire coaching staff, save one. A riveting true story of tragedy turned to triumph.
Jim Thorpe: All American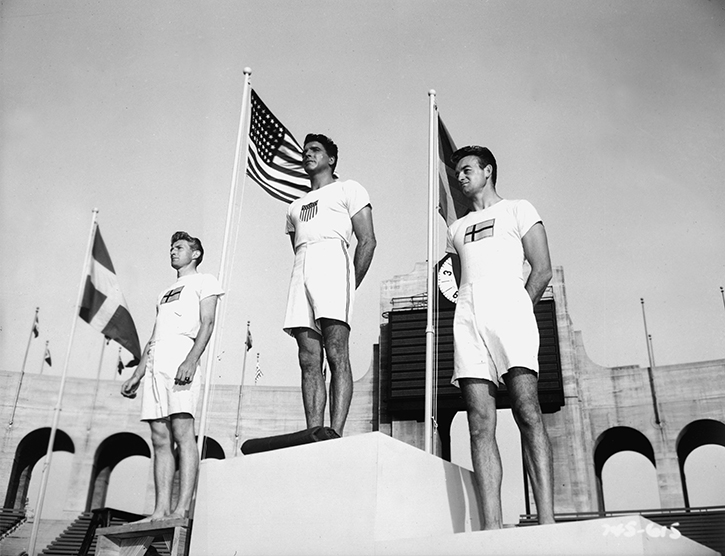 Directed by Michael Curtiz (Casablanca), Oscar winner Burt Lancaster portrayed the legendary athlete who was not only an Olympic champion but also a professional baseball, football and basketball player. Charles Bickford plays Thorpe's coach and mentor (and future peewee football league namesake) Pop Warner.
Personal Best
Mariel Hemingway and real-life track star Patrice Donnelly play two athletes competing for a spot on the 1980 U.S. Olympic team while also living a romantic relationship. The 1982 movie broke new ground as one of the first films to give a sensative portrayal of a gay relationship.
Vision Quest
Take a little of Flashdance kitch, a glimpse of budding superstar Madonna and a dash of wrestling mat sweat and you've got 1985's Vision Quest. Matthew Modine is a high school wrestler struggling with the awkward teenage blues and the state's top wrestler, the undefeated Shute. Like most 1980s teen flicks, the soundtrack is also a key player.
Knute Rockne All American
The bio-pic of legendary Notre Dame gridiron coach Knute Rockne with Pat O'Brien in the title role and future U.S. President Ronald Reagan in his most memorable role as George Gipp, the talented yet ill-fated Fighting Irish halfback, who utters one of cinema's most famous lines: "Win just one for the Gipper."
Cobb
Ty Cobb was as much detested as he was respected. The first player inducted into the Baseball Hall of Fame, he played the game like he was at war and he left many victims in his wake. Oscar winner Tommy Lee Jones portrays Cobb in this acclaimed film from director Ron Shelton of Bull Durham fame.
Any Given Sunday
Oliver Stone has never been accused of being a subtle filmmaker, so when he took aim at the rough and tumble world of professional football with Any Given Sunday, the MTV-like editing and ear-shattering volume were expected but Stone pushed the envelope even further (ever see an eye pop out of a player's head during a game?). Love it or hate it, you can't ignore it.
National Velvet
When you think sports, you automatically think Elizabeth Taylor and Mickey Rooney....NOT! But in this family fav, that's what you get when twelve-year-old Taylor and her jockey pal Rooney turn an unruly horse into a champion. Winner of two Academy Awards, including "Best Supporting Actress" for Anne Revere, who plays Taylor's mother. 
Grudge Match
Sylvester Stallone and Robert De Niro are forever remembered as the stars of two of Hollywood's greatest boxing films - Rocky and Raging Bull - but some 30 years later they got in the ring together for a bout with comedy that definitely scored with a few jabs to the funny bone.
The Replacements
Very loosely based on the 1987 NFL players' strike, Keanu Reeves plays a failed quaterback who is given another chance as a "replacement" player who crosses the picket line. Gene Hackman is the coach who must turn a team of wannabes into champions.