February 26, 2015 at 4:30 PM PST
SXSW Arrives in March
March 13-22 in Austin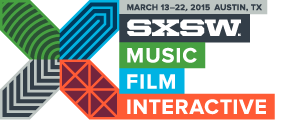 This year's SXSW event is ramping up and we know there's a lot to do once you get there, but we're hoping you'll stop by some of the panels, screenings and award presentations that feature members of our greater Warner Bros. family. Here's a quick schedule of events happening this year, so drop by and say hello.
Saturday, March 14
7:00pm
SXSW Gaming Awards take place and our own blockbuster game Middle-earth: Shadow of Mordor is up for five awards, including "Video Game of the Year." The other nominations are for "Excellence in Gameplay," "Excellence in Animation," "Excellence in Technical Achievement" and "Excellence in Design and Direction."
Monday, March 16
11:00am
Peter Girardi from Warner Bros. Animation will be one of the panelists at the Breaking the Fourth Wall In the Digital Age discussion. So if you're curious about the future of entertainment and technology's role in bringing the audience further into the experience, this one's for you.
1:00pm
If you're looking for a sneak peek at one of television's most unique new series, iZombie will screen its first episode for attendees before its March 17 premiere on The CW.
7:00pm
Later that night, our upcoming new comedy, Get Hard, starring Will Ferrell and Kevin Hart, will be presented in a special screening before it hits theaters for the rest of us on March 27.
Tuesday, March 17
3:30pm
In the mood for more laughs? May we suggest a visit to A Conversation with the Cast of Undateable featuring the cast from the sit-com, which airs on NBC. With a main cast of stand-up comedians, this panel promises to be a fun one indeed. Cast members Chris D'Elia, Brent Morin, Ron Funches and Rick Glassman will be joined by the show's executive producer Bill Lawrence.
In addition, Lawrence and the four comedians are taking things on the road to the following cities after SXSW:
3/20/15 - Las Vegas, NV; House of Blues
3/22/15 - Detroit, MI; The Magic Bag
3/23/15 - Chicago, IL; Vic Theatre
3/26/15 - Ft. Lauderdale, FL; Fort Lauderdale Improv
3/27/15 - Orlando, FL; Hard Rock Live Orlando
3/29/15 - Atlanta, GA; Atlanta Improv
3/30/15 - Charlotte, NC; The Comedy Zone
3/31/15 - New York, NY; Carolines on Broadway
Click here for ticket information and additional dates.