March 23, 2015 at 1:48 PM PDT
35 From '39
The Golden Year of Movies in Review
It's been more than 75 years since 1939, the year that has long been called the greatest year of movies by film buffs and historians alike. So what made that single year so special? Or is this just another case of revisionist history?
When it comes down to it, 1939 landed in what could only be described as a perfect storm for the Hollywood film industry. Estimates are that 85 million movie tickets were purchased by Americans each and every week that year, and that's when there were only 130 million people living in the country. 
Film buffs have declared 1939 as the greatest year for movies so many times that it's seen as historical fact, rather than just a widely accepted opinion. And no wonder: in 1939, the ten movies nominated for Best Picture include landmark classics in so many genres that it makes your head spin." — Michael Giltz, Huffington Post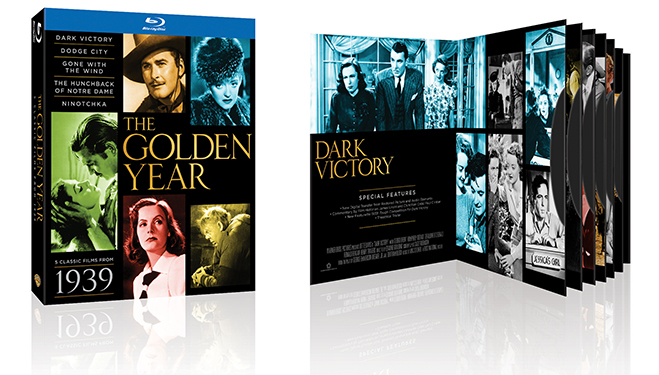 Of course, 1939 predated television, videogames, and the multitude of entertainment options that do battle with today's movie industry. And because of this immense public demand for a never-ending flow of new movies the 1939 film studios were at the apex of churning out product like a celluloid assembly line. It didn't hurt that the "studio system" was in full force, or, as Ty Burr wrote in the Boston Globe in 2009: "All the cogs were in place for streamlined assembly: writers in their bungalows, actors held to seven-year contracts, hair and makeup departments that processed actors like cheese. The keys were quality control and constant production in 1939."
While estimates of the number of films released in American theaters in 1939 range from 500 to 700, whatever the actual number, audiences were getting ten to fifteen new movies each week. And only in the days of that studio system would a cinematic icon like Bette Davis and a popular young Mickey Rooney both star in four movies that one year (Humphrey Bogart appeared in seven!) or would Victor Fleming direct two of the year's "Best Picture" nominees (Gone With the Wind and The Wizard of Oz). Stories such as these are endless when it comes to evaluating 1939, and, something that is unlikely to ever happen again because of the systematic changes to the industry itself over the past 70-plus years.
[1939] was an impressively productive year. Today movie buffs still marvel at the cosmic alignment that blessed Hollywood in 1939, resulting in the release of so many films now revered as classics, all in one dazzling year." — Lisa Schwarzbaum, Entertainment Weekly
There were other factors that came into play in making 1939 such a special year for the industry and the audience. "There was an embarrassment of riches in 1939, that's for sure. When you look at the number of great films released, there just isn't another year comes close to it," Ron Haver, the then-director of the film department at the Los Angeles County Museum of Art, told the L.A. Times in 1989. "An awful lot of accidental things came into play that year. Nazism had driven a lot of refugee filmmakers over here, creating a great confluence of talent. There was a great spirit of nationalism in the country. Americans were reinvigorated after the Depression, and the movie industry was at its absolute peak in its ability to hold its audience."
Much of that talent was coming in the area of the script, now also being written by playwrights and novelists, often bringing more compelling depth to the movies, and audiences ate it up.
For a wide array of reasons—aside from the films themselves—1939 was indeed a unique and magical year in filmmaking. Of course, not all of the seemingly endless number of films released that year are deemed "classics" today, but the sheer breadth and the wide-ranging scope of releases is truly breathtaking. So we celebrate by taking a look at 35 movies from 1939 that reside in the Warner Bros. Film Library and are available for viewing today.
GONE WITH THE WIND
Released December 28, 1939
Starring Clark Gable, Vivien Leigh, Olivia de Havilland, Leslie Howard, Hattie McDaniel

Arguably the most popular and famous movie of all-time, Gone With the Wind's legacy spans generations of movie fans the world over. The saga of Rhett Butler and Scarlett O'Hara has defined cinematic romance for more than 75 years, and shows no signs of slowing.
THE WIZARD OF OZ
Released August 25, 1939
Starring Judy Garland, Ray Bolger, Frank Morgan, Margaret Mitchell, Bert Lahr, Jack Haley

While The Wizard of Oz was a decent success upon its initial release and an Oscar nominee for "Best Picture," no one in 1939 could have predicted the impact that the film would have on the American landscape in the years since its theatrical debut. Starting in 1959, The Wizard of Oz became an annual family event on television for more than 30 years, and the film's popularity continues to this day.
NINOTCHKA
Released October 6, 1939
Starring Greta Garbo, Melvyn Douglas, Ina Claire, Bela Lugosi

Greta Garbo, the former silent screen star who successfully made the transition to "talkies" with her Oscar-nominated role in 1930's Anna Christie, finally tried her hand at comedy in this 1939 classic whose promotional campaign included the phrase: "Garbo Laughs!" Audiences around the world laughed as well. Oddly enough, Garbo would act in only one other film before retiring from acting at the age of 35. She never performed again even though she was 84 when she passed in 1990.
CONFESSIONS OF A NAZI SPY
Released May 6, 1939
Starring Edward G. Robinson, George Sanders, Francis Lederer, Paul Lukas

With this 1939 spy thriller, Warner Bros. became the first major movie studio to produce a strong anti-Nazi film. Screen legend Edward G. Robinson stars as an FBI agent who takes on the espionage activities of people within the German-American community in the United States.  
DARK VICTORY
Released April 22, 1939
Starring Bette Davis, George Brent, Humphrey Bogart, Geraldine Fitzgerald, Ronald Reagan

Davis received an Oscar nomination for her performance as a young, hard-living socialite stricken with a terminal brain tumor who must decide how to live out the rest of her life, and who to live it with (Brent and Bogart). Dark Victory remains a powerhouse drama, which was also nominated for "Best Picture."
THE HUNCHBACK OF NOTRE DAME
Released December 29, 1939
Starring Charles Laughton, Maureen O'Hara, Cedric Hardwicke, Edmond O'Brien

The second film adaptation of Victor Hugo's 1831 novel (and the first in the talkie era), The Hunchback of Notre Dame was a very expensive film to make by 1939 standards (hey, it's not cheap building Paris and the Notre Dame Cathedral on a movie set!), but it was also very popular upon its release. Laughton's performance as the deformed Quasimodo is one for the ages.  
DODGE CITY
Released April 8, 1939
Starring Errol Flynn, Olivia de Havilland, Ann Sheridan

One of the highest-grossing movies of this incredible year of filmmaking, Dodge City tells the tale of one man (Errol Flynn) who reluctantly takes on the role of sheriff in a violent and lawless town. Previously a swashbuckler on the high seas, this was Flynn's first foray into the western genre and a successful one at that. It didn't hurt that audiences also got to see the romantic chemistry between Flynn and the beautiful Olivia de Havilland. 
GOODBYE MR. CHIPS
Released July 28, 1939
Starring Robert Donat, Greer Garson, Terry Kilburn, Paul Henreid

Robert Donat picked up the Academy Award for his role as a school teacher and head master of a British boarding school, who reflects on his life and career over the years (his character ages more than 60 years in the film). Nominated for seven Oscars, including "Best Picture," Mr. Chips ran up against the juggernaut that was Gone with the Wind which picked up five of the six remaining Academy Awards in which both were nominated.
THE WOMEN
Released September 1, 1939
Starring Norma Shearer, Joan Crawford, Rosalind Russell, Joan Fontaine

Directed by George Cukor (who was also an uncredited director for The Wizard of Oz and Gone with the Wind during this same year), The Women was groundbreaking in that no male actors are seen and all of the 100-plus speaking roles were those of women. Despite being shut out at the Academy Awards, The Women has only grown in stature since its release.
AT THE CIRCUS
Released October 20, 1939
Starring the Marx Brothers, Eve Arden, Margaret Dumont

The ninth full-length feature from the legendary Marx Brothers (Groucho, Chico and Harpo), At the Circus follows the trio as they attempt to save a circus from bankruptcy.
ANOTHER THIN MAN
Released November 17, 1939
Starring William Powell, Myrna Loy, Virginia Grey, Ruth Hussey, Otto Kruger

The third installment of the enormously popular crime-based comedy franchise starring William Powell and Myrna Loy as Nick and Nora Charles, the married crime-solving couple. In all there were six Thin Man films featuring the enormously popular screen duo. 
THE ADVENTURES OF HUCKLEBERRY FINN
Released February 10, 1939
Starring Mickey Rooney, William Frawley, Walter Connelly

Teenage mega-star Mickey Rooney was a busy boy in 1939, starring in four films, including this adaptation of Mark Twain's classic coming-of-age novel. So popular was Rooney, it's been said that MGM bought the rights to the novel specifically as a starring vehicle for the pint-sized actor. 
BACHELOR MOTHER
Released August 4, 1939
Starring Ginger Rogers, David Niven, Charles Coburn, Frank Albertson

A big box office hit and nominated for "Best Screenplay," Bachelor Mother starred Ginger Rogers and David Niven in a comedy filled with mistaken identities after a woman momentarily picks up an abandoned baby and is soon thought to be the child's mother. Rogers also starred in another popular 1939 comedy, Fifth Avenue Girl. 
EACH DAWN I DIE
Released August 19, 1939
Starring James Cagney, George Raft, George Bancroft

James Cagney stars as a reporter who is framed and sent to prison for a crime he didn't commit. As his journalist colleagues investigate the crime to free him, Cagney becomes involved with a "lifer" (George Raft in a memorable performance) who has ambitions of freedom himself. The movie was a smash hit and remains one of Warner Bros. most popular gangster films of that era.  
ON DRESS PARADE
Released November 18, 1939
Starring the Dead End Kids

The last of the seven Warner Bros. movies starring the Dead End Kids (a troupe of young New York actors) was also the first one to feature the "Kids" without support from top actors as had been the case previously when they were featured alongside such notables as James Cagney and Humphrey Bogart.  
ALLEGHENY UPRISING
Released November 10, 1939
Starring Claire Trevor, John Wayne, George Sanders

Stars John Wayne and Claire Trevor also appeared in the much more memorable western Stagecoach this same year, but this true story of James Smith, an American frontiersman coping with British rule during America's colonial days, is a diamond in the rough. While not a box office success, it's still a surprisingly fast-paced adventure western, especially for its era. 
GUNGA DIN
Released February 17, 1939
Starring Cary Grant, Douglas Fairbanks, Jr., Victor McLaglen, Sam Jaffe, Joan Fontaine

How's this for a tagline: "Armies and elephants! Love and laughter! Breathless adventure inspired by Kipling's heroic odyssey of fighting in India! Astride its eye-staggering scenes, three lusty sons of the sword reckless in love, ruthless in war and dauntless in peril!" That pretty much says it all, and add in the notable cast and two-time Oscar winning director George Stevens for a film that never grows old.       
JUAREZ
Released April 24, 1939
Starring Paul Muni, Bette Davis, Brian Aherne, Claude Rains, John Garfield

This epic historical drama is based on the largely forgotten story that took place during the American Civil War, in which the U.S. government was temporarily unable to enforce the Monroe Doctrine so Emperor Napoleon III took steps to install his own puppet ruler in Mexico to replace Mexico's president Benito Juarez. Warner Bros. spared little expense on the production with more than one thousand players and an eleven-acre replica of Mexico created in Southern California.
IN NAME ONLY
Released August 18, 1939
Starring Carole Lombard, Cary Grant, Kay Francis, Charles Coburn

A popular romantic drama featuring screen legends Cary Grant and Carole Lombard showed Lombard shedding her screwball comedy persona (which made her the highest-paid Hollywod actress of the era) in this tale of an unhappily married man who falls in love with a widow. Unfortunately for him his scheming wife refuses to divorce him and turns his family against him. Excellent performances from the impressive cast.
FIFTH AVENUE GIRL
Released September 22, 1939
Starring Ginger Rogers, Walter Connolly, Verree Teasdale

A very popular box office hit, this romantic comedy about a neglected husband and business owner who hires the out-of-work Rogers to pretend to be his mistress as a way to stir things up at home and at his company. The results make for a twisted farce of fun.
THE RETURN OF DOCTOR X
Released December 2, 1939
Starring Humphrey Bogart, Dennis Morgan, Wayne Morris, Rosemary Lane

When it comes to the legendary Humphrey Bogart, one doesn't ever think of horror or sci-fi flicks, but in 1939 Bogie did star as the title character in this horror mystery about a doctor who must kill to consume a rare blood type in order to survive. Not surprisingly, Bogart didn't think much of the movie, but it's still a fun look at one of Hollywood's true legends playing against type.
KING OF THE UNDERWORLD
Released January 14, 1939
Starring Humphrey Bogart, Kay Francis

Just one of SEVEN films that Bogie appeared in during 1939's slew of releases, King of the Underworld features Bogart, who was still a couple of years away from two of his most famous roles (1941's The Maltese Falcon and 1943's Casablanca), as an inept crime don who is ultimately brought down by a woman out for revenge.
MAISIE
Released June 22, 1939
Starring Ann Sothern, Robert Young, Ruth Hussey, Ian Hunter

Originally set to star Jean Harlow, Ann Sothern took the title role after Harlow died in 1937. The first of what would become ten Maisie films that would run through 1947, Maisie was a popular comedy about "the explosive blonde" with a heart of gold.
IDIOT'S DELIGHT
Released January 27, 1939
Starring Clark Gable, Norma Shearer, Charles Coburn, Joseph Schildkraut, Burgess Meredith

Rhett Butler was not the only role Clark Gable played in 1939, in fact he even did a bit of singing and dancing in this dramedy about a vaudevillian and his troupe who are stranded in a European hotel at the very outset of World War II. Shearer is a mysterious Russian woman who may or may not be a previous acquaintance of Gable.
THE OLD MAID
Released September 2, 1939
Starring Bette Davis, Miriam Hopkins, George Brent, Donald Crisp

A drama set during the Civil War features impressive performances from Davis and Hopkins about the trials and tribulations of two cousins over a period of several decades. While The Old Maid has been overshadowed by the three other films Davis made in 1939, it remains one of her biggest box office hits.
ON BORROWED TIME
Released July 7, 1939
Starring Lionel Barrymore, Cedric Hardwicke, Beulah Bondi

One of many hit plays brought to the screen in 1939, On Borrowed Time is a fantasy drama about an aging couple (Barrymore and Bondi), their orphaned grandson, and the role death plays in all our lives. 
IT'S A WONDERFUL WORLD
Released May 19, 1939
Starring Claudette Colbert, James Stewart, Guy Kibbee

A breezy screwball comedy mystery featuring two of Hollywood's favorites of the era, Claudette Colbert and James Stewart, It's a Wonderful World features Stewart as a bumbling private eye who finds himself wrongfully convicted in a murder investigation. After escaping custody, he crosses paths with Colbert and romantic sparks fly as they look for the real killer.
THE OKLAHOMA KID
Released March 11, 1939
Starring James Cagney, Humphrey Bogart, Rosemary Lane, Donald Crisp, Ward Bond

For the first time in his career James Cagney entered the Old West starring in The Oklahoma Kid. His on-screen nemesis was the yet-to-be-superstar Humphrey Bogart, who has turned the town of Tulsa into his own corrupt playground.
THE ROARING TWENTIES
Released October 23, 1939
Starring James Cagney, Priscilla Lane, Humphrey Bogart, Gladys George

The third and final film featuring James Cagney and Humphrey Bogart together remains a classic of the gangster movie genre. The Roaring Twenties is the tale of three World War I veterans who move into the world of bootlegging upon their return home following the war.
ANGELS WASH THEIR FACES
Released August 26, 1939
Starring Ann Sheridan, Ronald Reagan, the Dead End Kids

The sixth of seven films that the Dead End Kids made with Warner Bros., this time out featuring Ann Sheridan and Ronald Reagan. A young delinquent is convicted of murder, while his sister attempts to prove his innocence (along with surprising help from the assistant district attorney, who may have his own ulterior motives).
THE PRIVATE LIVES OF ELIZABETH AND ESSEX
Released November 11, 1939
Starring Bette Davis, Errol Flynn, Olivia de Havilland, Donald Crisp, Vincent Price, Alan Hale

Directed by six-time Oscar nominee Michael Curtiz and starring two legends Bette Davis and Errol Flynn, the true story of the love and betrayal between Queen Elizabeth and the Earl of Essex was a popular hit that received five Oscar nominations. Much was made of the fact that the then-31-year-old Davis was playing the Queen at a time period when she was more than twice her age, but Davis received rave reviews nonetheless.
THESE GLAMOUR GIRLS
Released August 18, 1939
Starring Lew Ayres, Lana Turner, Anita Louise, Marsha Hunt, Ann Rutherford

Lana Turner was only 18 and on the cusp of fame when she made this smart, perceptive comedy-drama about a dime-a-dancer invited to a swank soiree by a drunken college boy (who regrets his socially humiliating impulse once he sobers up). Jane can turn tail for home…or turn the tables on the arrogant upper crust.
TARZAN FINDS A SON!
Released June 16, 1939
Starring Johnny Weissmuller, Maureen O'Sullivan

The fourth outing of Johnny Weissmuller as the Lord of the Apes and Maureen O'Sullivan as Jane was a big success, although the original ending with Jane dying (O'Sullivan was tired of the role) didn't test well with audiences and a new ending was created. The team of Weissmuller and O'Sullivan continued on for two more outings in the jungle.
THE SAINT IN LONDON
Released June 30, 1939
Starring George Sanders, Sally Gray

This was the second installment of RKO's film series with George Sanders in the title role of Simon Templar (often referred to at the time as "the Robin Hood of modern crime"). All in all, RKO released eight Saint films between 1938 and 1943, with Sanders featured in five of them. Author of the original Saint book series, Leslie Charteris, is said to have liked this celluloid installment the best.
ANDY HARDY GETS SPRING FEVER
Released July 21, 1939
Starring Mickey Rooney, Lewis Stone, Cecilia Park, Ann Rutherford

Probably the most popular of the sixteen Andy Hardy films starring Mickey Rooney that were released between 1937 and 1958 (including three in 1939 alone). In this seventh installment, Andy develops a schoolboy crush on his pretty high school drama teacher figuring out ways to spend more time with her.