July 2, 2015 at 12:13 PM PDT
Thank Goodness It's Summer!
Bikinis, Beaches and More
If you were one of the millions suffering through the onslaught of an endless winter of record-breaking snowfall and sub-freezing temperatures, summer may have felt like an impossible dream. But it came! And it's here! And it's time to finally bask in the sunshine and pool parties and barbecues that four freezing months ago were nothing but a far-away dream.
To jumpstart summer we've pulled together a collection of fun seasonal photos from throughout the decades. It's an eye-opening look at the evolution of swimwear, to say the least. And the timing couldn't be more perfect as the bikini will be turning 69 years old on July 5. A French designer by the name of Louis Reard debuted the skimpy swimwear (smaller than any two-piece of the time) at a Parisian pool on July 5, 1946. The bikini consisted a bra top and a triangle string bottom—and voilà fashion history was made. The suit was too scandalous for America and wouldn't catch on in the US until the 1960s.
Enjoy some summer fun with this gallery and say it with us, "T.G.I.S.!" (Thank Goodness It's Summer!)
T.G.I.S. 2015!
Just throwing around the ole medicine ball! Norma Shearer (Private Lives, The Last of Mrs. Cheyney) enjoying (?) a bygone pastime
T.G.I.S. 2015!
Joan Crawford is ready for a dive (but won't be mussing up her 'do) in the 1934 romance Chained, which co-starred the always seductive Clark Gable.
T.G.I.S. 2015!
Ava Gardner (Bhowani Junction, Knights of the Round Table) looks lovely in this too-pretty-to-swim-in two piece in 1943.
T.G.I.S. 2015!
The undisputed queen of swimsuit movies, Esther Williams (Bathing Beauty) enjoys a summer day at the beach with a pal.
T.G.I.S. 2015!
This summer hang out with your friends at the beach! Virginia Mayo, Ronald Reagan, Eddie Bracken and Dona Drake in Girl from Jones Beach, 1949.
T.G.I.S. 2015!
Summer also calls for just relaxing outdoors with your sweetie, human or canine—or both. Here Humphrey Bogart and Lauren Bacall (The Big Sleep, Dark Passage) take in a beautiful day in 1945.
T.G.I.S. 2015!
Jane Powell (Seven Brides for Seven Brothers, Hit the Deck) models her two-piece for the press.
T.G.I.S. 2015!
Elvis Presley is Girl Happy in 1965 surrounded by these lovely ladies in their fashionable swimwear of the day.
T.G.I.S. 2015!
Chris Noel models an adorable itsy bitsy polka dot bikini in Girl Happy.
T.G.I.S. 2015!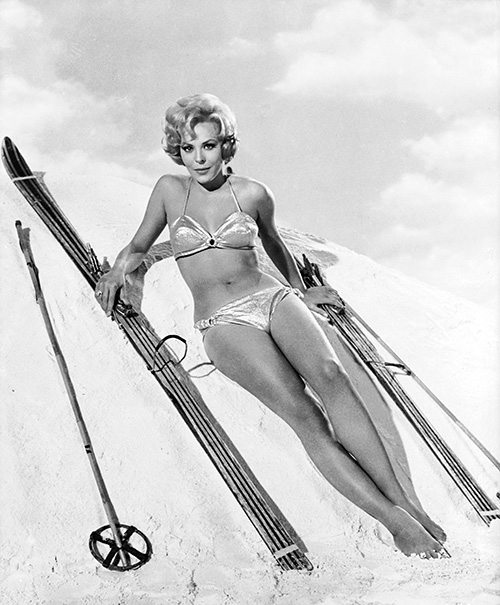 Sometimes you have to think cool thoughts in the heat of summer, as Janine Gray (The Americanization of Emily) did in this photo.
T.G.I.S. 2015!
Raquel Welch as Alice in the who-dunnit The Last of Sheila.
T.G.I.S. 2015!
Our challenge to you: Re-create this photo as your next selfie. Yvette Mimieux as Melanie Colema in Where the Boys Are.
T.G.I.S. 2015!
The movie may have been called Don't Make Waves but Sharon Tate certainly did just that when she leaned up against this surfboard in 1967.
T.G.I.S. 2015!
What's summer without surfing? Gary Busey as Leroy, Jan-Michael Vincent as Matt, and William Katt as Jack in the 1978 surf flick Big Wednesday.
T.G.I.S. 2015!
The Eighties were an...interesting time for swimwear. Brigitte Nielsen models a high-cut one piece in this photo shoot from 1986's Cobra.
T.G.I.S. 2015!
Ross, that's probably not going to fit. Friends, Season 6, "The One with Joey's Fridge."
T.G.I.S. 2015!
Sara Foster in the 2004 remake of the Big Bounce. The film takes place on the beaches of Hawaii's North Shore, where a bikini is always appropriate attire.
T.G.I.S. 2015!
There were abs for days in the 2008 film Fool's Gold starring Kate Hudson and Matthew McConaughey.