July 14, 2015 at 12:02 AM PDT
Happy Birthday, William Hanna
An Animation Pioneer
Today we're honoring a man who helped to change Saturday mornings for millions of kids (and animation fans who are kids at heart) around the world. William Denby Hanna, known to friends as Bill and who would go on to become one-half of Hanna-Barbera, was born on July 14, 1910 in Melrose, New Mexico and was the third of seven children (and the only boy). His father worked in construction which necessitated the family to move frequently and in 1919 they finally setted in Watts, CA. Hanna was active in scouting and attained the rank of Eagle Scout, enjoyed singing in a barbershop quartet and eventually enrolled at Compton City College.
Though he had to drop out of college during the Great Depression and take on odd jobs for a time, Hanna was encouraged by a family friend to apply for a job at Pacific Title and Art Studio run by famed animation producer Leon Schlesinger. Hanna's talent was evident and despite a lack of formal training he quickly moved up the ranks through the studio and eventually began working for MGM, where he met Joseph Barbera. By 1939 Hanna and Barbera had created a partnership that would span 60 years, over 2,000 characters and millions of dollars and smiles. The pair began by creating the Tom and Jerry series of cartoons, which won seven Academy Awards between 1940 and 1957.
In 1957 the pair formed Hanna-Barbera Productions, where they went on to produce some of the world's most recognized cartoons—The Flintstones, Jetsons, Scooby-Doo, Yogi Bear, Smurfs, Top Cat, Josie and the Pussycats, Space Ghost, Jonny Quest...the list goes on and on. If you watched it on a Saturday morning, chances are pretty good it came out of the Hanna-Barbera studio.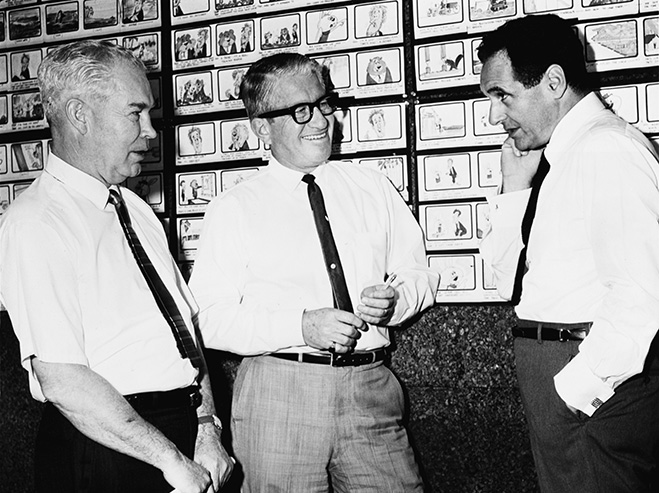 Eventually as Saturday morning cartoon profitability began to wane in the 1990s Hanna-Barbera was sold to Turner Broadcasting System which merged with Time Warner (parent company to Warner Bros.) in 1996. Many of the more...esoteric cartoons that the studio produced have been given a second life thanks to the Warner Archive, where you can find such find titles such as The Herculoids, Dragon's Lair, and The Pirates of Dark Water on DVD.
William Hanna passed away on March 22, 2001. He was married to his wife Violet for 64 years, with whom and he had two children. He was also the grandfather of seven, all of whom surely cherished his legacy of work as dearly as all children do.