March 15, 2016 at 12:40 PM PDT
WonderCon 2016
DC and WB Slate of Events and Screenings
WonderCon, the sister show to Comic-Con International, takes place this year from March 25-27 at the Los Angeles Convention Center, its first time in the City of Angels. Like the larger Comic-Con event, WonderCon embraces many of the same interests, including comics, movies, TV, animation, and more. The event has grown in all aspects over the years: more attendees, more exhibitors, more programming, and more fun. As usual the Warner Bros. family is well represented this year with five television shows, a variety of premiere screenings, and more.
Also, DC Entertainment's expansive booth (#1602) will serve as the go-to location for fans to mingle with some of the best comic writers and artists in the business with a robust schedule of talent signings, in addition to swag giveaways celebrating DC UNIVERSE: REBIRTH and the upcoming feature film, Batman v Superman: Dawn of Justice. Plus, the booth will feature an impressive collection of items from DC Collectibles and Warner Bros. Consumer Products, and a towering, working Bat Signal made entirely of LEGO bricks in an homage to the Batman v Superman: Dawn of Justice movie from acclaimed exhibition, THE ART OF THE BRICK: DC COMICS. Fans will also be tempted to shout, "Look! Up in the sky!" when they see the Superman LEGO sculpture soaring above the booth.
Here's the current schedule for WB-related events and screenings. You may want to bring your doppleganger to make sure you're able to hit them all!
Friday, March 25
1:30-2:30 – DC ENTERTAINMENT: ALL ACCESS
Go behind the scenes of DC Entertainment for an in-depth look at some of the most exciting stories and exhibits across DC Comics, Vertigo and MAD! New and veteran fans alike are welcome for a tutorial on the essential stories, videos, and products that make up the immersive DC Universe. Room 403AB
2:30-3:30 – DC COMICS: HANNA-BARBERA
It's been the talk of the town! Contemporary updates to your favorite Hanna-Barbera classics are coming. New iterations of all your favorites in the form of Scooby Apocalypse, Future Quest, Wacky Raceland and The Flintstones! All this, plus teases and snippets of what's on deck. Come see for yourself what the buzz is all about! Room 403AB
3:15-4:15 – CONTAINMENT PILOT SCREENING AND Q&A

When a mysterious and deadly epidemic breaks out in Atlanta, a vast urban quarantine is quickly enforced, forcing those stuck on the inside to fight for their lives while local and federal officials desperately search for a cure. Torn apart from their loved ones, the survivors trapped within the cordon are fighting against not only fatal infection but also isolation, fear, and the disintegration of society around them. As they begin to gain each other's trust, hope remains, and on either side of the cordon, unlikely heroes will rise. Containment makes its WonderCon debut with a special screening of the entire pilot episode, followed by a Q&A with series stars and producers. Based on the original Belgian series created by Carl Joos for Eyeworks, Containment is produced by My So-Called Company in association with Warner Bros. Television, with executive producers Julie Plec (The Vampire Diaries, The Originals), David Nutter (The Flash, Arrow), Matt Corman, and Chris Ord (Covert Affairs). Microsoft Theater
4:30-5:30 – iZOMBIE SPECIAL VIDEO PRESENTATION AND Q&A
Brainy hit iZombie returns to WonderCon for its sophomore appearance to give fans the scoop on the shocking events yet to be seen in Season 2. Will Liv learn the truth about Drake's involvement with Mr. Boss? Will Clive remain in the dark about the existence of zombies? What will happen to Blaine and Major as the effects of the cure wear off? The clock is ticking. Join this panel for a special video presentation followed by a Q&A with series stars as well as executive producers Rob Thomas (Veronica Mars) and Diane Ruggiero-Wright (Veronica Mars). From Bonanza Productions Inc. in association with Spondoolie Productions and Warner Bros. Television and based upon characters created by Chris Roberson and Michael Allred, published by DC Entertainment's Vertigo imprint, iZombie airs Tuesdays at 9/8c on The CW. Microsoft Theater
5:30-6:30 – SPOTLIGHT ON JIM LEE
DC Entertainment co-publisher Jim Lee (Superman Unchained, Justice League, Batman ) talks about his 25-plus years in the comics industry and sketches your favorite characters live on the big screen. This is a great opportunity to watch the creative process first-hand and learn the tips of the trade that bring DC Entertainment's characters to life. Room 403AB
6:00-7:00 – TEEN TITANS GO! SCREENING AND Q&A
Warner Bros. Animation welcomes you to join the producers and members of the voice cast behind the hit series Teen Titans Go! as they screen a new episode and answer your biggest questions on what's in store for Robin, Beast Boy, Cyborg, Raven, and Starfire. Teen Titans Go! airs Thursdays at 6/5c on Cartoon Network.
Saturday, March 26
9:00 – DC ENTERTAINMENT PRESS CONFERENCE
DC Entertainment's WonderCon 2016 programming will be highlighted by this must-attend event touting the upcoming colossal DC UNIVERSE: REBIRTH line-wide comic book title relaunch. Open to media and fans, the press conference will be moderated by DC All Access co-host Tiffany Smith and include appearances by DCE Co-Publishers Jim Lee and Dan DiDio and DCE Chief Creative Officer Geoff Johns, who will reveal for the first time the lineup of writers and artists creating this incredible new universe of storytelling. This press conference will also be streamed live on DC Entertainment's YouTube channel, and viewers can follow this interactive fan experience with #REBIRTH. Petree Hall C in the West Hall
10:00-11:00 – ROBBY THE ROBOT'S RETIREMENT PARTY
Break out the Hawaiian shirts because Warner Archive Collection is throwing a party to celebrate Robby the Robot's 60 years of service. Join Warner Archive podcast hosts Matt Patterson and D.W. Ferranti, alongside noted robot aficionados, to celebrate the multi-decade career of this cybernetic cinema icon par excellence. Starting with the (not coincidentally) 60th anniversary of the landmark science fiction film, Forbidden Planet, fans will follow the voyage through Robby's storied career on both the big and small screens. And be prepared for some special messages from surprise mechanical guests. Room 408AB
1:00-2:00 – DC COLLECTIBLES
Action figures, statues, busts, PVC figures-DC Collectibles has them all and more! Join the DC Collectibles crew, including VP, Creative Services Kevin Kiniry and Director, Creative Services Jim Fletcher, and a few surprise guest stars, to hear how they come up with so many great products, and what's coming up from comics' top makers of awesome collectibles. Room 151
2:30-4:30 – WORLD PREMIERE: JUSTICE LEAGUE VS. TEEN TITANS

Warner Bros. Home Entertainment, DC Entertainment, and Warner Bros. Animation invite WonderCon attendees to witness the world premiere of Justice League vs. Teen Titans, the latest entry in the ongoing series of DC Universe original movies. When Damian's overaggressive tendencies almost destroy a Justice League mission, he is sent to learn teamwork by training alongside the Teen Titans. However, adjusting Damian's attitude turns out to be the least of the Teen Titans' troubles, as Raven's satanic, world-conquering father Trigon begins an escape from his interdimensional prison. To complete his return, Trigon must have Raven's assistance; and to accomplish his goal, he spreads his demonic forces across the globe, infiltrating the minds and bodies of the Justice League to do his bidding. To save the universe and prevent a literal hell on Earth, the Teen Titans must rescue, or defeat, the Justice League and inter Trigon for all eternity. The film's all-star cast includes Jason O'Mara (Complications, Terra Nova) as Batman, Jerry O'Connell (Crossing Jordan, Stand By Me) as Superman, Rosario Dawson (Sin City, Rent) as Wonder Woman, Shemar Moore (Criminal Minds) as Cyborg, and Christopher Gorham (Covert Affairs, Ugly Betty) as Flash. Sean Maher (Firefly/Serenity, Batman: Bad Blood) also returns as Nightwing, as does Stuart Allan (Batman vs. Robin) as Robin/Damian. Making their Teen Titans voiceover debuts are Taissa Farmiga (American Horror Story, Wicked City) as Raven, Jake T. Austin (Wizards of Waverly Place, The Fosters) as Blue Beetle, Brandon Soo Hoo (Tropic Thunder, From Dusk Til Dawn: The Series) as Beast Boy, and Kari Wahlgren (Phineas and Ferb, Legion of Superheroes ) as Starfire. Jon Bernthal (The Walking Dead, Daredevil) takes the villainous center stage as Trigon. Several of the film's actors will join a post-screening panel that will include producer James Tucker, director Sam Liu, character designer Phil Bourassa, and screenwriter Bryan Q. Miller. Justice League vs. Teen Titans arrives April 12 from Warner Bros. Home Entertainment on Blu-ray combo pack, DVD, and Digital HD. Microsoft Theater
4:00-5:00 – ART MASTERS: DRAWING DC
DC Entertainment is proud to have some of the most immensely talented artists working in comics today. Join this panel for a unique look into their visual approach in shaping some of your favorite books! Room 151
5:30-7:00 – WORLD PREMIERE AND Q&A: THE GIANT'S DREAM
Warner Bros. Home Entertainment presents: From hundreds of hours of archival footage and myriad modern-day interviews comes a documentary that puts an in-depth spotlight on the beloved 1999 animated film The Iron Giant. Director Brad Bird (Mission:Impossible-Ghost Protocol, The Incredibles, Ratatouille) and documentary director Anthony Giacchino will lead a discussion following the premiere screening of an insightful and fascinating documentary that examines the intricate, behind-the-scenes details of the creative process in bringing this critically acclaimed film to the big screen. Room 403AB
 
Sunday, March 27
11:00-1:00 – WORLD PREMIERE: LEGO SCOOBY-DOO!: HAUNTED HOLLYWOOD

Get ready for hilarious hijinks in Tinseltown as Scooby and the gang head to Hollywood—this time in LEGO form. They visit a legendary motion picture studio that's haunted by movie monsters from classic old films. See the world premiere of this film, then stay to hear from members of the cast and crew as they tell the tales of making the movie. Cast includes Frank Welker (Scooby-Doo and Fred), Grey Griffin (Daphne), Matthew Lillard (Shaggy), Kate Micucci (Velma), notable voices actors Dee Bradley Baker, J. B. Blanc, and James Arnold Taylor, and the Mistress of the Dark herself, Cassandra Peterson! LEGO Scooby-Doo!: Haunted Hollywood will be available May 3 from Warner Bros. Home Entertainment. Room 408AB
12:00-1:00 – DC ENTERTAINMENT: SUNDAY CONVERSATION CO-PUBLISHERS
DCE's co-publishers are back and have lots to share! Jim Lee and Dan DiDio are the driving forces behind DC, Vertigo, MAD, and much more. This up-close-and-personal panel gives you a chance to step up and ask questions about your favorite comic book publishers!
12:15-1:15 – THE 100 SPECIAL VIDEO PRESENTATION AND Q&A
With Mt. Weather destroyed and tensions escalating among the various clans on the ground, The 100's sacrifices and heartbreaking choices have changed them forever. But now, as they set out to fortify their place in this dangerous new world, the question remains of what form that world will take: Will peace begin to take form, or will full-scale war break out among the Grounder clans? The twists are just beginning. Be among the first to get the scoop on what's in store for the second half of the third season. What is the City of Light? What is ALIE's end game? What challenges will the Sky People face next? See a special video presentation, followed by a Q&A with series stars Eliza Taylor, Bob Morley, Devon Bostick, Christopher Larkin, Lindsey Morgan, Richard Harmon, Isaiah Washington, and Henry Ian Cusick and executive producer Jason Rothenberg. From Bonanza Productions Inc. in association with Alloy Entertainment and Warner Bros. Television, The 100 airs Thursdays at 9:00 pm on The CW. Microsoft Theater
1:00-2:00 – TOONSTOCK 4: THE RETURN OF WARNER ARCHIVE'S MUSIC MEISTER SING-ALONG
Once more, with feeling! You're invited to the fourth celebration of toe-tapping, floor-stomping cartoon music, including the immensely popular sing-along with the Batman: The Brave and the Bold episode "Mayhem of the Music Meister." Join a bevy of special guests, from composers and songwriters to the voices carrying the tunes, as well as Warner Archive Collection podcast hosts Matt Patterson, D. W. Ferranti, and a few surprise guests for an entertaining, interactive look & listen at some of the great cartoon music of the past 50 years. Room 408AB
1:30-2:30 – DC'S LEGENDS OF TOMORROW SPECIAL VIDEO PRESENTATION AND Q&A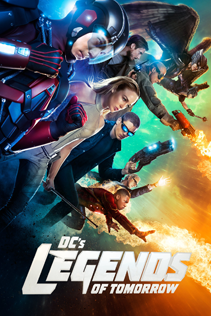 When heroes alone are not enough, the world needs legends. In DC's Legends of Tomorrow, rogue time master Rip Hunter travels from the year 2166 back 150 years to assemble a disparate group of both heroes and rogues to confront the immortal threat of Vandal Savage—with not only the planet, but all of time hanging in the balance. From the creators of The Flash and Arrow, The CW's newest superhero team-up combines characters from both shows, in addition to new heroes from the DC Comics pantheon. This epic story puts the fate of the world in the hands of an unlikely team, and the battle to save Earth will be legendary. From Berlanti Productions in association with Warner Bros. Television, DC's Legends of Tomorrow airs Thursdays at 8/7c on The CW. Microsoft Theater
2:00-3:00 – JUSTICE LEAGUE VS. YOUNG JUSTICE
Two great animated "justice" series go head-to-head. Everyone is a winner as Warner Archive Collection celebrates both Justice League and Young Justice. Join some of the creative minds and talented voices behind both series, including the premier voices of Batman and Wonder Woman, Kevin Conroy and Susan Eisenberg. Leading the Justice League and Young Justice creators are Greg Weisman (Gargoyles), Brandon Vietti (LEGO DC Comics Super Heroes, Batman: Under the Red Hood) and everybody's favorite voice of Cyborg, Khary Payton. Join this panel for a blockbuster discussion of the two popular series under the guidance of Warner Archive Collection podcasters D. W. Ferranti and Matthew Patterson and moderator Gary Miereanu. Room 408AB
2:45-4:15 – ENCORE SCREENING: JUSTICE LEAGUE VS. TEEN TITANS
Warner Bros. Home Entertainment, DC Entertainment, and Warner Bros. Animation offer an encore screening of Justice League vs. Teen Titans, the latest entry in the ongoing series of DC Universe original movies. The film's all-star cast includes Jason O'Mara (Complications, Terra Nova) as Batman, Jerry O'Connell (Crossing Jordan, Stand By Me) as Superman, Rosario Dawson (Sin City, Rent) as Wonder Woman, Shemar Moore (Criminal Minds) as Cyborg, and Christopher Gorham (Covert Affairs, Ugly Betty) as Flash. Sean Maher (Firefly/Serenity, Batman: Bad Blood) also returns as Nightwing, as does Stuart Allan (Batman vs. Robin) as Robin/Damian. Making their Teen Titans voiceover debuts are Taissa Farmiga (American Horror Story, Wicked City) as Raven, Jake T. Austin (Wizards of Waverly Place, The Fosters) as Blue Beetle, Brandon Soo Hoo (Tropic Thunder, From Dusk Til Dawn: The Series) as Beast Boy, and Kari Wahlgren (Phineas and Ferb, Legion of Superheroes ) as Starfire. Jon Bernthal (The Walking Dead, Daredevil) takes the villainous center stage as Trigon. Several of the film's actors will join a post-screening panel that will include producer James Tucker, director Sam Liu, character designer Phil Bourassa, and screenwriter Bryan Q. Miller. Justice League vs. Teen Titans arrives April 12 from Warner Bros. Home Entertainment on Blu-ray combo pack, DVD, and Digital HD. Microsoft Theater
3:00-4:00 – A GOLDEN HARVEST OF '90s HONG KONG FILMS
Bursting onto the international scene with a new form of martial arts screen action, the films of Hong Kong are some of the most influential in cinema history. From the '70s through the '90s, Golden Harvest introduced stars like Bruce Lee, Jackie Chan, Sammo Hung, Tsui Hark, and Jet Li to the world, and now the Warner Archive Collection is mining the depths of this unique library to bring a variety of action, historic, comedy, thriller, and fantasies like Pedicab Driver, Blade of Fury, and A Terracotta Warrior to home entertainment for the first time. Join Warner Archive podcasters Matt Patterson and D. W. Ferranti along with several HK film experts and witnesses to the behind-the-scenes action for an outrageous exploration of a filmic flashpoint. Room 408AB