March 18, 2016 at 10:00 AM PDT
WB Q&A - Hans Zimmer & Junkie XL
Behind the Music of "Batman v Superman: Dawn of Justice"
As the epic Batman v Superman: Dawn of Justice gets closer to its March 25 release in theaters, the soundtrack to the film is out today from WaterTower Music. Composed jointly by legendary film composer Hans Zimmer and Tom Holkenborg (aka Junkie XL), who is on an incredible roll of his own lately—including scoring Warner Bros.' six-time Oscar winning film Mad Max: Fury Road and Black Mass, as well as this year's blockbuster Deadpool from Twentieth Century Fox. We recently sat down with the two composers at Remote Control Productions recording studio in Santa Monica, California to discuss their intricate work on BvS as well as their unique musical modus operandi, which defies the public's preconceived notions about the world of film scoring.
 
Hans, let's start at the beginning of the Batman v Superman project when you were initially approached by the film's director Zack Snyder. Having composed the music for the Dark Knight film trilogy and helming Man of Steel previously, why did you have initial reservations on being involved this time around?
HZ: The reasons were very simple. The Christopher Nolan Dark Knight movies may just be three movies to you, but to Christopher, Christian Bale and myself, that was eleven years of our life and you don't want to be disrespectful to that. At the same time, now you have Ben Affleck come in and you don't want to be disrespectful to him either. What I needed was, I needed a partner in crime. And truly a crime was committed [laughs]. But, seriously, I mean a "partner," an autonomous voice. I needed somebody that I've worked with before. Tom and I have actually worked on a lot of things together and I don't think people realize just how many crazy things we've done together.
JXL: I agree. It also has to do with how he brought it to Zack, based upon their whole conversation that Hans just mentioned about the impressive legacy with Christopher Nolan. [Hans and I] worked together on Man of Steel, and there was also a relationship between Zack and I when I did 300: Rise of an Empire in-between. Hans came up with this solution of "let's just do it together with Tom," and Zack was like, "Great."
At the beginning of this Batman v Superman project, was it decided that there would be a clear delineation of duties, where Hans would handle the Superman character like he did with Man of Steel and Tom would handle composing the themes behind this new Batman character?
JXL: Well, that sounded all great on paper, but it doesn't quite work like that. It's partly because it was hard [for Hans] to let go of that character because it was so much a part of your life and, at the same time, if you throw two musicians into one room, I'm not going to sit there and say, "No, no, no, that's your part." You go at it together and that's what collaboration is.
HZ: Correct me if I'm wrong, Tom, but there was a period when you were still busy on Mad Max and someone had to go in and fill that time and I filled it with being extraordinarily paranoid and worried about the Batman theme because I had an idea of what it could be. I wanted it to be far more ambiguous. With Bruce Wayne and Batman, there has to be a huge psychological dilemma so I wanted to figure out how to make something that was really unstable. And in the process I became pretty unstable [laughs]. So there was that Mad Max period where Tom wasn't available and I was really stuck. One of the other musicians we worked with, Steve Mazzaro, is very level-headed and I just gave him what I had written. I had spent eight weeks writing this thing and in one day [Steve] took my notes and clarified them a bit and then Tom came back and we gave it to him. That's really where it took shape. So when we talk about co-composing, yes, the architecture was always us, but Zack as well. He's in the band.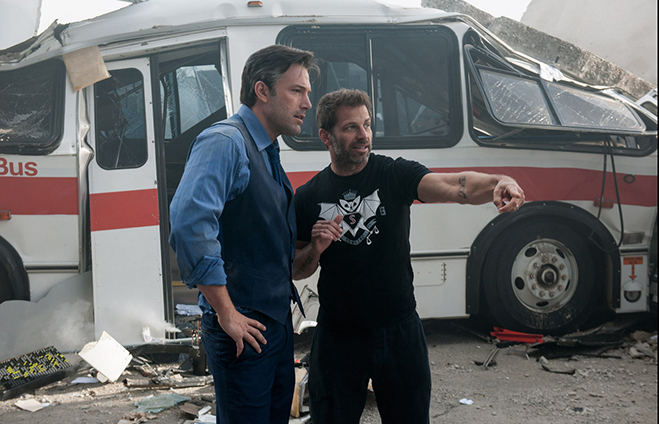 Let's talk about Zack within the framework of the music. Was he involved with you from the get-go or is he the type of director who walks away and allows you to do your thing?
JXL: He's very much a guy who respects everybody's private space. He's very respectful of that and he's never worried about whether it will be done on time. His take on it is, "If you guys say you need that much time then you need that much time. Give me a call when you need me." What's really remarkable about Zack is that he's very hands-off, but at the same time, in our heads, he's very hands-on, because you feel his spirit constantly when you're writing stuff. You can say to yourself, "He's going to like this" or "He's not going to like that." You just know.
HZ: There's such a strong imprint of "style" in what Zack does. Literally, the first thing he showed us was about 25 minutes of footage and we had a very, very long and very important conversation after seeing that footage. That sort of set the tone and, like Tom said, it doesn't matter after that whether he's in the room or not. The way Zack communicates best is through art; whether drawing you something or showing you an image. The first time we saw the footage, I mean it was amazing. I don't think I ever saw anybody truly bring comic books to life in the way that Zack has. So he was directing us through the imprinting of his style; his color scheme and I'm pretty sensitive to that. Usually when I work on a film I spend as much time as I possibly can with the DP [Director of Photography] to figure out what the color palette is.
Is that how you "see" music visually, in a sense?
HZ: Yes, and when I get it wrong I'm probably the only person sitting in the cinema going, "Oh my god, the colors and the music are clashing." And everybody thinks I'm crazy, but that's how I hear pictures or how I see sound.
Is Zack able to communicate with you in a musical language or are you interpreting his vision musically?
HZ: The common ground we have is we talk about "story." In our job, we try to figure out what is going on with this character or that character. The composers are just another bunch of characters in this movie. And at the end we employ another bunch of actors—the players, the musicians—and we pick them very carefully. The musicians are very much handpicked by us, because they are all actors in this story. So the conversation is never about, "Is this a C-major chord?" As I said earlier, I was trying to hunt down how to make this Batman character truly ambiguous and unstable.
And what were you trying to capture musically with the Superman character?
HZ: I can tell you exactly. On the first movie, Man of Steel, I think the one thing that Superman wanted; his greatest ambition was to become as human as he possibly could. With his background with these great parents in Kansas, I thought it needed to be the most honest simple set of notes played on a humble upright piano. And weirdly when I play those notes it sounds different than when other people play it.
JXL: That's true, it doesn't work when other people play it…
HZ: [Laughs] So this right hand is attached to these movies in a funny sort of way. I have a different touch so I knew exactly what I wanted that to be. And while everything was getting bigger and glossier and we were doing these monumental soundscapes—having twelve drummers in a room and stuff like that—at the heart of it was that little piano, which really served us on this film. When we were looking at the rough cut of the current movie, they put some of that piano stuff from the first movie in it [as a temp score] and it actually sounded better than it did in the first one. But I don't think it's completely an accident that it does sound better because we're all heading towards the same storytelling. This is the second movie we have done together on that subject so our language is starting to become clearer to us. We're getting it under the fingers a bit better.
So the motif from Man of Steel is going to be carried through in BvS?
HZ: Yes. It's so simple, I mean you can play it with one finger. For me, every time it comes in, it means something. Because there's all this other stuff going on and then suddenly you get this humble little piano and it just focuses your emotions and focuses you back to Kansas.
JXL: It really does fit the character so incredibly well.
You also have other characters in the new movie, like Wonder Woman being introduced. How did you two approach that character musically?
JXL: That was the daunting thing, not only coming up with something for Superman and Batman, but also for the other characters that get introduced in this film. We were stuck for the longest time with Wonder Woman in doing stuff that you would expect; with a vocal. We tried a couple of different things and then Hans came up with the great idea of using this female cellist, Tina Guo.
HZ: I was type-casting her [laughs].
JXL: [Tina] is a very talented cello player. When you meet her, she's very polite, very proper. But when she starts playing; it's a monster, it's a banshee. You see a woman with a sword. It's the way that she plays.
HZ: It's all in her attitude. She plays the cello standing up and as she grabs the cello, she's really wielding a sword and her whole personality changes. She's got technique for miles; she's an amazing cellist, but it's the transformation that happens that interested me because that's exactly what happens with Wonder Woman. It wasn't about the notes at the end of the day. It was about finding the musician who could become that character musically but even after I had that piece, I couldn't figure out how to marry the image to the music and then Tom said, "No, go back to this one shot, this one image, and put it under that." And it was a real shock to me how suddenly the character spoke from the screen once we did that. I remember looking over at Tom and thinking, "He's a pretty good filmmaker" [laughs]. I remember when we first played it for Zack and Debbie [Snyder's wife and production partner] that they had a visceral reaction. It's not what they expected and that was the important thing.
In working so closely together on this project, what would you say about each other that you really respect musically or creatively about the other?
JXL: I think in the work process, I have a tendency to work, not military style, but my work process is more like, "Okay, I have to be done Monday morning and this is how I plan my time around that." Whereas Hans would be like, "I don't care if it needs to be done Monday morning. I'm going to start writing and it'll be ready when I'm ready because it needs to be good."
What I really like about Hans is that you can't really corner him with ideas. Hans can spit out eight ideas in a row of which six definitely will not work, but the other two are so incredibly good. That's why Hans is Hans Zimmer. 
HZ: You have to remember that what we do is not a regular job. We work around the clock and every weekend. I did this experiment once here at the studio because this studio is truly a loony bin of people passionate about music. I told everyone, "Okay, this Christmas I'm closing the place down. Everybody go home." Then, on Christmas Day, I hit speed dial, just to see what would happen, and everyone was here working because they love music more than they love anything else. In answer to your question, it's the joint passion that truly makes us good at what we do. We keep learning from each other in a geeky way and we're proud of our geekiness. I get texts from him at 2:00 in the morning, "Hey, have you seen this new synthesizer?" And he will get an answer from me at 2:05, saying, "Whoa, where can we get one?" There's that element involved, but then there's that thing that I'm always looking for in musicians and since I'm the older one I can say this: It's not just about being a great musician, you also have to have "picture-sense" because I don't know that you can learn picture-sense. Some people have it and they know how to be great storytellers.
You two seem to go against the grain of what many people's perception is of a film composer. That they're locked away in solitude, writing the music…
JXL: There's still a lot of composers who work like that. Honestly, I don't see myself foremost as a composer at all, I see myself as a musician. But if you end up doing music for a movie, you can call yourself a composer. I call myself a "full contact composer" because I need to have something in my hands, whether it's a guitar or a bass or the need to pound on a drum kit or turning a knob. It's a physical experience for me. I find it extremely impressive when someone can sit down with a piece of paper and write out what the film score needs to be and it's conducted and that's it. But that's not for me, and that's not how Hans works. We like get our hands dirty and create stuff. That for me is the joy, and then later in the process you work with all these wonderful musicians. Neither one of us are star musicians. We know our way around keyboards, guitars and drums, but we're not like people who can play amazingly and it's done. The computer is the ultimate tool for us to realize our fantasy and that in combination of working with brilliant musicians is a great thing.

HZ: I think people misunderstand  that a great musician is an interpreter of what a composer writes and that a composer doesn't necessarily have to be a great player. It helps if you know your way around, like Tom said, but we both come from a world of electronics. We both sort of started off in the '70s with the same sort of gear—the Ataris and stuff like that. We realize that all musical instruments are technology of their time. The violin is a piece of wood and a bit of dead cat. The bassoon, I'm not entirely sure of who thought of that one, turning a table leg into an instrument [laughs]. And then came this moment in time when the new technology came in—synthesizers and computers, which were nearly banned by the symphonic musicians—and the world really divided the traditional symphonic composer from the stuff that we do which is film music. But, honestly, for me, if something makes a sound I want to have access to it and make music with it. 
We search out new songs, we search out new musicians, we search out new bits of electronics. We drive people crazy with the ambition of what the sonic landscape is going to be on each particular movie, which I think is partly why Zack is attracted to the way we work because he does the exact same thing from the visual side. So we all come prepared knowing that we're going to throw in the kitchen sink. In fact, we throw in a whole kitchen.
JXL: There's so much misconception about computers and music, and we both dealt with it when they first came out because it was not considered real music. But the computer is not any different than the great Pete Townshend buying an electric guitar. How does this guitar become your voice? Same thing goes for how do you become very distinct and very recognizable as a person using a computer. We both have very distinct sounds and it's unmistakably recognizable for what it is and that's the great thing you can get out of a computer. Listen, there are a lot of people who make terrible music with their computer and there are a lot of terrible guitarists in the world too.
One example of how you work with musicians would have to be the "drum circle" that you used in Man of Steel and again on BvS. Talk a little bit about that.
HZ: When we first used the drum circle on Man of Steel, we had twelve drummers in the studio. For this movie, we cut it down to eight drummers for some reason.
JXL: Well, this movie is less about the drums than the first movie.
HZ: Absolutely, and we put into that room people who are always autonomous and the leader of their own particular band, because they dictate the rhythm of everything. They had never played together, so it was a bit like lion taming where you have this circle of very nice people, but at the same time the most aggressive human beings in the world when it comes to their instruments. And Tom said, "I'm going to go in and conduct them." And I realized he was absolutely right, because him coming from the electronic music scene I said, "What's the largest show you ever did, one-and-a-half million people in Rome? Well, if you can conduct, inspire, motivate and control that many people you can probably handle a roomful of drummers." To me, it was the most disciplined session I've ever been to. Everybody was focused on Tom and paying attention to him.

JXL: It was funny, because we talked about it in the control room and Hans tapped me on the shoulder and said, "That's a good idea, go in there and do it." I'm a drummer as well, so when I got in there I was like, "Hi, I'm Tom, let's try something." But because I was able to articulate it by saying, "We're gonna try this rhythm and It's gonna be, 'bum, bada bum, bada bum bum,' and you do the eights, you do the sixteenths, and you do this." And it was like, "Hey, this guy knows what he's talking about," and within an hour or two everybody was slapping each other on the back and saying how fun it is. We did two days of that and my ears were ringing. It was so incredibly loud. It was a lot of fun and it was very special for them too. I mean, you had these drummers of that level in that one room. People like Jim Keltner who is a legend and then JR [John Robinson] walks in, who played Michael Jackson's "Beat It" beat, and then Sheila E. walks in and then Pharrell [Williams]…
HZ: I loved seeing Pharrell next to Jason Bonham. It was amazing. At the end of the day, the joy we have with playing with other musicians is really what it's all about. I think that's what comes across in the music as well. There's an energy to this. The more that movies are relying on CG, the more we are the sparkly human element that makes the CG come alive.
 
The Batman v Superman: Dawn of Justice Soundtrack is available digitally, on CD, two-disc deluxe CD, and on Limited Edition three-disc deluxe vinyl. The two-CD deluxe package, the digital deluxe version, and the three-disc deluxe vinyl set feature over 90 minutes of music, five bonus tracks, and exclusive fold-out poster and liner notes from the composers. Additionally, the vinyl set features etched vinyl art and an album download card.
Get it on iTunes
CD on Amazon
Vinyl on Amazon
Related Articles:
WB Q&A - Jason Linn, WaterTower Music
WB Q&A - Tom Holkenborg (aka Junkie XL)