May 26, 2016 at 8:07 AM PDT
Happy "DraculAnniversary!"
Classic Novel Published 119 Years Ago
Vampire lore has been with us for millennia; passed down from generation to generation and from village to village. A being both alive yet dead that feasts upon the blood of the living to sustain their undead state. The details have varied across the globe—some were demons, some could inflict their same fate upon their victims and create more vampires and some were shape-shifters. But undoubtedly the myth of the vampire endured through the ages and only grew in popularity when, on May 26, 1897, Bram Stoker's gothic Victorian novel Dracula was published and the vampire as a pop culture phenomenon was forever changed.
In homage to Stoker's masterpiece, we're highlighting some some of the weirder and wilder Dracula and Dracula-inspired films found in our library. We've covered some of our horror offerings in the past, but this is an opportunity to dig in and have some fun with a few our lesser-known titles. The Count has had seemingly nine lives (okay, actually far more than that) throughout his long cinematic career and has been portrayed by the greats such as Bela Lugosi, Christopher Lee, Lon Chaney and Gary Oldman. Let's sink our teeth into some favorites, shall we?
While not technically a Dracula flick, Bela Lugosi does suit up in a vampire cape and the chalky white face paint as Count Mora along with Caroll Borland as his daughter Luna. The film, directed by Tod Browning (Freaks), also features Lionel Barrymore as an occult expert who sets out to solve the case of an old, unsolved murder in a remote European village.
The first Hammer Dracula film in which the infamous vampire played by Christopher Lee is given a new, elegant and ruthless persona as he descends upon England. Every night for 600 years he rises from his coffin-bed to seek the warm blood he needs to keep himself alive.
In this 1970 Hammer release, Dracula has sworn vengeance on three men who have murdered one of his disciples. This is a new, groovier Dracula for the Age of Aquarius.
The good times keep rolling in London in the swinging 1970s. Shocking even jaded audiences, this film features Lee in his sixth appearance as the Count as he seeks out fresh victims.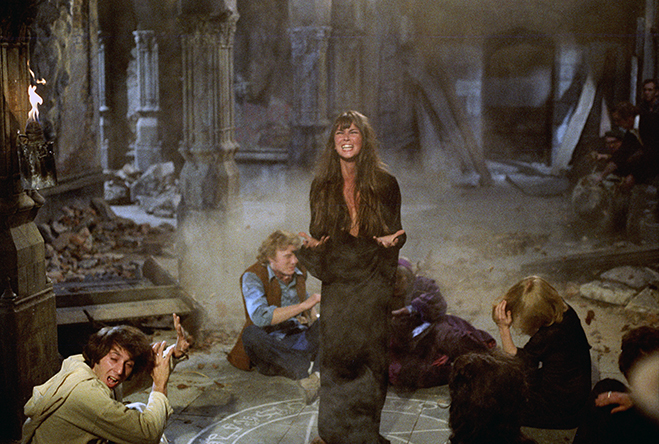 Set in Transylvania, Director Roman Polanski spoofs the horror genre with this tale of bumbling vampire hunters and the beautiful young object of their rescue attempts (Sharon Tate)—who is quite happy being undead.
In this original animated movie, Gotham City is terrorized not only by recent escapees Joker and Penguin, but by the original creature of the night, Dracula!
Ending off on a more pleasant note, even the Flintstones and the Rubbles have had a run-in with Dracula...er...Rockula. The families have won a romantic trip to Count Rockula's castle in Rocksylvania (where else?) where Fred and Barney accidentally revive the Count. After dozing for half a millennia, Count Rockula falls instantly in love with the sleeping Wilma, and will stop at nothing to have her all for himself—even if it means making a widow of her first.