May 31, 2016 at 3:04 PM PDT
"Roots" - Looking Back at Television History
First Time on Blu-ray June 7
Back in January of 1977, the cultural phenomenon that was the miniseries Roots cannot be overestimated, especially when you realize that an astonishing 85% of all television homes watched all or part of the miniseries. All eight episodes still rank among the Top 100 TV Shows of All-Time. It wasn't just the viewers who were fascinated either, as Roots garnered 37 Emmy Award nominations (winning nine), including being the first show to receive nominations in every acting category with 13 acting nods overall. Its 37 Emmy noms remain a record to this day. Roots also scored a Golden Globe ("Best Drama Series") and the distinguished Peabody Award.
Of course, no one could have predicted such a groundbreaking result. In fact, ABC, the network which aired the miniseries was so unconvinced about the potential success of Roots, they decided to air all eight episodes on consecutive nights—something that hadn't been done before—in order to get it out of the way before the upcoming Sweeps period and as an assurance that the series wouldn't drag on should the ratings be low. 
As producer David Wolper recalled in a 1998 interview: 
[ABC President Fred Silverman] said, 'It's gonna run all in the same week; Sunday, Monday, Tuesday, Wednesday, Thursday, Friday, Saturday and Sunday. So if it doesn't work, I only lose one week.
Such fears were unfounded as the miniseries finale, which aired on Sunday, January 30, 1977, became the most watched TV show in history. It would eventually be surpassed by the 1980 "Who Shot J.R.?" episode of Dallas and the 1983 series finale of M*A*S*H, but remains in third place to this day.
Based on Alex Haley's Pulitzer Prize-winning novel about his own ancestors that mixed fact and fiction, this historic programming event remains a stirring, sweeping saga of one family's unforgettable struggle over many generations to survive slavery and regain freedom.
Following West African teen Kunta Kinte (played memorably by LeVar Burton and in his later years by John Amos), who is sold into slavery in the mid-1700s and placed on a ship bound for America, the story follows Kinte's family lineage and the struggles they endure over the course of the next 100 years.
Roots features one of the greatest casts ever assembled for a television production, including Louis Gossett Jr., Ed Asner, Olivia Cole (who each won Emmys for their performances), Ben Vereen, Vic Morrow, Leslie Uggams, Georg Stanford Brown, Cicely Tyson, Madge Sinclair, Moses Gunn, Ralph Waite, Robert Reed, Sandy Duncan, Brad Davis, Lorne Greene, Scatman Crothers, Richard Roundtree and Maya Angelou, to name just a few.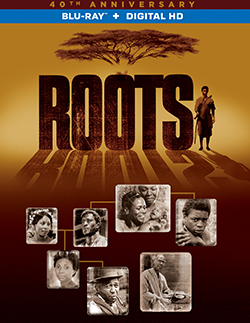 Roots is available June 7 for the first time ever on Blu-ray. Also available on Digital HD.