June 9, 2016 at 10:51 AM PDT
"The Conjuring 2" Press Conference
Director James Wan and the Cast Meet the Media
Horror fans are in a social media frenzy this week awaiting tomorrow's long-awaited theatrical release of The Conjuring 2, director James Wan's latest installment in the horror series. This time out, the ghost-busting Warrens (played again by Vera Farmiga and Patrick Wilson) are in London to do battle with the famous Enfield entity that terrified the Hodgson family back in the late '70s. Recently Wan and the film's stars—Farmiga, Wilson, Frances O'Connor, who plays the Hodgson matriarch Peggy, and young teen Madison Wolfe as the tormented daughter, Janet—met with the press to discuss the film, the real story of Enfield, and how the film has affected their own views of the supernatural world.
James Wan: It's not a documentary [laughs]. Going into it, I knew that I was making a movie that was subjective, not objective. I wanted to make a movie through the point of view of these characters. I wanted to be respectful of what they said happened to them like we did with the first film as well, and to use the "true" aspect of it as a foundation for me to put in my own scares, but always coming back to what makes these characters real and what they said happened. It's that fine line where if I start out with the "real" and sort of branch out a little bit, I always remember to pull myself back to that tree stump. If that stump is the "true story" aspect of it, the branches of the tree are what I would create, but at the end of the day the actual foundation is still what is supposedly real.
Patrick Wilson: After the first Conjuring film, [James and I] went and did Insidious 2 together, and then he went off and did Furious 7. So I think this time [with The Conjuring 2], because he had been so immersed in that "however-many-billion-dollar" franchise, the exciting thing for him was coming back and now understanding how the other side works: meaning huge action sequences, crazy huge budgets and the amount of time he can spend on a scene. So what did he gain? Like the scene where I'm talking to Bill and the camera is right here the whole time. He could never do that in something like F7, where you have a three-minute take like that. So I saw that kind of change where he felt confident in doing long takes, sweeping camera movements, whereas in F7, everything is [so fast]. I think with this film he wanted to go the complete opposite way.
Vera Farmiga: [James] and I have a very specific way [with each other]. He has a way with me that's our way, and it has very much to do with choreography. He's like Bob Fosse, telling me what to do. Literally, with head turns, and tempo. I mean, he's very precise. He directs me like a dancer in our very unique relationship. It's all because Lorraine tends to have these choreographed scenes where everything has to do with movement and timing. So he and I have a very specific type of collaboration.
Madison Wolfe: After meeting Janet and Margaret [the real-life Hodgson daughters] and letting them tell us their story, it really opens your eyes. After meeting them, you can tell that something happened. Even if it wasn't something as extreme; something definitely happened. I think it made me want to portray their story correctly and as well as I could. So after meeting them I did some more research and really just let it sink in to really connect with Janet.
Frances O'Connor: I didn't meet [Janet and Margaret] because I'm playing their mother and it felt weird to meet them. They came to visit on the set and I was wearing the same clothes their mother would have worn. I just felt that it would be better if I just used my imagination. Plus, I thought that if I could tell they were lying it would have ruined it for me [laughs]. But Maddie found it really helpful to talk with them.
Vera Farmiga: I knew nothing of Lorraine Warren when the offer came and as soon as I Googled all the videos of yesteryear I was just absolutely delighted by that couple. They are so darn cute and they have a connection that is undeniable. So, for me, coming aboard was about the love story. For this film, I really wanted to "mine" for that love, because when we spend time with Lorraine it's time spent talking about Ed and the two of them together. She exudes love. It's palpable who they were to each other and that's really what I tried to do; tap into their great love.
James Wan: What I really wanted to get from Lorraine for this movie and the previous movie is hearing about the dynamic of the love story between her and Ed. I just love that part of them and I've always said that even if you don't believe in who they are, they make for really interesting cinematic characters and that was one of the things that I wanted to tell with this film. I really wanted to tell of the love story between the two of them. 
Patrick Wilson: The biggest response I got from the first film is from people who say they don't like scary films at all, but loved [The Conjuring]. It wasn't just a great horror film, it was a great film. I think that's what the first film did was transcend the genre and while you don't set out to do something like that, you certainly want to craft a great story about relationships and humanity. So different people react differently; some only want to talk about the "scares" and some people will only want to talk about [the relationships of the characters]. While you don't want to say, "This movie has everything," that's what makes a movie stand the test of time and certainly within this genre. I'm not a huge horror movie fan, but when I think of a movie like The Shining or Poltergeist, it's always about people you care about and you get invested in. So with [the Warrens], who love each other so much that really does become the cornerstone for this franchise.
James Wan: I was willing to come back because it felt different [being a story based in London] and I knew that I needed to do something different from the first movie, so the stylistic location change really made it feel like a different movie. We talked a fair bit with the people who were there in the late '70s and were part of that particular story and the people who investigated it. And one of the people that was there during the height of all the media frenzy was a guy called Graham Morris. He was the photographer who took a lot of the pictures of whatever things happened in the house, and he couldn't be any more of a skeptic type. He's not a religious person, he's not spiritual. He's still alive now and he said that when he was there, he felt like that house was really just falling apart. This family was so poor and they had no money to fix anything. He said wallpaper was just peeling off the walls and it was just really gross. 
     He also said, "I don't believe in the supernatural world, but things were happening in that house that I just could not explain." He said that things would be moving on their own. He said that he literally had a Lego brick that flew out of the living room, hit him in the face and drew blood, but when he went in there, there was no one in that room. And these council homes were so small that there was literally no place for anyone to hide. So when I went to create the house I tried to stay as true to these testimonials as I could.
     That was a big part of what I wanted to do with this movie. I wanted to change the look from the first film. The first movie takes place in a farmhouse that was isolated in the middle of nowhere. It was a big, big farmhouse with a lot of space to move around and a lot of places for boogey men to hide in. So what was so exciting for me with this one is that it could not be more the opposite to that. It was smack in the middle of suburbia on the outskirt of London. There's pedestrian traffic everywhere and it's such a different look to the first film and that's what made it very exciting for me because this house is actually very boring. It's not your typical haunted house, it's not a big gothic mansion. I saw that as an exciting challenge for me to do something different and make it scary.
Frances O'Connor (on Peggy): I think you have to get into the mindset of Britain in the 1970s and what that level of poverty really is. You didn't have the option to move. You would have to wait for the government to find you another place. You had to make the most of what you had. I like that she's not immediately likeable. She loves her kids and would do anything for them, but she's also kind of a 1970s, un-PC, kind of mum. She's a little rough around the edges, she's not very expressive, but you see that underneath that she's got a heart and she loves her kids. So there were some fun contradictions to play with her, and as an actor that's fun.
Patrick Wilson (on whether he would be scared experiencing supernatural hauntings): I think I would laugh, because I know it wouldn't be nearly as scary as anything James came up with [laughs]. If anything I'm less wary of it because I feel like I've exhausted every side of it. It interests me and I'm fascinated by people's stories of the paranormal but it doesn't scare me. If there are spirits out there, I don't think they're all bad. I guess I feel sorry for more of them.
Frances O'Connor: I believe. Maybe not as much as what's in this movie [laughs], but I believe there's stuff out there. When reading the script and prepping for it, I totally freaked myself out. I actually bought crystals to wear on set in a necklace just to protect myself, but then when I got on set I said, "This is ridiculous" [laughs], because the set was actually really fun to be on. It was really creative and James is so much fun to work with, but I did freak myself out prepping for it, for sure.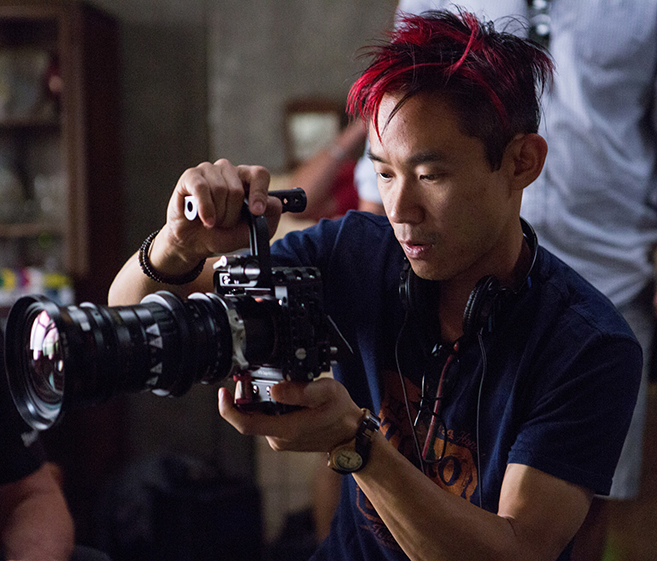 James Wan (on the horror genre): First and foremost, I'm just a fan of the genre. I saw Poltergeist and Jaws at such a young age and I think it scarred me [laughs]. Poltergeist made me terrified of creepy dolls, so there's a reason that I'm somewhat fixated with evil dolls. I have [Steven] Spielberg and Toby Hooper to blame for that. And Jaws made me terrified of the watery unknown and the concept of a man taken out of a space that they're comfortable in and put in an environment that is literally the fish-out-of-water idea. Between those two movies, I think I started understanding the dynamic of how to create tension.
     I remember reading an article where [writer/director] Sam Raimi said that the horror genre is the best genre to break into filmmaking with. Because it's a genre where you don't necessarily need a lot of money to make it work, but, more importantly to me is that the horror genre is a director's medium. It lets the director craft the camera work, knowing when to edit, using sound design, using lighting and using the actors in such a way. It's such a director's medium that I just felt it was the perfect place to showcase me as a filmmaker.
The Conjuring arrives in theaters June 10.