July 29, 2016 at 9:38 AM PDT
Vintage Vanities and Behind-the-Scenes Beauty
Primping and Pampering in Old Hollywood
You may have noticed that we love combing through our photo archives for rare and never-before-seen images. We've covered the iconic glamour photo portraits from the Golden Age of Hollywood, the launch of the bikini, to the just weird publicity photos that even we couldn't categorize. Today we're delving into the world of beauty and looking at vintage vanities of the stars and behind-the-scenes moments of prepping, primping and those last-second touches before the camera rolls. Film buffs, vintage enthusiasts, antiques collectors and makeup lovers will all find something special in these photos. Enjoy this step back in time as we take a look at behind-the-scenes beauty of Old Hollywood.
Norma Shearer
Screen legend Norma Shearer (Idiot's Delight) gives a skincare demonstration at this sleek deco vanity in 1930.
Marie Dressler
Oscar winner Marie Dressler gives the universal "mascara face" while on the set of the 1930 musical comedy Chasing Rainbows
Marian Nixon and Ginger Rogers
Marian Nixon as Glory Franklyn (left) gives a little side-eye to Ginger Rogers as Marje Harris (right) in 1933's Chance at Heaven
Billie Burke
Billie Burke in the role of Millicent Jordan shoots a scene for Dinner at Eight (1934) at a makeup vanity table while the cast and crew, including director George Cukor, look on.
Judy Garland
Judy Garland starred as Betsy Booth with her longtime co-star and friend Mickey Rooney in Love Finds Andy Hardy. Garland appeared in a total of three of the Andy Hardy films.
Rosalind Russell
The Women (1939) is a great pick for any vintage beauty aficionado. It was hard to narrow down our favorite still from the film but we love this image of Olga (Dennie Moore) giving a manicure to a multi-tasking Sylvia Fowler (Rosaslind Russell).
Ann Rutherford and Evelyn Keyes
Ann Rutherford and Evelyn Keyes apply their makeup in their dressing room on the set of Gone with the Wind
Lana Turner and Judy Garland
Lana Turner as Sheila Regan and Judy Garland as Susan Gallagher share a moment at an ornately carved vanity during the 1941 film Ziegfeld Girl.
Lucille Ball
As a former model, Lucille Ball knew a thing or two about doing her makeup. Here she is touching up her face in 1946 on the set of Easy to Wed.
Margaret O'Brien
Margaret O'Brien turns the tables on The Unfinished Dance's makeup artist, Jack Dawn.
Elizabeth Taylor
An icon of glamour, Elizabeth Taylor (National Velvet, Cat on a Hot Tin Roof) rolls her hair while seated at her vanity in this charming publicity photo from MGM in 1947.
Janet Leigh
Makeup, wardrobe and hair departments descend on Janet Leigh between takes during the 1948 musical Words and Music, which also featured stars such as June Allyson, Perry Como, Ann Sothern, Mel Tormé, Cyd Charisse, Judy Garland, and Lena Horne.
Betty Garrett
Betty Garrett (On the Town, 1949) shows off a beautiful train case filled with fragrance.
Ava Gardner
Ava Gardner (The Great Sinner) enjoys a shake while relaxing at her enviable dressing table in this photo from circa 1949.
Ann Miller
Ann Miller (Hit the Deck) shows off the essentials to packing in this 1952 photo.
Joan Fontaine
Behind-the-scenes of Ivanhoe (1952) as Joan Fontaine (who played Lady Rowena) checks on her  makeup with a rather unimpressed Robert Taylor in the background.
Barbara Stanwyck
Who needs a private trailer when you can just spread out a towel and have your face done in the great outdoors, as Barbara Stanwyck did on the set of Jeopardy (1953)?
Ann Miller and Carol Haney
Behind the scenes of the 1953 musical Kiss Me Kate, Ann Miller helps a sister out by touching up Carol Haney's eye makeup.
Doris Day
Full publicity shot of Doris Day as jazz performer Ruth Etting from 1957's Love Me or Leave Me. The film won the Oscar for Best Screenplay.
Donna Reed
Donna Reed (The Picture of Dorian Gray) is a vision seated in this plush dressing area and wearing an elaborate nightgown.
Elizabeth Taylor
Elizabeth Taylor in the role of Leslie Lynnton Benedict, touches up her makeup on the set of Giant (1956).
Jarma Lewis
Jarma Lewis (The Tender Trap) displaying some major eyebrow talent. Take a second to admire that beautiful hand mirror as well.
Maria Schell
Maria Schell is a good sport as she flashes a big grin while getting her face and hair touched up on the very damp outdoor set of the 1960 remake of Cimarron. Her makeup is being attended to by Frank McCoy and hair by Lorraine Roberson.
Carmen Sevilla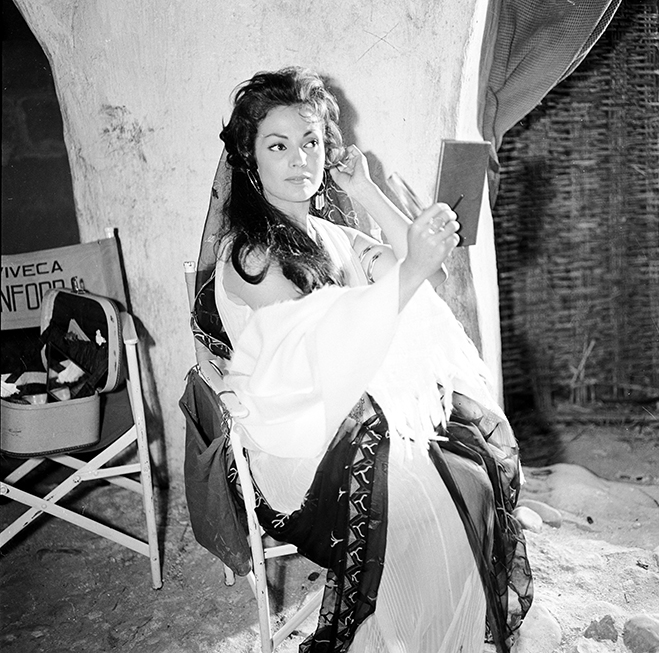 Playing the role of Mary Magdalene, Carmen Sevilla makes a last-minute check of her makeup between scenes on the set of King of Kings (1961).
Laya Raki
Laya Raki is worth waiting for in this publicity photo with Ron Randell (King of Kings).
Nancy Kwan
Nancy Kwan freshens up her face during the filming of Tamahine. With flowers in her hair and pale colored lipstick, Kwan embraced the trends of the time.
Leigh Taylor-Young
Leigh Taylor-Young has body makeup applied for the film Soylent Green (1973) while sitting in the world's coolest makeup chair.