September 9, 2016 at 9:54 AM PDT
Enjoy Activity Time with "Storks"
Coloring Pages, Games and More
The Storks are coming! And while they may not deliver a new baby brother or sister to your doorstep, they do have lots of fun activities up their sleeves, err, wings to keep little ones engaged as you wait for your next delivery from the stork-run global internet delivery giant web site, Cornerstore. Junior, Tulip, baby and the rest of the cast appear in fun, new coloring pages and games for kids and adults, alike. 

Follow the official Storks Pinterest page for more activities, cast photos and news.
Looking for some inspiration? Let the littlest member of the Storks family be your muse with her bright fuchsia hair and big blue eyes.
 

You'll also find puzzles, word search games, and even instructions on how to build your own stork beak!
For even more interactive fun, be sure to visit the official Storks movie page to play Delivery Dash, where you will fly from house to house delivering packages for Cornerstore—but be sure to avoid any obstacles in your way. Three strikes and you're out! Think you can beat Junior's one million deliveries?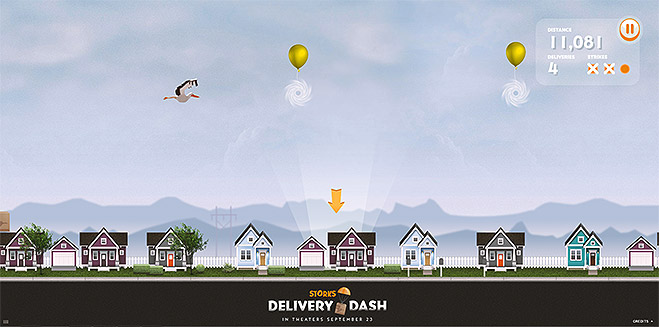 While you're there, click on over to Tulip the Builder and help Tulip collect parts to build her flying machine.
 

Find your flock when Storks opens in theaters on September 23.