October 11, 2016 at 10:34 AM PDT
Get Ready for Halloween 2016
(Mostly) Easy Costume Inspiration
In a little under two weeks the ghosts and goblins (and clowns, but we won't talk about that this year!) of Halloween will be walking among us at parties, trick-or-treating and having a generally wicked good time on All Hallows Eve. If you don't have a costume picked out yet, don't panic. We've combed through countless films to bring you some sartorial inspiration. And better yet, a lot of these get-ups can be made with items you already own or can find with a quick trip to the thrift store. There are a few more challenging pieces here as well, for those who are handy with a needle and thread.
You can't go wrong as an old-school vampire or vampiress. Take inspiration from Bela Lugosi and Carroll Borland in the 1935 chiller Mark of the Vampire.
Classy couples can look to the classics for their costumes. Humphrey Bogart and Ingrid Bergman, as Rick Blaine and Ilsa Lund in Casablanca, make a perfect pair.
Try a 1950's surly teenager costume. James Dean is inimitably cool as Jim Stark in the 1955 classic Rebel without a Cause.
Another fun and relatively easy couples costume idea: cheesy sci-fi couple. Here Leslie Nielsen and Anne Francis are set to orbit the Forbidden Planet.
Want to creep your friends out while giving a nod to one of cinema's greatest leading ladies? Dressing up as Jane "Baby Jane" Hudson (played by Bette Davis) should do the trick.
Perhaps even creepier is going to a party as little Regan (played by Linda Blair) in The Exorcist. All that's required is a nightgown, some makeup and perhaps the willingness to utter unmentionable things that would shock even yourself.
Time to lighten the mood a little! Go for clashing colors and patterns just as Rodney Dangerfield did when he played Al Czervik in Caddyshack. It's...a hole in one.
If you got it, flaunt it! Dare to bare in a skimpy Halloween costume this year with Willie Nelson as your inspiration from 1980's bittersweet Honeysuckle Rose.
1980's-era Madonna is always a great go-to choice. Here Madge poses with a cougar (which we don't recommend) in the 1987 caper Who's That Girl?
Cyndi Lauper has always been an icon but her look in the '80's was particularly fetching and makes for a great Halloween costume. Here she is appearing in the music video "The Goonies 'R' Good Enough."
If pop stars aren't your thing, maybe you'd like to try something more somber, such as being a man of the cloth for an evening. A young Christian Slater starred as Adso von Melk in the medieval mystery The Name of the Rose.
If you like the idea and convenience of just throwing on a robe as your costume but want to be a little more...subversive...add a mask and voilà! you're now one of the partygoers from "that" scene in Eyes Wide Shut.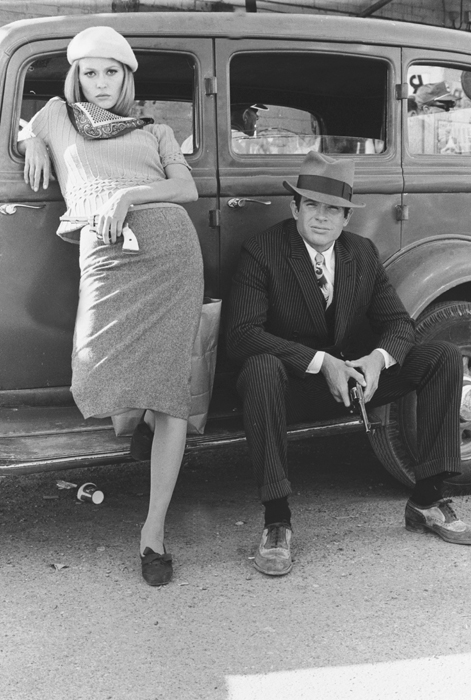 Bonnie and Clyde are a perennial Halloween favorite for couples. The 1967 film version starring Faye Dunaway and Warren Beatty should be required viewing for anyone wanting to suit up as the 1930's gangsters.
We couldn't choose just one costume from The Matrix. Pick your favorite or go as a group.
Austin Powers may be nearing 20 years old but a Dr. Evil costume is timeless. We'd bet "one miiiillllliiion dollars" on it.
The only question is: Who will be Scorpion and who will be Sub-Zero? A behind-the-scenes shot from the 1995 film, Chris Casamassa as Scorpion and Francois Petit as Sub-Zero.
Of course, going as the man(child) himself is always a great Halloween costume idea but don't forget other characters in the Pee-Wee Universe, especially Large Marge!
For couples who are sticky sweet, Buddy and Jovie from Elf are the perfect twosome.
We couldn't leave out our canine friends. This easy costume as the Last Man on Earth (and the coolest looking) also includes the right-of-way for your four-legged BFF. Will Smith as Robert Neville in I Am Legend.
We hope to see lots of Imperator Furiosas this Halloween. Considering that Mad Max: Fury Road won the Oscar for Best Costume Design, it's probably safe to say that the film and Furiosa herself (played by Charlize Theron) will inspire some truly creative costuming!
And if you're down to the wire, a pair of Groucho glasses will work just fine!