October 21, 2016 at 2:04 PM PDT
A Taste of Horror
A Closer Look at Upcoming "Horror Made Here" Event
Pack your flashlights and mark your calendars for Friday, October 28 and Saturday, October 29, when Warner Bros. Studio Tour Hollywood will present "Horror Made Here: A Twilight Tour and Screening."
This past Wednesday, the Studio Tour opened its doors (and coffins) to the media for an early look at the upcoming event. On display are some of the finest props and costumes from the venerable WB horror library. These totems of terror represent just a small fraction of the astounding collection that the studio has amassed over its 90-plus history. 
Upon entering the exhibit visitors are greeted by a wall of spinning crucifixes featured in the summer blockbuster The Conjuring 2 hung by Mrs. Hodgson in her London home in an attempt to keep her daughter Janet safe.
Further down the wall is the highlight of the collection: Annabelle. The demonic doll has been featured in both The Conjuring and The Conjuring 2, has had her own feature movie (Annabelle) and will star in Annabelle 2 this coming May. 
 

Guests can also get a close look at the Ouija board, newspaper clippings and other props from The Conjuring films.
 

On the opposite wall is a collection ranging from the macabre to comedic. Props from The Exorcist, A Nightmare on Elm Street (2010), Gremlins, Interview with the Vampire, even Abbott and Costello Meet Frankenstein are all curated in a chilling and well-thought-out display.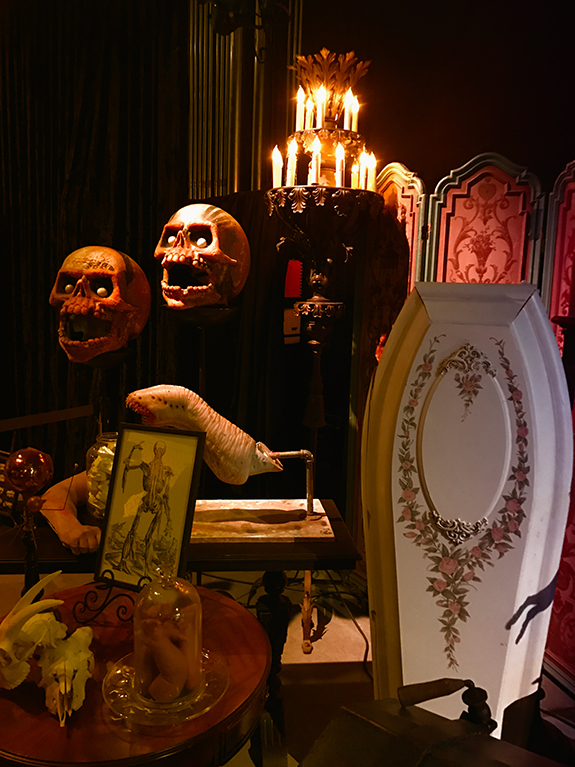 There is, of course, so much more to see but we don't want to give away all the scary surprises. And don't forget, the "Horror Made Here" event isn't just a showcase of some of the genre's greatest props. Guests will also take a twilight tour of the studio lot, stopping at sets and sound stages where movies such as The Lost Boys, House of Wax, Monster Squad and the HBO series True Blood were filmed, followed by a screening of either The Conjuring (Friday) or The Conjuring 2 (Saturday).
Tickets are on sale now at the Warner Bros.Studio Tour Hollywood official site.