November 17, 2016 at 11:37 AM PST
"Fantastic" Press Conference
Rowling & Team Discuss New Wizarding World
Recently the creative triumvirate that brought Harry Potter to the silver screen—creator/author J.K. Rowling, director David Yates and producer David Heyman—got together with the cast of their latest entry into Rowling's Wizarding World, Fantastic Beasts and Where to Find Them, including Oscar winner Eddie Redmayne, Katherine Waterston, Dan Fogler, Alison Sudol and Ezra Miller. Their mission? To meet the press and discuss this long-awaited film which opens around the world this Friday.
That this media event took place in New York is apropos, as Fantastic Beasts takes place in the Big Apple in 1926. Already receiving rave reviews, the film is merely the first in a proposed five-film series from Rowling, who, unlike in the previous groundbreaking Harry Potter film franchise, has fully taken the creative reins this time around making her screenwriting debut. So here's some fun and informative background on this latest visit to the magical world of wizards as well as a chance to meet the characters, the actors, and what's in store for the future!
The Birth of Newt Scamander
J.K. Rowling: When I wrote the little book [Fantastic Beasts and Where to Find Them, under the name Newt Scamander] that I did for charity [in 2001] the character of Newt appealed to me and as often happened with the Potter-verse I had some thoughts about what had happened to Newt and who Newt was. I don't think at that stage that I ever imagined writing a screenplay. I knew that Warner Bros. wanted to do something with Fantastic Beasts, they'd optioned it a long time ago. When Warner came to me and said that they did want to do something with Fantastic Beasts, I sat down to write some notes and then I wrote a story and that story became a screenplay. It was never really a calculated "I think I want to revisit the world," it came about as these things always do; through the story.
     I've been aware since the end of Harry Potter that there was still a huge hunger for more and I think it would be easy to say, "Well, then I'll just keep producing," but I never was that person. I planned seven books, I knew exactly what I wanted to write, and that story was finished. But as I said, I always had some ideas about Newt and I was intrigued by Newt, and the truth is that when I was asked if I would write some more, at the back of my mind was Newt. This is what I really, really wanted to write. This hasn't been created in response to a need or awareness that I could write some more. This has been created because it's something that I really wanted to write and I hope that when people see the movie they will see that it grew out of things that are really important to me at the moment.
David Yates: Jo admitted it was her first screenplay, so she said, "I'm going to go on a steep learning curve," and she entrusted us with guiding her ultimately. But she's an amazingly quick learner. The biggest challenge to begin with was that we had to figure out tonally what kind of movie it was going to be. Jo is so eclectic and imaginative and passionate; stories pour out of her. So it was actually figuring out the emotional compass of the piece. Jo's first [draft of the] screenplay was very whimsical. It was very delightful, and most of that still exists in the movie that we've got. Eventually, over the third or fourth draft, she kind of hit a melody that balanced the light with the dark, which is the movie that we've ended up with. Once she hit that tonal balance, she was away and we couldn't stop her and it was very difficult to keep up with her because she's prolific and loves to write.
David Heyman: When I read the first draft, there was some trepidation and I was nervous because what a bummer it would be if the script was lousy [laughs]. She's a novelist and there's a big difference between a novelist and a screenwriter; it's a different form. But even though it wasn't right yet, it was a strong first draft and you could tell she was a formidable screenwriter.
Meet Newt Scamander
Eddie Redmayne: Newt has a seeming shyness and awkwardness and a complete incapacity to relate to other people and one gets a sense that this stems from some sort of damage, but also because his mum bred hippogriffs and he has grown up with these creatures and he has deep empathy for them. There's a line in the film in which Newt turns to Jacob and says, "Worrying means that you suffer twice," and I feel there's a confidence in who he is but he's an outsider.
     J.K. Rowling writes about these characters who all appear to be misunderstood or are outsiders, but when they find each other they bring these qualities out. I think that both Tina and Newt have a certain pre-judgmental notion and, yet, when they really look and listen, they see each other, which is great.
     When J.K. Rowling writes a script  the detail in-between is so intricate and so exotic and enticing that it was all there. It was so fully-formed that I had an absolute sense of who Newt was pretty much from the first time I read it and when I met with Jo about a week before we started filming she talked about where Newt came from in her imagination and in her life and as with everything with Jo it comes from her soul and it was an amazing conversation which kick-started me in the right direction.
Meet Tina Goldstein
Katherine Waterston: Her full name is Porpentina Goldenstein and she's Queenie's older sister. They were orphaned as children and because she was the older sister she sort of had to take on adult roles that she really wasn't ready for and as a result she thrives in certain parts of her life but in other areas she's really quite stunted, because she never really had the opportunity to be a child and explore herself. Before the film starts, she was all business and very dedicated to her job because that was the area of her life that worked, but when we first meet her she has been demoted at work and has been thrown for a loop, so she's trying to stabilize her life a bit. I love so many things about her. I love that she's not very good at self-promotion, she's not good at selling herself and I really relate to that because that's something that's really required of an actor and something that I've always been terribly lousy at. So throughout the film and through the support of this group that she comes together with she kind of gets her groove back. I'm just excited to see what Jo has in store for her in the coming films.
Meet Queenie Goldstein
Alison Sudol: Queenie is the most delightful human being. She is warm-hearted, she is full of love and light, and so accepting. She's lovely inside and out, but she also has this ability that makes her particularly special, which is that she reads minds. But it's not like she's reading a person's immediate thoughts—she's reading a person's story. The more she tunes into a person, the more that she sees, she's this extraordinary empath, and it's a gift that comes in handy quite a bit in this film. While she is so loving and outgoing, she's always receiving [people's thoughts] and that has made her a tiny bit isolated. She's been protected mainly by her sister Tina, so she has been allowed to stay pure. She's a wonderful character and I love her very much.
Meet Jacob Kowalski
Dan Fogler: Jacob is back from World War I and all he wants to do is settle down and open up a bakery, but he gets mixed up with these witches and wizards. I equate it to [Nick] Bottom from A Midsummer Night's Dream, where he gets to go into the forest and play with the magical creatures and falls in love with Titania. That's what Jo does so well is create these characters. I'm the baker from the fairy tale.
Meet Credence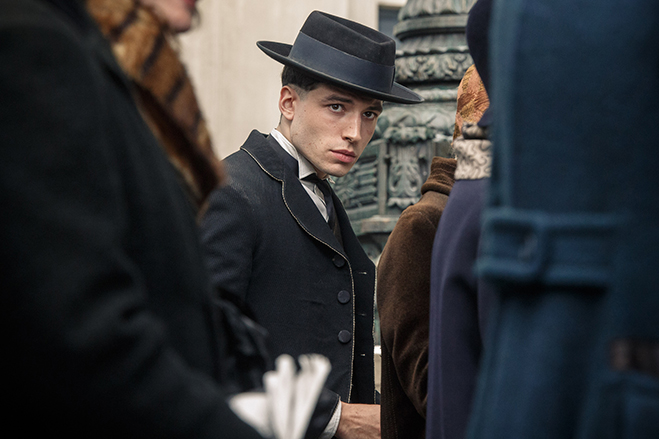 Ezra Miller: I guess you could say that Credence is sort of the age'd child of violence. He's grown up partially in a foster home where he still lives and in a community where there's a prerogative to stamp out a certain idea of what is abnormal. The rub lies in the fact that Credence himself is abnormal and so as a result he is subject to a violent form of indoctrination. He's a kid who hasn't been loved or seen or cherished for who he is.    
Different Wizarding Worlds
David Heyman: I think one of the things that's important is the way in which [director] David [Yates] has approached these films and the way in which [production designer] Stuart Craig has designed them is that they're all grounded in a reality. In this film, we may spend more time in a "real" world as opposed to Hogwarts, but even at Hogwarts and the way Stuart designed that, they were grounded and they felt accessible. It wasn't fantasy, it was reality. And David's approach to the creatures or the beasts was grounding them. Nature is the most extraordinary and magical thing and you can look at that as your foundation and you can build from that. So there's a language in fantasy characters and fantasy films which is fine, but it's not what we wanted. We wanted to ground our world and ground our story. The pleasure for me with this film is that while it's fantastic and magical and fantasy and wands, it's actually the characters and finding the points of connection that makes this whole world feel accessible and possible.
David Yates: I think that there is something quite restrictive about the Ministry of Magic [in the Harry Potter films], quite bureaucratic actually. In the second [Fantastic Beasts] movie, we go back there very briefly at the beginning of the story. Each organization [the Ministry of Magic in Harry Potter and the Magical Congress of the United States of America in Fantastic Beasts] is very bureaucratic and is weighed down by the proper way of doing things, and I think that's a theme of governmental business that Jo really likes. They're both controlling and top-heavy administrations. In a weird way I didn't think of this as a "period" movie and I know that sounds crazy, but I just found the ideas in it very interesting, especially politically. I love the texture—the world and the cars—that's all fun, but it felt resonant to me as now in a weird way. It felt timeless.
The Mating Dance Scene
Eddie Redmayne: In the script, the stage directions are so beautifully and eloquently written, and with that scene it says, "and Newt performs a mating dance…" I sort of read it and went, "What the..??!!" So I worked with this woman named Alexandra Reynolds who is a choreographer and dancer, and I'd worked with her on The Theory of Everything and The Danish Girl, and I presented her with the words "mating dance" [laughs]. And we basically went down a Youtube hole, watching birds doing mating calls and all these weird things trying to look for inspiration. And then it came to this deep and humiliating day in a rehearsal space in London where she took her phone and filmed me doing ten different mating dances and we sent them one-by-one to David.
     The time between when those videos were sent and the responses and comments came back were the most excruciating four hours of my life [laughs]. And this mating dance was so important to David, he would send comments like, "No, I don't think that would be seductive enough. I'm not quite sure she would respond to that" [laughs]. So out there in the world, from Alex's phone, are ten of the most humiliating videos that would end my career. The one we ended up doing is the least embarrassing, which probably says a lot.
The Friendship Theme Continues
J.K. Rowling: This first movie shows characters who are drawn into a situation that none of them expected, and, as often happened in the Potter-verse, they are going to have to make some choices about how they deal with something that you get a glimpse of in this movie and that will obviously become a significant factor going forward. It's a quartet rather than a trio [of friends] in this movie. It was fun to write and have two big female roles as well and I enjoyed writing sisters, as I'm one of a pair of sisters.
Katherine Waterston: That's one of my favorite messages of the film is that there's so much more to people than initially meets the eye. This is one of the great discoveries in the film. At least for Tina as she gets to know Newt at the beginning; he's not very engaged, he's prickly, and she really wishes he would buzz off. She thinks he has an interest in a very ridiculous subject, but getting to know him better is when she comes to understand what these creatures really mean and what they can be and through seeing his relationships with the creatures, she sees that there's so much more to him than just the prickly, standoff-ish outsider she meets at the beginning of the film.
Eddie Redmayne: When I read the script my mind was genuinely blown. There was a thriller element, there was a darkness to it, but there was great humor and that thing that Jo did in all the Potter films, there was great heart at the center of it.
Life On the Set
David Yates: When you're making a huge movie that involves hundreds and hundreds of people, it can get a little impersonal if you're not careful. Everybody is contributing to our story and that's the thing about movie-making, you're bringing all of these talented people together—actors, technicians, painters, decorators, designers, composers, producers, directors—for a common purpose: to create something that you all have your fingerprints on in one way or another. There's something really beautiful about that concept.
     So if you sort of translate that concept into a social experience it means valuing everybody that you work with. It can be the bloke who's painting the scenery, it could be the person who brings your sandwich and coffee in the morning, it doesn't matter who they are. They're all there making this thing possible. It's about respect and valuing everybody who contributes. David feels that strongly, Jo feels that strongly, I feel that strongly and if it comes from the top and if you cast actors who are not only talented actors but also genuinely nice people then you start to get this vibe which is a million miles away from a director who screams at everybody. You take fear out of the process, because fear in my experience makes people contract; makes people afraid to take risks and you want to encourage people to take risks and be bold and do things that they otherwise might not do.
     One of the nicest things people can say is, "This is like working on an indie film," where everybody is doing it for love rather than money. I'm proud of that more than anything else because it speaks to the values that we feel and the values found in the movie.
David Heyman: I think that the environment that David creates around a film is one where people feel safe, and I think that Jo feels incredibly safe with him and that allowed her to take those big swings where she can go to a really dark place. It's very important for any artist to be able to express themself and not to feel hamstrung, and David provides that for the actors, the crew, and for Jo so she can try things out. They may not always be right, but explore; go down dead-ends, because that will reveal things within itself.
A "Fantastic" Future
J.K. Rowling: I don't yet know what the reaction to this movie will be. I am proud of it and that's the most you can say as the creator. We all feel very proud of what we've done together. I would love for everyone else to love it as much as we do. I really can't wait for people to see this movie and this is just the beginning; it's a five-part movie and this is chapter one. I know which characters are coming next and I hope people will like what's coming.
David Yates: We're working on the second one and Jo has a plan for five, but we have to see how these movies are received ultimately. The next one is very different to the first one. Tonally, it feels like a dream; a weirdly beautiful and evocative dream.
David Heyman: At the end of the publicity part of this film, we're going to sit down with each other and the heads of the departments and we're going say what we think we did well and what we think we can do better, and we're going to stress-test every scene, every set and every visual effect in the movie in order to learn and make the next one better.
J.K. Rowling: As far as writing's concerned, I need to do it. I feel strange if I don't write. I love it so much that it would feel like some sort of psychic amputation if I didn't. I can write anywhere at any time. I can write with the TV on in the background, I can write while half answering my kids' questions. I have written a surprising amount of one chapter while actually being on the lavatory, which was the only place I could get temporary peace. Last night I was kind of in a bleak mood boarding the plane to fly out here and I thought, "I have to work." So I got out the second screenplay and I did some work on that and it made me feel a whole lot better. I never forget how incredibly fortunate I am. I genuinely wake up every day and do the thing I love, I have a wonderful family. I am the luckiest person I know, and I wish the same for anyone who is out there working hard and trying to deal with life, which is tricky for all of us no matter who we are.
Fantastic Beasts and Where to Find Them arrives in theaters this Friday.