February 25, 2017 at 4:53 AM PST
The "It" Actors: 1930-2000
Who Was "It" On Your Birth Year
With the Academy Awards airing this Sunday, we thought it would be fun to take a ride through Hollywood history and look at the actors and actresses who were on the tip of everyone's lips each year from 1930 through 2000. Whether you're 17 or 87, take a stroll through the past and see who represents your birth year. Like all such lists, compiling it was no easy feat. Each representative has to have films contained in the Warner Bros. Library (obviously), and the selection could be for a memorable performance, hitting new heights of popularity, successfully mounting a comeback or even making news off-screen as well. Enjoy the trip...
1930s   1940s   1950s   1960s   1970s   1980s   1990s   2000
1930 - Greta Garbo
Already a star in a dozen silent films of the 1920s in films like The Temptress, Greta Garbo made the transition to talkies with 1930's Anna Christie where the promotional posters declared: Garbo Talks!. Throughout the rest of the decade, Garbo solidified her legendary status in classics like Grand Hotel, The Painted Veil and Ninotchka. At the height of her fame, at the age of 35, Garbo retired from acting following 1941's Two-Faced Woman. She never appeared in another film, living the remaining 50 years of her life out of the public eye until her death in 1990 at the age of 85.
1931 - Jean Harlow
Arguably Hollywood's first bonafide sex symbol, Jean Harlow (aka The Blonde Bombshell) burst on the scene in Howard Hughes' Hell's Angels, followed by her appearances with James Cagney in The Public Enemy and Clark Gablein the controversial Red Dust. Harlow and Gable would continue as a major box office duo in such films as Hold Your Man, China Seas andWife Versus Secretary. Tragically, Harlow died of kidney failure at the age of 26 in 1937 during the filming of Saratoga (also starring her close friend Gable). The film was completed by using stand-ins for the late actress and was released less than two months after her death and became the most successful film of Harlow's short career.
1932 - Clark Gable
This Hollywood icon began his ascent to legendary status in the steamy and controversial 1932 Red Dust—one of six films Clark Gable made with our 1931 selection, Jean Harlow. By the end of the 1930s, Gable was the inarguable King of Hollywood after a massive string of box office successes that spanned the genre spectrum, including Mutiny on the Bounty, San Francisco, and, of course, Gone with the Wind. The Academy Award winning actor's final film The Misfits, with Marilyn Monroe, was released three months after his death in November of 1960. Gable was 59.
1933 - Katharine Hepburn
A true Hollywood legend, Katharine Hepburn made her film debut in 1932 with John Barrymore in A Bill of Divorcement and was immediately lavished with praise by the critics. The following year she hit major stardom that never abated over the next 60 years with Little Women, Christopher Strong and Morning Glory for which she won the first of her four Academy Awards. A very select list of her classic films includes Stage Door, Bringing Up Baby, The Philadelphia Story, Adam's Rib and The African Queen. Hepburn passed in 2003 at the age of 96.
1934 - Bette Davis
A workhorse of an actress beginning in 1931, Bette Davis appeared in nearly 20 films before receiving mass acclaim for her role in 1934's Of Human Bondage (just one of six films she appeared in that year, including Fog Over Frisco). And over the next four decades, Davis would become Hollywood Royalty with such memorable films as The Petrified Forest, Marked Woman, The Star, Jezebel, Dark Victory, Juarez, The Private Lives of Elizabeth and Essex, The Letter, The Bride Came C.O.D., Now, Voyager and What Ever Happened to Baby Jane?. And believe it, that's a very small list. Davis died in 1989 at the age of 81.
1935 - Errol Flynn
Flamboyant both on-screen and off, Errol Flynn lives on in Hollywood history as the swashbuckling action hero who first burst into the American mainstream in 1935's Captain Blood. In the next few years, Flynn would further cement his place among Tinsel Town royalty with such classics as The Adventures of Robin Hood, The Charge of the Light Brigade, They Died with Their Boots On, Dodge City and The Private Lives of Elizabeth and Essex. Off-screen Flynn was a hard drinker with an appetite for the ladies and became tabloid fodder when he was embroiled in a sex scandal with underage girls. Flynn was ultimately acquitted of the charges but his public image had been tarnished and his career suffered in the aftermath. He died in 1959 of a heart attack at the age of 50.
1936 - Paul Robeson
In 1933, Paul Robeson became the first African-American to be top billed over a white actor in The Emperor Jones and the success of the film led him to become one of the first bona fide African-American film stars. In 1936, Robeson starred in the classic musical Show Boat where his performance of "Ol' Man River" (pictured) remains one of cinema's most memorable musical moments. An outspoken political advocate, Robeson traveled the world doing concert tours and came under FBI scrutiny for his pro-Soviet Union stances and became blacklisted during the McCarthy era. He continued with his stage and music career in the late 1950s, but ill health forced him into retirement in the early '60s. He died in 1976 at the age of 77.
1937 - Fred Astaire
Fleet of foot, suave and debonair, Fred Astaire revolutionized dance in cinema and his string of movies with frequent co-starGinger Rogers, including The Gay Divorcee (1934), Swing Time (1936) and Shall We Dance (1937), turned him into a major box office attraction. His star would rise even further in the decades to follow with such classics as Easter Parade (1948) and Royal Wedding (1951). Astaire died in 1987 at the age of 88.
1938 - Spencer Tracy
With two consecutive Academy Award "Best Actor" wins for 1937's Captains Courageous and 1938's Boys Town, the embodiment of society's "everyman" would go on to become one of the finest and most popular actors who ever graced the screen. In the decades that followed, Spencer Tracy would star in such masterworks as Boom Town, Dr.Jekyll andMr.Hyde, Father of the Bride, The Old Man and the Sea, Thirty Seconds Over Tokyo and Northwest Passage. Tracy died of a heart attack in 1967 at the age of 67.
1939 - Cary Grant
The quintessential Hollywood leading man, Cary Grant quickly became a major rom-com star with 1938's Bringing Up Baby (pictured above) but his lengthy career cut across all genres without losing his trademark charm, including such classics as The Philadelphia Story, Suspicion, North by Northwest, Arsenic and Old Lace, The Bachelor and the Bobby-Soxer and The Bishop's Wife. Grant passed away in 1986 at the age of 82.
---
1940 - James Cagney
 Small in stature but massive in screen intensity, James Cagney initially carved his place in history with his star turns in gangster classics like The Public Enemy, but, ironically, won his only Oscar as a song-and-dance man in 1942's Yankee Doodle Dandy. In 1939-40 alone, he starred in half-a-dozen films: The Roaring Twenties, Each Dawn I Die, The Oklahoma Kid, City for Conquest, Torrid Zone and The Fighting 69th. His longtime friend and then-PresidentRonald Reagan delivered the eulogy at Cagney's 1986 funeral. He was 86.
1941 - Gary Cooper
With more than 100 movies in a career that spanned 30 years, Gary Cooper first shot to stardom in 1941 portraying real-life WWI war hero Alvin York in Sergeant York, which was the year's #1 film at the box office and resulted in Cooper's first of two Academy Awards. His trademark understated style was also on display in these other Cooper classics: High Noon, The Pride of the Yankees, The Fountainhead and Friendly Persuasion. Cooper died of cancer in 1961 at the age of 60.
1942 - Humphrey Bogart
With a string of hit movies already under his belt—The Petrified Forest, Dark Victory, High Sierra, All Through the Night and The Maltese Falcon—Humphrey Bogart was already a star but it was 1942's Casablanca that made him a legend. Bogie's classic persona of a cynic with a noble underbelly would anchor some of Hollywood's greatest films, including the four inarguable classics with his co-star and eventual wife Lauren Bacall: To Have and Have Not, The Big Sleep, Dark Passage and Key Largo. Other post-Casablanca Bogart must-sees include Passage to Marseille, Action in the North Atlantic, The African Queen and The Treasure of the Sierra Madre. Bogart died of cancer in 1957 at the age of 57.
1943 - Olivia de Havilland
The British-American actress Olivia de Havilland made her screen debut in 1935's A Midsummer Night's Dream and went on to make nine films with our 1932 selection Errol Flynn, including Captain Blood, The Charge of the Light Brigade, The Adventures of Robin Hood, Dodge Cityand They Died with Their Boots On. In 1943, she would make her favorite film with Warner Bros. in the romantic comedy Princess O'Rourke. After completing the film, however, de Havilland sued the studio to get out of her contract and won her artistic freedom in a well-publicized landmark case. The two-time Oscar-winning actress would continue working in film and television for the next 40 years, including the popular miniseries Roots: The Next Generations in 1979 and North and South II in 1986. Retiring from acting in the late 1980s, de Havilland celebrated her 100th birthday just last summer.
1944 - Judy Garland
Known forever as the girl-next-door from Kansas in 1939's The Wizard of Oz (she was only 17 at the time), Judy Garland would team-up for a series of lighthearted films with another former child star, Mickey Rooney, starting with 1937's ThoroughbredsDon'tCry. But she hit major mainstream success in 1944 with the box office hit Meet Me in St. Louis. Her later films, including The Harvey Girls, Easter Parade and A Star is Born cemented her celluloid legacy. Her weekly television series, The Judy Garland Show, ran for one season (1963-64), and two concert albums (one with her daughter Liza Minnelli) were mildly successful. Sadly, in June of 1969, the 47-year-old Garland was found dead of an accidental barbiturate overdose.
1945 - Joan Crawford
Her work in the early 1930s made Joan Crawford one of the most popular actresses of the era with such films as Grand Hotel, Dancing Lady, Sadie McKee, Forsaking All Others, The Bride Wore Red,I Live My Life and The Last ofMrs.Cheney, but by the end of that decade her star had faded. Crawford moved to Warner Bros. in 1943 and in 1945 she gave her immortal performance in Mildred Pierce, which resulted in an Academy Award. Other notable performances followed in Humoresque, Possessed, Flamingo Road, Torch Song and What Ever Happened to Baby Jane? (playing opposite her longtime rival Bette Davis). Crawford passed away in 1977 at the age of 73. 
1946 - James Stewart
The tall and lanky James Stewart, pictured on the set of 1949's The Stratton Story, played roles in hit movies spanning comedy, romance, drama and suspense with equal brilliance and by 1946 had cemented his place as America's top gun in cinema in the role of George Bailey in the yuletide classic It's a Wonderful Life, for which he received an Oscar nod. Stewart's career spanned half-a-century with such notable films as The Spirit of St. Louis, Mr. Smith Goes to Washington, The Shop Around the Corner, The Philadelphia Story (his first and only Academy Award win), The Naked Spur and Rear Window. Stewart passed away in 1997 at the age of 89.
1947 - Lauren Bacall
Betty Joan Perske (aka Lauren Bacall) made her acting debut opposite Humphrey Bogartin 1944's To Have and Have Not, making an impressive impact with her alluring gaze and sultry voice on not only movie audiences but also Bogie himself. The two would marry following the film and remained together until his death in 1957. With the back-to-back hits of 1946's The Big Sleep and 1947's Dark Passage, Bacall was at the top of the heap. Her work with the top leading men in Hollywood contains an endless list of must-sees, from Key Largo (again with Bogart) and Young Man with a Horn(with Kirk Douglas) to Harper(with Paul Newman). Bacall would continue to work and make public appearances right up until her death in 2014 at the age of 89.
1948 - Jane Wyman
Famously known as the ex-wife of actor and future United States PresidentRonald Reagan, Jane Wyman (who passed away in 2007 at age 90) was also an Academy Award winner for her powerful performance in 1948's controversial Johnny Belinda and a three-time Golden Globe winner. During her 60-year career, Wyman's notable films includedAlfred Hitchcock's Stage Fright, The Yearling and Miracle in the Rain, before she successfully transitioned to the small screen as the matriarch Angela Channing in the long-running hit series, Falcon Crest (1981-90). 
1949 - John Wayne
Hollywood's original Man's Man and forever known as "The Duke," John Waynestill holds the record for leading acting roles with an incredible 142 to his credit. By 1949, he was a certified big screen superstar riding a string of hits with 1948's Fort Apache and 1949's box office blockbuster She Wore a Yellow Ribbon (pictured). With a career that spanned some 50 years, Wayne's acting legacy simply cannot be overstated as this very short list of memorable titles only gives you a taste: They Were Expendable, The Searchers, Rio Bravo, The Green Berets, True Grit (his only Oscar win), Chisum, The Cowboys and The Train Robbers. Wayne died of cancer in 1979 at the age of 72.  
---
1950 - Marilyn Monroe
Although only on screen for a few minutes in John Huston's The Asphalt Jungle in 1950, it was enough to have audiences and critics take notice of the budding actress named Marilyn Monroe. But no one could have predicted just how high the former Norma Jean Mortenson would fly in the ensuing years. The quintessential sex symbol of the 1950s (if not, all-time), Monroe's beauty would sadly often overshadow her acting abilities, which were on full display in such hits as Clash By Night, Niagra, Gentlemen Prefer Blondes, The Seven Year Itch, Bus Stop, The Prince and the Showgirl, Some Like It Hot and The Misfits. Monroe did win the Golden Globe for her comedic abilities in Some Like It Hot. Monroe died of a barbiturate overdose in 1962 at the age of 36, but her popularity remains, including being immortalized in Elton John's hit song "Candle in the Wind."
1951 - Marlon Brando
Marlon Brando brought an intensity to the screen like few others. Who can forget his passionate cries of "Steeellllaaa" in the masterful A Streetcar Named Desire which cemented his place as a movie icon in 1951? A controversial figure throughout his career, Brando's filmography remains one of Hollywood's most potent, including 1953's Julius Caesar, 1955's Guys and Dolls, 1962's Mutiny on the Bounty, 1972's The Godfather, 1979's Apocalypse Now and his brief but famously lucrative appearance in Superman: The Movie as the Man of Steel's father.
1952 - Debbie Reynolds
In only her sixth film, Singin' in the Rain, 20-year-old Debbie Reynolds became a part of Hollywood history and would succeed in film, television and stage for nearly 50 years. After her first brush with fame on the heels ofSingin', Reynolds scored hit after hit, including starring in Hit the Deck, Susan Slept Here, How the West Was Won and The Unsinkable Molly Brown which garnered her nominations for both an Oscar and a Golden Globe. In a tragic couple of days at the tail end of last year, Reynolds passed away at the age of 84; only hours after the untimely death of her daughter and actress Carrie Fisher.
1953 - Audrey Hepburn
Audrey Hepburn launched to stardom in her leading role in 1953's Roman Holiday and becoming the first actress to run the table—scoring the Academy Award, the Golden Globe and BAFTA Award. As if that wasn't enough, Hepburn also won the Tony Award for her stage performance in Ondine that same year! Hepburn's career legacy includes a slew of cinematic masterpieces and box office successes—Sabrina, The Nun's Story, Breakfast at Tiffany's, Charade, My Fair Lady, Love in the Afternoon and Wait Until Dark. Hepburn largely retired from acting following the 1960s, devoting herself to family life and fighting world hunger as a committed ambassador to UNICEF. Hepburn died of cancer in 1993 at the age of 63.
1954 - Grace Kelly
The movie-going public got their first glimpse of the beautiful Grace Kelly in the 1951 classic High Noon, but the best was yet to come as Kelly won the Golden Globe for 1953's massive hit Mogambo. The momentum continued in 1954 when she went on to star in five films, including Alfred Hitchcock's Dial M for Murderand Rear Window. Her final film was the popular High Society in 1956. In April of that same year, Kelly married Prince Rainier III of Monaco and lived out the rest of her life as Princess Grace of Monaco. She died in 1982 following a much-publicized car crash caused by her suffering a stroke behind the wheel. She was 52.
1955 - James Dean
Pictured in a publicity photo from his iconic film Rebel Without a Cause, James Dean shot across Hollywood like a comet of rebellion, starring in only three films before dying in a car crash at the age of 24 in 1955. However those three films—East of Eden, Rebel Without a Cause and Giant—were all Hollywood classics. Shot and released in rapid succession during 1955-56, only East of Eden was released before Dean's untimely death that year and the only one of his films that he personally saw in its entirety.
1956 - Kirk Douglas
Sporting the most famous dimpled chin in Hollywood history, the recently-turned-100-year-old Kirk Douglas was a major box office star throughout the '50s with an impressive list of work between 1950-56, including Young Man with a Horn, The Bad and the Beautiful and Lust for Life. Taking on the role of Vincent van Gogh and giving the performance of a lifetime in 1956's Lust For Life turned Douglas into a household name and a true star of the cinema. He would hit even bigger heights when he took on the title role of 1960's epic Spartacus, which he also executive produced. In the decades that followed, Douglas' wide-ranging talent would cover a spectrum of genres in movies like Seven Days in May,The Arrangement, Two Weeks in Another Town and There Was a Crooked Man.
1957 - Elvis Presley
Having already shook up America's radios, a 22-year-old Elvis Presley then rocked movie theaters around the world with his classic performance in Jailhouse Rock. With his matinee idol looks, a singing voice that changed popular music forever, and a charisma that oozed through the lens, Presley was the name on everyone's lips in 1957. His movie career would span more than 30 films in only 13 years, including box office bonanzas likeViva Las Vegas, and he would become one of the most popular cultural icons of the 20th Century before his death in 1977.
1958 - Paul Newman
The up-and-comer with the shocking blue eyes, Paul Newman became a top leading man with his powerhouse performance opposite Elizabeth Taylor in the masterful 1958 melodrama Cat on a Hot Tin Roof(pictured), which resulted in the first of ten Oscar nominations. That same year he starred in The Long, Hot Summerwith Joanne Woodward, whom he would marry after filming. They remained married until his death in 2008. With a lengthy career of quality films over quantity, Newman's legacy includes such classics as Cool Hand Luke, Somebody Up There Likes Me, Sweet Bird of Youth, Harper, Butch Cassidy and the Sundance Kid, The Sting and The Verdict.
1959 - Charlton Heston
In 1959, the talk of the movie world was all about the Biblical epic Ben-Hur, which grossed nearly $1 billion (in adjusted gross). Charlton Heston, in the title role, scored the Oscar for "Best Actor" and the film won an astounding 11 Academy Awards overall (still a record to this day, although since tied by Titanic and Lord of the Rings: The Return of the King). In the decades that followed, Heston starred in a series of successful sci-fi/thrillers—Planet of the Apes, The Omega Man and Soylent Green—as well as in popular disaster films like Earthquake and Airport '75. Heston passed away in 2008 at the age of 84.
---
1960 - Elizabeth Taylor
A child star in the 1940s, Elizabeth Taylor got her start in such films as Lassie Come Home, National VelvetandCourage of Lassie, but her stardom would ebb and flow over the next few decades in a slew of 1950s classics—Father of the Bride,Ivanhoe, Cat on a Hot Tin Roof and Giant—but 1960 brought a new level of acclaim and notoriety with her Oscar-winning role as a high-priced call girl inButterfield 8. Taylor would go on to win her second Academy Award for the riveting 1966 drama Who's Afraid of Virginia Woolf?. Throughout her life, Taylor's multiple marriages—eight, including twice to Richard Burton—kept her in the news as did her activism in fighting HIV/AIDS. Taylor died at the age of 79 in 2011.
1961 - Tony Curtis
Possessing a gaze that captured a million hearts, Tony Curtis broke through to major stardom in back-to-back hits, Some Like It Hot (1959) and Spartacus (1960). He would continue as a leading man for more than a decade, starring in popular comedies like Sex and the Single Girl and The Great Race (both opposite screen legend, and our 1962 selection, Natalie Wood). Acting in more than 100 films between 1950 and 2008, Curtis—the father of popular actress Jamie Lee Curtis—passed away in 2010.
1962 - Natalie Wood
Getting her start as a child actor in such films as The Ghost and Mrs. Muir and the yuletide classic Miracle on 34th Streetand later as a teenager with Bette Davis in The Star, John Wayne in The Searchers and James Dean in Rebel Without a Cause (for which she received an Oscar nom), Natalie Wood hit superstardom by 1962 with three big roles—West Side Story, Splendor in the Grass (her second Oscar nomination) and Gypsy. The stunning beauty moved effortlessly to comedy in 1965's The Great Race and 1969's Bob & Carol & Ted & Alice. She stayed away from acting for much of the following decade and re-appeared in the 1979 miniseries From Here to Eternity, which won her a Golden Globe. In 1981, during a boating trip with husband Robert Wagner and actor Christopher Walken, with whom she was co-starring in the film Brainstorm, Wood drowned in the ocean off the coast of Catalina Island in Southern California. She was 43.
1963 - Jack Lemmon
A "Supporting Actor" Oscar winner in the 1955 naval comedy Mister Roberts, Jack Lemmon took center stage in the early '60s earning nominations for "Best Actor" in three films, including The Apartment and the heavily dramatic tale of an alcoholic in Days of Wine and Roses in 1963. He would appear in nearly 100 films before his death in 2001, including such box office hits as The Great Race (1965), The Odd Couple (1968), The Out-of-Towners (1970), The China Syndrome (1979) and Grumpy Old Men (1993). 
1964 - Jane Fonda
Following her Golden Globe nomination for 1962's Period of Adjustment and the popular 1963 rom-com Sunday in New York, Jane Fonda became a top-tier actress and a series of other 1960s films only solidified her standing—Cat Ballou, Barefoot in the Park and Barbarella. In the 1970s, Fonda won two Oscars—for 1971's Klute and 1978'sComing Home. An outspoken anti-war activist during the Vietnam War, Fonda became better known for her enormously popular workout videos in the 1980s as she curtailed her movie roles, although she did receive an Oscar nomination for 1986's The Morning After. Most recently she appeared in The Butler and This Is Where I Leave You, among others.
1965 - Sidney Poitier
The first African-American to win the Academy Award for "Best Actor" (for 1964's Lilies of the Field), screen icon Sidney Poitier also received a Golden Globe nomination for his powerful performance in 1965's controversial A Patch of Blue. His lengthy resume includes such classic films as Blackboard Jungle,Band of Angels,To Sir, With Love, In the Heat of the Night, Guess Who's Coming to Dinner and They Call Me Mister Tibbs!. In 2009, Poitier was awarded the Presidential Medal of Freedom, the highest civilian honor in the United States. He celebrated his 90th birthday earlier this week on February 20.
1966 - Julie Christie
With the 1965 releases of Darling (for which she won an Academy Award) and the epic love storyDoctor Zhivago, Julie Christie became an international superstar. She closed out the decade in the critically-acclaimed nod to the Summer of Love,Petulia. She received her second Oscar nom opposite her then-romantic partner Warren Beatty in McCabe & Mrs. Miller. After their relationship ended, the two collaborated on two other box office smashes, Shampooand Heaven Can Wait. Christie also starred in the 1977 sci-fi/horror film Demon Seed and embarked on a career of smaller budget films (receiving two more Academy Award nominations in 1997 and 2007) and TV movies over the next few decades, making the occasional appearance in such big-budget films as 2004'sTroy and Harry Potter and the Prisoner of Azkaban.
1967 - Warren Beatty
With 1967's landmark crime drama Bonnie and Clyde, Warren Beatty became an overnight superstar and heartthrob, after first gaining critical acclaim in Splendor in the Grass (his first film), The Roman Spring of Mrs. Stone and All Fall Down. Throughout his sterling 50 years in movies, Beatty has received 14 Academy Award and an astounding 18 Golden Globe nominations. An accomplished director as well, Beatty's list of credits is truly staggering, including such films as McCabe & Mrs. Miller, The Parallax View, Shampoo, Heaven Can Wait, Reds, Dick Tracy, Bugsy and last year's Rules Don't Apply.
1968 - Barbra Streisand
With two Academy Awards, ten Grammy Awards, five Emmys and nine Golden Globes to her name it would seem that Barbra Streisand has always been a superstar. A music star in the early half of the 1960s, Streisand made her film debut in 1968's Funny Girl, winning the Oscar for "Best Actress" in the process; not a bad way to start one's film career. She continued with musically driven films until she starred in the hit comedies The Owl and the Pussycat and the 1972 screwball classic What's Up, Doc?. Streisand remained a top box office draw throughout that decade with such films as The Way We Were, A Star is Bornand The Main Event before moving behind the cameras as the director/star of Yentl and The Prince of Tides. Streisand continues to act sporadically as well as maintaining her music career. 
1969 - Dustin Hoffman
Following his first starring role in 1967's The Graduateand his Oscar-nominated performance in 1969's Midnight Cowboy, Dustin Hoffman's career was skyrocketing and his status as a legendary actor would be assured time and time again, such as in 1976's All the President's Men (pictured). Hoffman's acting choices have been filled with surprises over the past five decades but the results are always riveting, garnering him two Academy Awards and six Golden Globes in the process. His acting resume is impressive to say the least, including Papillon, Kramer vs. Kramer, Marathon Man, Straight Time, Agatha, Tootsie, Rain Man, Sleepers and Wag the Dog.
---
1970 - Clint Eastwood
By the time of 1970's war epic Kelly's Heroes, the tall and handsome Clint Eastwood was a star on the cusp of super-stardom that would follow him for the rest of the decade and beyond, starting with the Dirty Harry franchise that began in 1971 and a slew of off-beat hit comedies throughout the '80s, including Every Which Way But Loose. Eastwood's move behind the camera has resulted in two "Best Director" Academy Awards (Unforgiven and Million Dollar Baby) and box office giants like 2014's American Sniper. His latest film for Warner Bros. was the 2016 box office hit, Sully.
1971 - Richard Roundtree
In 1971, everyone was talkin' about Shaft (and we can dig it!). Richard Roundtree was everywhere as Hollywood kicked in the Blaxploitation genre, designed to bring the urban African-American community into theaters. Shaft was one of the first films in this new action-packed genre and Roundtree led the charge that would include two additional Shaft sequels: 1972's Shaft's Big Score and 1973's Shaft in Africa. For the past 35 years, Roundtree has been a television fixture, both as a regular cast member and guest star on countless series and TV movies.
1972 - Raquel Welch
Starting out in sci-fi flicks like 1966's Fantastic Voyage and One Million Years B.C., this Chicago-born model/waitress-turned-actress slowly moved her way up in a series of genre-spanning films like the 1967 comedy Bedazzled, the western Bandolero!, the crime drama Lady in Cement, another western 100 Rifles, the Euro-comedy The Biggest Bundle of Them Alland the 1969 thriller Flareup. By 1972 with the release of the roller derby drama, Kansas City Bomber, Raquel Welch was a household name. The next few years included such hit films asThe Last of Sheila, The Three Musketeers (garnering Welch a Golden Globe Award) and The Four Musketeers. In 2010 Welch published her autobiography Raquel: Beyond the Cleavage. 
1973 - Bruce Lee
Born in San Francisco in 1940 but raised in Hong Kong,Bruce Lee was a child actor who eventually scored the role of Kato in the 1966 television series The Green Hornet, which lasted only a single season. He would guest star in various shows of the day, including Ironside and Here Comes the Brides, but he eventually returned to Hong Kong where he played the leading role in two martial arts films 1971's The Big Boss and 1972's Fist of Fury, which were huge hits in Asia. In the wake of the genre's popularity, Warner Bros. then became the first major Hollywood studio to produce a martial arts film, 1973's Enter the Dragon, which was a global blockbuster and one of the year's biggest films. Tragically, just prior to the film's release, the budding superstar died from a cerebral edema due to a reaction from the painkiller Equagesic. Lee was 32. 
1974 - Al Pacino
Pictured here in his memorable Oscar-nominated performance as the desperate bank robber in 1975's Dog Day Afternoon, Al Pacino was riding a wave of popularity that began with 1972's The Godfather and 1974's second Godfather installment, with the hit Serpico sandwiched in between. Aside from these memorable roles, Pacino also starred with Gene Hackman in the 1973 acclaimed drama Scarecrow, which has just been re-released on DVD. The eight-time Oscar nominated actor (and winner of one) continues working today and remains one of the finest actors of his generation.
1975 - Jack Nicholson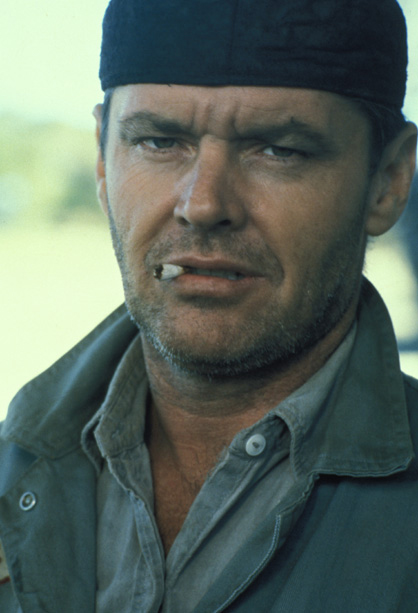 Nominated for four Academy Awards before finally winning for his explosive turn in 1975's One Flew Over the Cuckoo's Nest, Jack Nicholson would go on to receive seven more nominations (and two more Oscars) over the next three decades. Playing every role from a Joker (Batman) and the Devil (The Witches of Eastwick) to an unstable writer-turned-caretaker (The Shining) and a mob boss (The Departed), Nicholson has always dominated the big screen with his presence.
1976 - Faye Dunaway
Breaking into stardom as Bonnie Parker in the 1967 classic Bonnie and Clyde, followed in rapid succession byThe Thomas Crown Affair (with Steve McQueen) and The Arrangement (with Kirk Douglas), Faye Dunaway was a box office star throughout the early-to-mid 1970s withThe Three Musketeers, Chinatown, The Towering Infernoand Three Days of the Condor. A perpetual Oscar and Golden Globe nominee throughout this period, Dunaway finally captured gold and more fame with her iconic performance in 1976's Network, playing a cold-hearted television exec who would do anything to get ratings. Dunaway continues acting on stage, in television and on the big screen to this day.
1977 - Richard Dreyfuss
1977 was a banner year for the Brooklyn-born Richard Dreyfuss, starring in two box office hits The Goodbye Girl (for which he won the Oscar) and Close Encounters of the Third Kind. His stellar career has touched on many hot-button topics such as in 1981's Whose Life is It Anyway? and 1987's Nuts, but he has been equally successful with comedies like Stakeout and What About Bob?. Dreyfuss continues to impress audiences to this day, including his acclaimed performance in last year's miniseries, Madoff. 
1978 - Diane Keaton
Gaining her first notices in the small role as Al Pacino's girlfriend in the first two Godfather films, Keaton found major stardom in a string of collaborations with Woody Allen—Play it Again, Sam, Sleeper and 1977's Annie Hall, which brought her an Academy Award. In the decades that followed, Keaton would embark on a wide-range of film projects, including Shoot the Moon and Mrs. Soffel (receiving Golden Globe noms for each),The Little Drummer Girl, Baby Boom, Marvin's Room and a Golden Globe winning performance in 2004's Something Gotta Give. Keaton also starred in such television movies as Amelia Earhart: The Final Flightwhich also garnered a Golden Globe nomination. Keaton continues in her career today with her most recent work as the voice of Jenny in the global hit, Finding Dory.
1979 - Bo Derek
With the release of the massively successful Blake Edwards' comedy 10 in 1979, Bo Derek, a then-unknown Southern California-born model-turned-actress became the first and one of the most popular sex symbol of the 1980s. Her iconic bikini-clad poster from 10 became wallpaper for many bedrooms and dorms around the world and a star was born. Ensuing films like 1981's Tarzan, the Ape Man and 1995's Tommy Boy were box office winners. In more recent years, Derek's creative career has often taken a backseat to her work with horses and animal rights. She is also a passionate activist on behalf of disabled and wounded veterans and makes appearances on USO tours.
---
1980 - Goldie Hawn
As a mainstay of the late 1960s/early 1970s sketch-comedy show Rowan & Martin's Laugh-In, Goldie Hawn's bubbly personality and contagious giggles made her one of America's sweethearts. She won the "Best Supporting Actress" Oscar for her work in the 1969 comedy Cactus Flowerand brought some dramatic flair to her comedic excellence in 1972's Butterflies Are Free. Hawn took much of the 1970s off for family life, but when she returned she exploded into international acclaim in the 1980 comedy blockbuster Private Benjamin, which she also produced. She received an Oscar and Golden Glove nomination for "Best Actress" for the now-iconic role and a string of dramatic and comedic films followed through the rest of the decade, including Best Friends,Protocol, Swing Shiftand Wildcats. Hawn continues to balance her personal interests in education and other causes with her acting and production work. She and actor Kurt Russell remain a couple after more than 30 years.
1981 - Kathleen Turner
With her sultry voice, stunning beauty and what the New York Times called a "jaw-dropping movie debut," 27-year-old Kathleen Turner became an overnight superstar with the 1981 erotic-thriller Body Heat. Determined to fight against type-casting, Turner found success in theSteve Martin comedy The Man with Two Brains followed by two blockbusters adventure/rom-coms with Michael Douglas—Romancing the Stone and The Jewel of the Nile—and won a Golden Globe for Prizzi's Honor. In the 1990s, Turner's career largely came to a halt as she battled with debilitating rheumatoid arthritis. Since that time, Turner has worked mainly in television and on the stage.
1982 - Robin Williams
The late one-of-a-kind performer Robin Williams shed his "Mork from Ork" persona in 1982's quirky dramedy The World According to Garp, establishing himself as an actor to be reckoned with. He would garner more than 100 credits (and an Academy Award) before his tragic suicide in 2014, including Good Morning Vietnam, Dead Poets Society, Mrs.Doubtfire, Good Will Hunting, Insomnia, Death to Smoochy, August Rush, and his memorable voice work in Happy Feetand Happy Feet Two.
1983 - Tom Cruise
Twenty-one-year-old Tom Cruise rocketed to super-stardom in the rollicking 1983 blockbuster hit Risky Businessand by the following decade would become Hollywood's highest paid actor. From The Outsiders, released the same year as Risky Business, to the 1990s with a mixture of box office hits or critically-acclaimed films such as Interview with the Vampire, Eyes Wide Shutand Magnolia to The Last Samurai, Rock of AgesandEdge of Tomorrowin the 2000s, Cruise continues to take risks.
1984 - Prince
In the Orwellian year of 1984, no entertainer matched the one-two-three punch of the 5'2" tornado of talent known simply as Prince. With his film debut in Purple Rain and the subsequent soundtrack and album of the same name, plus major video airplay on that new music channel called MTV, Prince was the biggest star on the planet in '84. He also starred in 1986's Under the Cherry Moonand 1990's Graffiti Bridge. Prince's unexpected death in April of last year sent millions of fans around the world into global mourning.
1985 - Michelle Pfeiffer
Born in Southern California (and 1978's Miss Orange County beauty pageant winner), Michelle Pfeiffer first gained notice as Al Pacino's girlfriend in 1983's Scarface and reached even more fans with the 1985 fantasy cult classic Ladyhawke and the comedy thriller Into the Night. For the next ten years, Pfeiffer was box office gold with such hits as The Witches of Eastwick, Tequila Sunrise, Dangerous Liaisons(Oscar nomination), The Fabulous Baker Boys (winning the Golden Globe and an Oscar nom), Love Field (Oscar and Golden Globe nominations), and as the seductive Catwoman in 1992's Batman Returns. After a break from acting in the early 2000s, Pfeiffer returned with roles in New Year's Eve and Dark Shadows.
1986 - Sylvester Stallone
Ten years removed from the breakthrough success of Rocky, Sylvester Stallone had become the decade's action superstar with the Rambo franchise and other popular action flicks like Cobra and Tango & Cash. Since then, Stallone has starred in the wildly popular sci-fi thriller Demolition Man, and last year he won the Golden Globe for his return to the Rocky saga in the global hit Creed.
1987 - Mel Gibson
As the decade of action flicks continued, Mel Gibson reached stardom with his three Mad Max films (Mad Max, Mad Max 2: The Road Warrior and Mad Max: Beyond Thunderdome) but he became a legitimate superstar in American cinema as the suicidal detective Martin Riggs in 1987's Lethal Weapon. The action-comedy-thriller spawned three more sequels and Gibson continued to hit box office magic with films like Maverick,Conspiracy Theory, Tequila Sunrise as well as successfully moving behind the camera for Braveheart and The Passion of the Christ. And here's a little Hunk Trivia: Gibson was the very first person named "Sexiest Man Alive" by People back in 1985.
1988 - Glenn Close
Making her film debut in 1982's The World According to Garp, Glenn Close had supporting roles in the hits The Big Chill and The Natural, all three resulting in Oscar nominations. But she really found mainstream stardom as the evil stalker in the 1987 blockbuster Fatal Attraction and as the revengeful Marquise de Merteuil in 1988's Dangerous Liaisons. More acclaim came with 1990's Reversal of Fortuneand Hamlet. Her more recent work includes Golden Globe and Emmy wins for her performances in the FX series Damages, as well as Oscar and Globe noms for 2012's Albert Nobbs.
1989 - Geena Davis
Starting out with appearances in Tootsie and Fletch and several hit television series including Knight Rider and Family Ties, Geena Davisbecame a star with 1988's Beetlejuice and her Oscar-winning role in The Accidental Tourist. Her acclaimed film work continued with Thelma & Louise,A League of Their Own and The Long Kiss Goodbye. Since the turn of the century, Davis has focused on television with a Golden Globe win in the title role of Commander in Chiefand is currently starring in the horror series The Exorcist, in which she plays the grown-up Regan MacNeil (played by Linda Blair in the 1973 film).
---
1990 - Morgan Freeman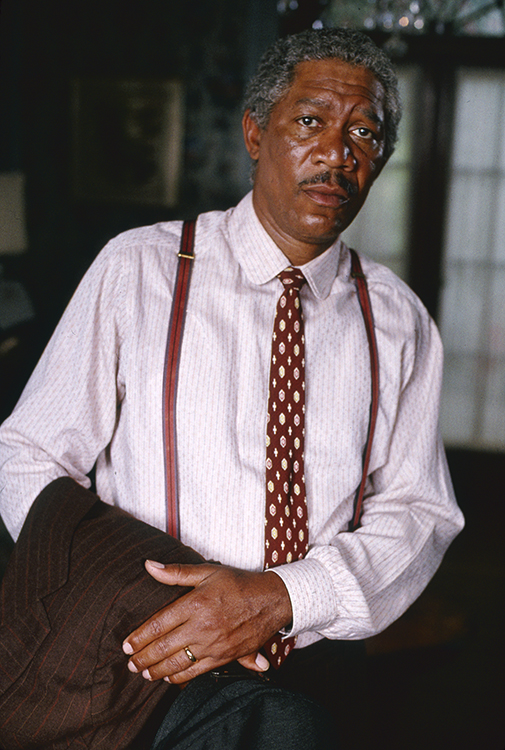 Believe it or not there was a time when the mellow commanding voice of Morgan Freeman could not be heard when glimpsing the man's photograph. A busy character actor for most of the 1980s, Freeman became a star with a succession of memorable performances in hit films as the '80s gave way to the '90s, including Street Smart, Clean and Sober,Lean on Me, Glory, Driving Miss Daisy (winning the Golden Globe and receiving an Oscar nom) and Robin Hood: Prince of Thieves. Freeman's list of credits have continued unabated over the past 25 years with Unforgiven, The Shawshank Redemption, Million Dollar Baby, Batman Begins,The Dark Knight, The Dark Knight Rises andInvictus, not to mention his voice work in 2014'sThe LEGO Movie.
1991 - Julia Roberts
With back-to-back Golden Globe victories for Steel Magnolias and Pretty Woman, Julia Roberts became the "It" Girl of the early '90s. She went on to broaden her scope in the thrillers The Pelican Briefand Conspiracy Theory, and with the bio-pic Michael Collins. The 2000s were just as successful for Roberts as she won her first Oscar for Erin Brockovich, appeared in the ensemble hit film Ocean's Eleven and starred in one of her more successful films Eat Pray Love in 2010. Her role in 2014's August: Osage County resulted in Academy Award and Golden Globe nominations. With eight Golden Globe, four Academy Award and two Emmy nominations in her career, Roberts has proven that she's never been just a pretty woman.
1992 - Kevin Costner
A Southern California native, Kevin Costnerspent much of the '80s climbing the proverbial ladder of success; from having his first big role cut from 1983's The Big Chillto playing in smaller budget films—Fandango and American Flyers—which led to more substantial film work in The Untouchables, Bull Durham and Field of Dreams. With 1990's Dance with Wolves, Costner not only starred in but also directed the film which snared 12 Academy Award nominations (winning for "Best Picture" and "Best Director"). He followed this massive success up with three commercial hits in 1991-92 that boosted him to the stratosphere—Robin Hood: Prince of Thieves, JFKand The Bodyguard. Other films, which had varying degrees of success, include Wyatt Earp, Rumor Has It, Tin Cup, 3000 Miles to Graceland, A Perfect Worldand Thirteen Days. More recently, Costner played Clark Kent's father in 2013'sMan of Steel. 
1993 - Denzel Washington
The son of a Pentecostal minister, New York-born Denzel Washington had done well in supporting roles during the 1980s, including a six-year stint on the hit series St. Elsewhere and winning the "Supporting Actor" Oscar for 1989's Glory, but it was his first major role in Spike Lee's bio-pic Malcolm X, as well as box office hits The Pelican Briefand Philadelphia that made Washington a superstar in 1993. He went on to win the "Best Actor" Golden Globe (and an Oscar nom) for 1999's The Hurricane before winning Oscar gold in 2001's Training Day. Since that time, Washington has starred in a slew of box office hits like John Q, American Gangster, The Book of Eli, Flight and received another Oscar nomination for last year's Fences.
1994 - Tom Hanks
Starting out as a comedic actor in the television sit-com Bosom Buddies, Tom Hanks transitioned to the big screen in such popular comedies as Splash, Bachelor Party and Big (earning his first Oscar nomination). By the early '90s, Hanks palate of films greatly expanded with the box office blockbusters Sleepless in Seattle, Philadelphia and Forrest Gump (which won him back-to-back Oscars) in 1994-95. Hanks' success has continued over the past 20 years with Apollo 13, Saving Private Ryan, You've Got Mail, The Green Mile, Cast Away, The Da Vinci Code and last year's hit Sully.
1995 - Susan Sarandon
Getting her film career started in 1970's Joe, Susan Sarandon got her first taste of fame with the 1975 cult classic The Rocky Horror Picture Showand working her way up to bigger films like 1982's Atlantic City (garnering her first Oscar nom), which was followed by the erotic-horror flickThe Hungerand then the more mainstream hits The Witches of Eastwick, Bull Durham, Thelma & Louise, The Client and 1995's Dead Man Walking for which she won the Academy Award. Since 2000, Sarandon has received four Emmy nominations for her television work and has continued her work on the big screen in smaller films like The Valley of Elah, and will be starring as Bette Davis in the first season of the new FX anthology series, Feud, which premieres this March.
1996 - Halle Berry
Following some short-lived television work and a small part in Spike Lee's Jungle Fever in 1991, the Cleveland-born Halle Berry had her first co-starring roles in 1991's Strictly Business and The Last Boy Scout before capturing mass attention with the miniseries Alex Haley's Queen in 1993. But it was with the 1996 thriller Executive Decision and her simultaneous new role as a Revlon spokeswoman that helped bring Berry her first taste of real fame and acclaim. In the ensuing years, Berry would become the first African-American woman to win the "Best Actress" Academy Award for 2001's Monster's Ball. More recently, she appeared opposite Tom Hanks in 2012'sCloud Atlas and as Storm in the seventh installment of the X-Men film franchise, 2014's X-Men: Days of Future Past.
1997 - Leonardo DiCaprio
Born in Los Angeles in 1974, a teenageLeonardo DiCapriobecame a regular in the final season of the hit series Growing Pains which was followed by co-starring roles with Robert De Niro and Ellen Barkin in the small 1993 film This Boy's Life and a memorable role as Johnny Depp's mentally handicapped brother in What's Eating Gilbert Grape that same year, which resulted in nominations for both an Academy Award and Golden Globe. A series of films over the next few years brought DiCaprio even more critical success in films likeTotal Eclipse, The Basketball Diaries and Romeo + Juliet, but it was the massive global success of 1997's Titanic that made DiCaprio the most famous actor walking the earth that year. In the years that followed, DiCaprio's work has been nothing short of amazing in such films as The Aviator (winning the first of his three Golden Globe), The Departed, Blood Diamond, Inception, J. Edgar, The Great Gatsby, The Wolf of Wall Street and The Revenant (which brought him his first Academy Award win).
1998 - Jackie Chan
Already an established action star in the Hong Kong film industry throughout the 1980s,Jackie Chan first broke through to the American audiences in 1995's Rumble in the Bronx but it was 1998's action-comedy Rush Hour withChris Tucker that brought him stateside stardom and two sequels. Over the past decade, Chan starred in the 2010 remake of The Karate Kid and has voiced the character of Sensei Wu for The LEGO NINJAGO Movie which arrives in theaters on September 22.
1999 - Mike Myers
Following his six-year stint on Saturday Night Live (1989-95), which resulted in the two Wayne's World films,Mike Myers wrote and directed the 1997 surprise box office smash Austin Powers: International Man of Mystery. Myers not only played the title character but also his nemesis Dr. Evil. While the world taken by surprise with the first film, when the 1999 sequel Austin Powers: The Spy Who Shagged Me was released the flamboyant '60s character was EVERYWHERE and the film more than doubled the box office receipts of its successful predecessor, which led to a third installment, 2002's Austin Powers in Goldmember. In-between the Austin Powers films, Myers also voiced the title character in the enormously successful animated franchise, Shrek.
---
2000 - Sandra Bullock
Born in Virginia but raised for the first twelve years of her life in Germany, Sandra Bullock had her first starring role in the short-lived television series Working Girlin 1990, followed by roles in such smaller films as Love Potion No. 9 in 1992 and Wrestling Ernest Hemingway the next year. She first gained wide exposure in the 1993 sci-fi hit Demolition Man, which was followed by the box office blockbuster Speed. Through the rest of the '90s, Bullock found more success with While You Were Sleeping, The Net, A Time to Kill,In Love and War and Practical Magic. In 2000, Bullock hit an all-new level of success with the enormously popular comedy Miss Congeniality, which garnered the actress her second Golden Globe nomination. Since that time Bullock continued to have success across all genres with Two Weeks Notice, The Proposaland her Oscar-winning performance in 2009's The Blind Side as well as an Oscar-nominated role in 2013's Gravity. Next up, Bullock will be co-starring with Cate Blanchett, Helena Bonham Carter, Anne Hathaway and others in the female-led heist comedy Ocean's 8, due for release in 2018.