March 3, 2017 at 5:43 AM PST
Friday Five: "Time After Time"
Traveling Back to the 1979 Film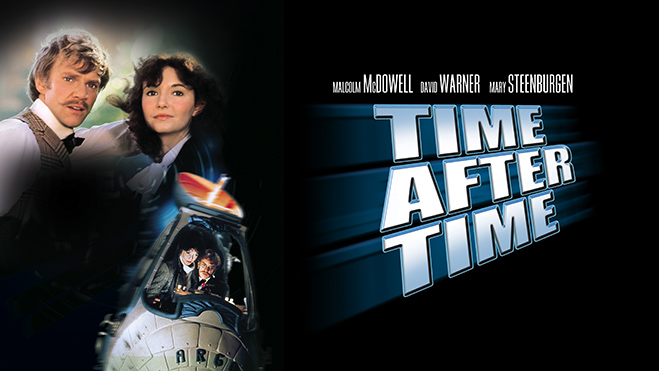 With Sunday's premiere of the new television series Time After Time (9/8c on ABC), we thought we'd do a little time-traveling ourselves and reveal a handful of facts about the 1979 film that gave birth to the new show. This popular sci-fi thriller is buoyed with a light-hearted touch of humor and romance by first-time director Nicholas Meyer. Malcolm McDowell stars in his first American film as legendary science fiction writer H.G. Wells who travels from 19th century London to modern-day San Francisco in pursuit of Jack the Ripper (David Warner), who has escaped the Victorian Age in Wells' time machine. The Meyer and McDowell quotes below are from the fascinating audio commentary, which is part of the recently released Time After Time Blu-ray.
1. The Origins
Writer Karl Alexander approached his former college friend and bestselling author Nicholas Meyer with 55 pages of a novel he was working on, looking for feedback. Meyer was so taken with the theme of Alexander's concept that he optioned the incomplete novel and wrote a screenplay taking the storyline where he wanted it to go. He also attached himself to the script as the director (even though he had never directed before). Warner Bros. bought the script/director package and the rest his history.
2. That Voice
In researching the real H.G. Wells in preparation for the role, Malcolm McDowell contacted the BBC to obtain audio recordings of Wells and upon hearing what he describes as "the most horrendous, high-pitched, Southeast London accent," McDowell decided to adopt a more traditional accent to better serve the script and not detract from the story being told.
3. Jagger the Ripper?
At the request of the film's producers, Nicholas Meyer met with legendary rock star Mick Jagger to discuss the possibility of the Rolling Stones' frontman playing the role of Jack the Ripper. The director recalls: "I met with him, but The Ripper is also a Harley Street surgeon [his alter-ego Dr. John Stevenson] and I didn't think Jagger would be persuasive as the Harley Street surgeon whereas David [in that role] you completely buy."
4. Mary + Malcolm = Marriage
In only her second film, Mary Steenburgen not only wowed critics and audiences but also her co-star Malcolm McDowell as they would marry the following year. McDowell said of their relationship that began and evolved during the three-month shoot: "I fell in love on film, that's staggering. Mary's right when she says to our kids, 'If you want to see how dad and I were when we were falling in love, just go [watch] Time After Time'."
5. Time Machine From Hell
Although it looks absolutely stunning in the movie, the Time Machine in Time After Time was the bane of director Nicholas Meyer's existence during filming. "The Warner Bros. prop department made the Time Machine and it was one of the biggest fights we ever had because it kept falling apart. It was the only time I allowed myself to get really enraged. You would open the doors and they would fall off and I said, 'You didn't take me seriously. You didn't take the movie seriously. You didn't do your job.' And they knew I was right too,[because] I didn't get a lot of argument." Although all was apparently forgotten as Meyer adds: "Cosmetically, it was wonderful and a model of that Time Machine sits in a Perspex [display] case in my house."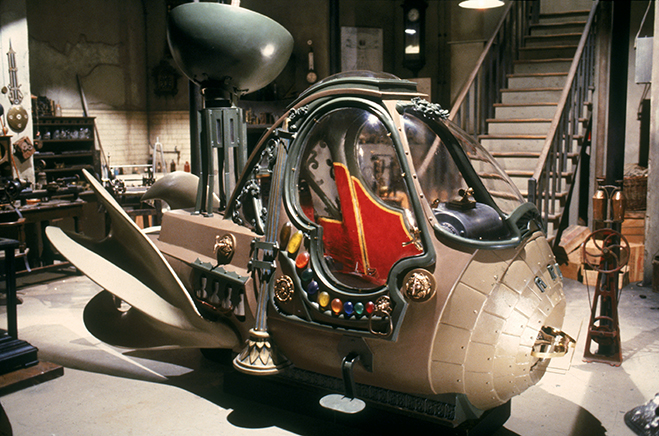 And we'll end this trip down time-traveling lane by giving you the original theatrical trailer to whet your appetite even further...