March 23, 2017 at 9:00 AM PDT
"Justice League" Updates!
What's New and What's To Come
Updated November 16
As the clock ticks down to the global release of Justice League tomorrow, we thought we'd share these two great videos from DC All Access with Tiffany Smith as your guide. Meet the cast and also watch your host play with the upcoming Justice League VR experience!
---
Updated November 14
Heroes were united last night as Superman, Batman, Wonderwoman, Aquaman, Cyborg and The Flash all walked the red carpet at the world premiere of Justice League in Los Angeles. You can watch the event as it happened (below in our November 13 entry), but we've also got a quick run-down of the evening's festivities.
You can't save the world alone. The Justice League posed for a group photo.
Over 300 fans came out to watch the red carpet arrivals, many dressed as their favorite hero. 
Some were lucky enough to grab a selfie with the accommodating cast.
Justice League hits the big screen on Friday everywhere!
 
---
Updated November 13 at 5:30 pm
Join us as we present a LIVE Interactive broadcast from the red carpet World Premiere of Justice League. Watch right here as Ben Affleck, Henry Cavill, Gal Gadot, Ezra Miller, Jason Momoa, Ray Fisher, Connie Nielsen, Diane Lane, J.K. Simmons, Charles Roven, Deborah Snyder, Gary Clark Jr., and more walk the red carpet and answer fan-submitted questions.
---
Updated November 13
Tonight! Watch the Justice League world premiere live at 5:30 PM PST. Submit your questions using the hashtag #JLWorldPremiere and it could be answered during the live broadcast.
Have you bought your tickets yet? Check out this behind-the-scenes video from Fandango and get prepared to see Justice League in theaters this Friday!
---
Updated November 7
Visit the world of the Justice League with a 360 Experience on Facebook. First, immerse yourself in the world of Gotham City, where you are rooftop-high with the rest of the heroes.
Then take flight in the lower level of the Flying Fox.
And for something a little cuter (did we just call the Justice League cute?), JL stickers are now availabe for Emoji Tap! Download on iOS or Android.
---
Updated November 3
With only two weeks to go before the Justice League is unleashed in theaters around the world, a literal treasure trove of nearly 60 photos have just been released, including some amazing behind-the-scenes shots. Here are just two to whet your appetite! See all the pics here.
---
Updated November 2
Here's your first taste of the Justice League: Original Motion Picture Soundtrack from four-time Oscar nominated composer (and former Oingo Boingo chief) Danny Elfman. 
The soundtrack from WaterTower Music, which also includes the cover of the Beatles' "Come Together" (by Gary Clark Jr. and Junkie XL, see video below) and "Icky Thump" by the White Stripes, will be available November 10 for download on iTunes and Amazon. The two-disc CD version arrives a month later on December 8 and can be pre-ordered now on Amazon.
---
Updated October 27
It's time to plan your big night. Be among the first to see Justice League when it hits theaters on November 17. Tickets are on sale now!
Gary Clark Jr. has released the official video for his version of "Come Together" as featured in the Justice League movie trailer. Check it out right here:
Have you picked your favorite Justice League Facebook mask yet? We're partial to Aquaman but Gal Gadot makes them all look so good that it's hard to choose! 
Beginning today and running through October 31, these exclusive character posters will be available at AT&T stores. See the video below for more details.
---
Updated October 18
Join the League and share your costume! The Justice League costume challenge is on! Are you dressing up as your favorite Justice Leaguer this Halloween? Post your costume and tag it #JLHalloween for a chance to be featured on Justice League social media pages. We'll let the League explain...
And we're now less than one month from the film's premiere date of November 17! Want the inside scoop on how your favorite heroes reacted to the news that they were chosen for the League? Check out these clips from this year's Comic-Con International: San Diego with Chris Hardwick as he interviews Ben Affleck, Gal Gadot, Ezra Miller, Ray Fisher and Jason Momoa on the exact moment that their lives would be forever changed.
Are you ready to go all in?
---
Updated July 24
The Justice League enjoyed a mighty weekend as a new sneak peek released that was over four minutes long at Comic-Con International San Diego this past weekend. Packed with new footage, glimpses of new characters and hints of what's to come, fans were not disappointed in this explosive extended look (we even get to travel back to Themyscira.) Watch it all right here—or if you're like us, watch it again for the third, fourth, fifth time...
Along with the trailer came a new League poster featuring The Flash, Cyborg, Batman, Wonder Woman and Aquaman. Each of the heroes logos are represented in the slogan "You Can't Save the World Alone," even...Superman's. We're "All In" when Justice League comes to theaters on November 17!
_______________________________________________
Updated April 12
The Justice League stand heroic in a new poster released this morning. The Flash, Wonder Woman, Batman, Cyborg and Aquaman are shown in profile, searching the horizon in the newly-released artwork. Justice League opens in theaters November 17.
_______________________________________________
Updated March 30
Now that you've had time to digest that legendary trailer which debuted Saturday, we've got some more JL goodies up our sleeves to share.
The Justice League made a showing at this year's CinemaCon along with the flick's director Zack Snyder. Aquaman, The Flash, Batman, Cyborg and Superman all attended the industry event meant to showcase WB's upcoming film line-up.
 
Over on Facebook, you can do your part to #UniteTheLeague by creating the ultimate Facebook360 image. Check it out:

And finally, at the Justice League official site you can customize your profile pic to align with your favorite League hero.
_______________________________________________

Updated March 25 at 8:05 am
The waiting has finally paid off. The new Justice League trailer has been unveiled!
_______________________________________________
Updated March 24 at 2:15 pm
Tomorrow.
_______________________________________________
Updated March 24 at 12:10 pm
Smarter United. Ray Fisher as Cyborg. #BORGLIFE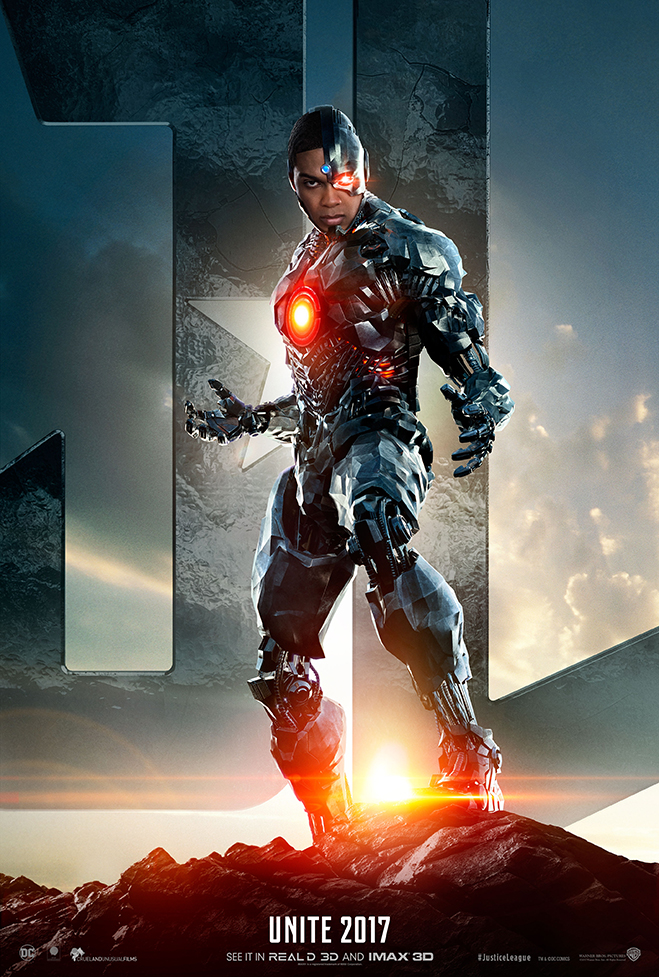 _______________________________________________
Updated March 24 at 9:15 am
Here's to a wonderful Friday!
Wiser United. Wonder Woman (Gal Gadot) joins the Justice League. Catch the full-length trailer tomorrow!
_______________________________________________
Updated March 23 at 4:30 pm
Ready for another surprise? 
Faster United. Ezra Miller is The Flash. Justice League is in theaters November 17.
_______________________________________________
Updated March 23 at 12:19 pm
Braver United. See Ben Affleck as Batman in the latest Justice League teaser. 
_______________________________________________
Ever on the lookout for new Justice League updates, look no more. This morning has already seen the unveiling of a new poster and gorgeously rendered Aquaman character art and teaser video.
First things first, let's take a look at that new Justice League poster.
The heavy weight of the team's logo with a beam of light shining through perhaps signals new life and a different direction for the Justice League.
And along with the bold new Justice League poster we also get a closer look at Aquaman in this new :15 teaser.
Tossed his Trident by Batman, we witness Aquaman face down mountainous waves and rule the ocean. For a closer look at the King of Atlantis, check out this newly released poster featuring Jason Momoa as Aquaman.
Continue to check this blog throughout the week for further sneak peeks and updates, and mark your calendars for Saturday to catch the new Justice League trailer debut!.
Justice League arrives in theaters November 17.