March 24, 2017 at 8:39 AM PDT
"North By Northwest" Returns to Theaters
Special Two-Day Screening Event
Get ready for a case of mistaken identity, a web of espionage and murder, and a cross-country chase when Fathom Events, TCM Big Screen Classics and Warner Bros Entertainment bring Alfred Hitchcock's classic North by Northwest to theaters nationwide for a special two-day event on April 2 and 5 only. The screenings also includes exclusive commentary by TCM host Ben Mankiewicz.
Cary Grant teamed with director Alfred Hitchcock for the fourth and final time in this superlative espionage caper. One of the American Film Institute's Top 100 American Films and recipient of three Academy Award nominations, the 1959 thriller is filled with some of Hollywood's most iconic moments—from the crop-duster attack on Grant to the epic conclusion on the face of Mount Rushmore—not to mention unforgettable sardonic lines like, "I've got a job, a secretary, a mother, two ex-wives and several bartenders that depend upon me." As we look back on one of our favorite films in the illustrious Warner Bros. Film Library, we thought we'd first share this time-capsule video of Hitchcock himself introducing the film to audiences at the time of its release, followed by a few fun facts and some memorable photos from the set.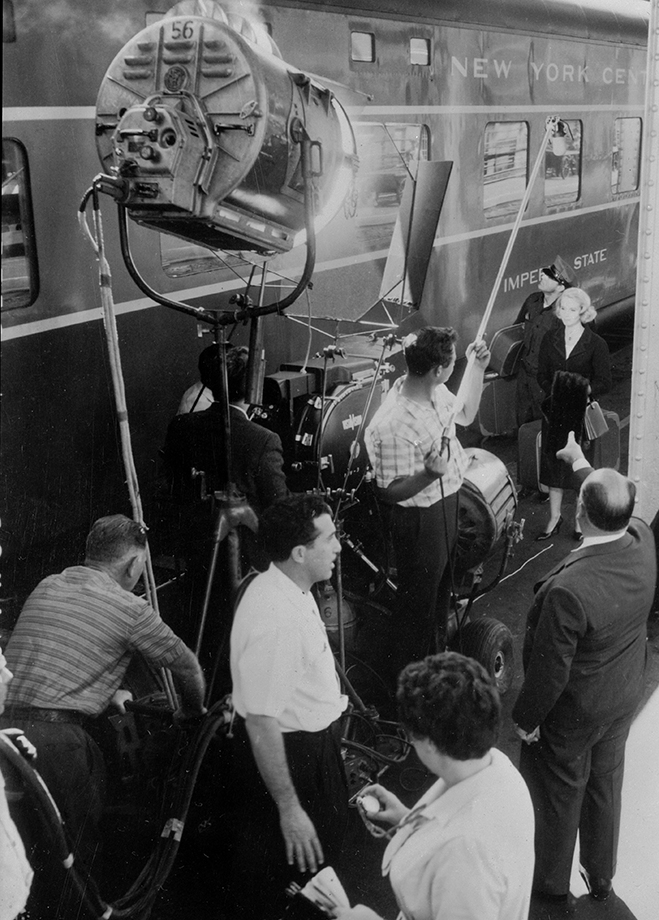 In a 2014 interview with Vanity Fair, Eva Marie Saint described working on the film:
[Hitchcock] didn't talk about acting. He worked with me from the outside in. My hair, my makeup, my shoes, my jewelry, my purse, my gloves, everything. And just from creating that exterior for me, he gave me the sense of a spy lady. But we never talked about emotion. He told me not to use my hands, I have a habit of doing that, and to lower my voice. And always, in my scenes with Cary Grant, look directly into his eyes, which was not difficult.
Hope you enjoyed this little time travel and remember to see the exclusive theatrical screening of this classic on April 2 or April 5. Get Tickets Now!