May 4, 2017 at 12:12 PM PDT
WB Films in Production 2017
Looking Forward to 2018
We're not even to the halfway point of 2017 and the Warner Bros. theatrical division is going full-steam ahead on more than a half-dozen films for 2018! Listed in alphabetical order, here's just a little taste of what Warner Bros. has slated to hit theaters next year:
Aquaman
The iconic DC superhero gets his own film with Jason Momoa in the title role, returning to the character he plays in this year's much-anticipated Justice League. The film is being directed by James Wan of The Conjuring and Furious 7 fame, and also stars Amber Heard, Oscar nominee Willem Dafoe, Oscar winner Nicole Kidman, Dolph Lundgren, Temuera Morrison, Patrick Wilson and Yahya Abdul-Mateen. Currently shooting in locations spanning the stunning Gold Coast of Queensland, Australia, Aquaman will also film extensively at Village Roadshow Studios. The production will utilize the facility's sprawling backlot and all nine VRS soundstages, including its newest, Stage 9, the largest of its kind in the Southern Hemisphere. Filming will also take place in Newfoundland, Sicily and Tunisia.
Currently slated for release in late 2018.
Filming is also underway in Singapore and Malaysia with Jon M. Chu directing this romantic comedy based on the worldwide bestseller of the same name by Kevin Kwan. The entirely Asian international cast is led by Constance Wu, Henry Golding (making his feature film debut), Gemma Chan and Michelle Yeoh in the tale of a native New Yorker who accompanies her longtime boyfriend to his best friend's wedding in Singapore. Her first visit to Asia is turned upside down when she discovers that her boyfriend is not only a member of one of the country's wealthiest families, but he's also one of its most sought-after bachelors. She soon realizes that being on her boyfriend's arm puts a target on her back with jealous socialites and his own disapproving mother.
Currently no release date has been announced.
Principal photography begins this summer on the next Fantastic Beasts adventure, which will again be directed by David Yates, who previously helmed the final four Harry Potter features, as well as last year's blockbuster Wizarding World hit, Fantastic Beasts and Where to Find Them. And in case you missed the recent announcement, two-time Oscar nominee Jude Law will appear as Albus Dumbledore long before the iconic wizard from the Potter universe became Headmaster at Hogwarts. J.K. Rowling, who made her screenwriting debut on the first film in the Fantastic Beasts series, has also written the screenplay for this one in which the storyline moves deeper into an increasingly dark time for the Wizarding World, where Newt Scamander and our other heroes have to decide their allegiances.
Currently slated for release on November 16, 2018.
Filming is underway in Atlanta, Georgia on this New Line Cinema action-comedy starring Jason Bateman and Oscar nominee Rachel McAdams. Co-directed by Jonathan Goldstein and John Francis Daley, who together directed 2015's box-office hit, Vacation, Game Night follows a weekly couples game night that takes an unexpected turn when a murder mystery party turns out not to be a game at all over the course of one chaotic night.
Currently no release date has been announced.
The Nun
While we mentioned that James Wan is currently directing Aquaman, he's also producing this latest entry in The Conjuring franchise that he started in 2013 with the massive global success of the first film and last year's sequel. The Nun is being helmed by Corin Hardy with production beginning this week in Romania. The demonic title character, who first terrorized audiences in The Conjuring 2, is the central figure in an unholy investigation at a cloistered abbey which becomes a horrific battleground between the living and the damned.
Currently slated for release on July 13, 2018.
Action megastar Dwayne Johnson, director/producer Brad Peyton and producer Beau Flynn have joined forces for the third time in this action-adventure from New Line Cinema that recently began production in Atlanta, Georgia. The trio's most recent collaboration was 2015's global blockbuster San Andreas. This time around Johnson plays a primatologist whose unshakeable bond with a silverback gorilla is destroyed when a genetic experiment goes awry and turns the gentle ape into a raging monster. There are also other similarly altered alpha predators tearing across North America, destroying everything in their path. Rampage also stars Oscar nominee Naomie Harris, Malin Akerman, Jake Lacy and Jeffrey Dean Morgan.
Currently slated for release on April 20, 2018.
A Star is Born
Four-time Oscar nominee Bradley Cooper began his directorial debut last month helming the remake of that classic love story A Star is Born. Cooper also stars in the film alongside Stefani Germanotta (aka Lady Gaga!) in her first leading role. The film, which is being shot entirely in Southern California, tells the tale of a fading country music star (Cooper) who discovers an unknown talent (Germanotta) and thus begins a passionate love affair that runs into problems when her career begins to eclipse his own. Germanotta is also performing her own original songs in the film.
Currently slated for release on September 28, 2018.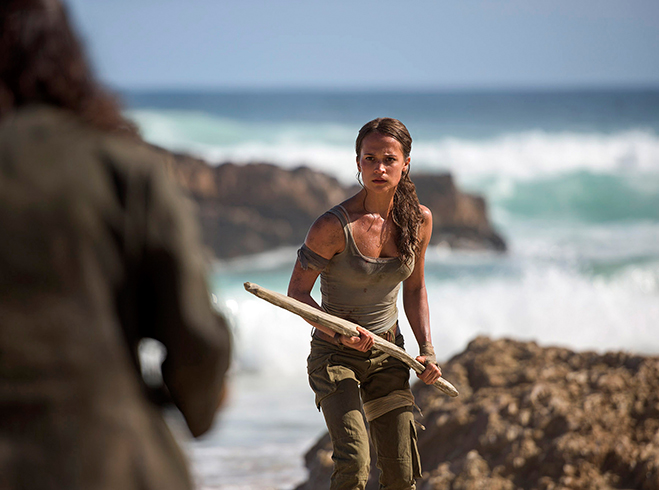 Earlier this year, director Roar Uthaug began filming this origin story reboot starring Academy Award winner Alicia Vikander in the iconic role of Lara Croft, the fiercely independent daughter of an eccentric adventurer who vanished when she was scarcely a teen. Now a young woman of 21 without any real focus or purpose, Lara navigates the chaotic streets of trendy East London as a bike courier. Determined to forge her own path, she refuses to take the reins of her father's global empire just as staunchly as she rejects the idea that he's truly gone. Advised to face the facts and move forward after seven years without him, even Lara can't understand what drives her to finally solve the puzzle of his mysterious death.
Slated for release on March 16, 2018.