May 11, 2017 at 1:57 AM PDT
#TBT: "Vision Quest"
Returning to the '80s
For today's Throwback, we're gonna take a trip back to the middle of the decade that gave us MTV, the Commodore 64 and boomboxes, not to mention Ray-Bans, fanny packs, spandex, excessive make-up, enormous earrings and even bigger hair (and that was just the guys!). It was largely a colorful decade remembered for fun in both culture and fashion, in fact, the color schemes were as loud as the music that we watched.
Amidst all of this, there were a number of teen flicks (or as the adults call them, "coming of age stories") targeting the sizeable younger generation growing up in the '80s, with Risky Business, The Breakfast Club, Pretty in Pink and Ferris Bueller's Day Off leading the way, but others were moderate successes that have become cult favs more than 30 years after their release. 1985's Vision Quest falls into this category and is one of the reasons this Matthew Modine tale of the awkward teenage blues—with wrestling and the film debut of a burgeoning pop icon thrown in the mix—is coming to Blu-ray for the first time next Tuesday (May 16).
Here are just a few fun facts to look back on in our rediscovery of Vision Quest.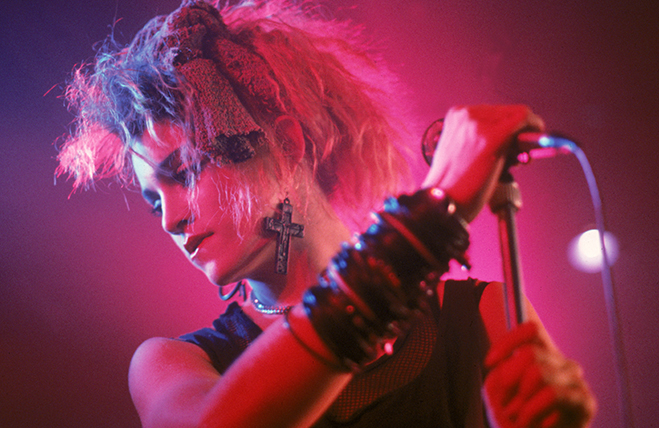 At the time of Vision Quest's release, today's pop legend Madonna was just starting her climb to stardom. Her 1983 debut album was a Top Ten hit, and her second album Like a Virgin was released only three months prior to the film's release, which features her performing two songs: the pop-rocker "Gambler" and the #1 hit ballad "Crazy For You." Ironically, her record label fought against the release of the soundtrack song as a single because they feared it would compete with her Like a Virgin album. It didn't seem to matter ultimately, since both Madonna's album and the Vision Quest Soundtrack were global hits. In fact, in some markets, the name of the film was changed to Crazy For You to capitalize on the song's chart-topping success.
Madonna wasn't the only future star to have a bit role in Vision Quest. Future Oscar winner Forest Whitaker can be found in the small role of "Balldozer." Yep, when it's only your third film, your character often only comes with a nickname. Full names and Oscars come later. Above are two glimpses of Whitaker in the film.
Linda Fiorentino shows off some of the '80s fashion found throughout the movie. As the "older" love interest of teen wrestler Louden Swain (played by Matthew Modine), Fiorentino broke more than a few hearts in her theatrical debut. Ten years later, not surprisingly, Fiorentino was #66 on Empire Magazine's list of "100 Sexiest Movie Stars."
At the heart of Vision Quest is the story of Matthew Modine's character Louden Swain, a determined athlete who sets personal goals and does whatever it takes to achieve them without the support of his father (Ronny Cox) or his coach (Charles Hallahan). He does find love and support from an unlikely source: the older girl (Fiorentino) his father has rented a room to in their house. In reality, Fiorentino was only one year older than Modine.
Vision Quest arrives on Blu-ray next Tuesday.