May 19, 2017 at 9:20 AM PDT
"Blade Runner 2049" Latest
Follow Along for News, Pics and Events
Updated October 9
Blade Runner 2049 premiered this past Friday and went on to top the box office in its first weekend! So why not celebrate by putting yourself in the Blade Runner 2049 Poster with the all-new Poster Creator!
---
Updated September 26
With only ten days left to go before theaters around the world enter the year 2049, Warner Bros. has released more than 40(!) new photos to feast your eyes on, including some cool behind-the-scenes shots. Here's a couple to whet your appetite, but you can see all of them on our Blade Runner 2049 page.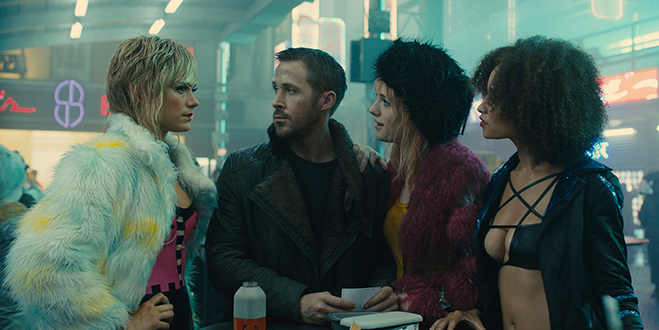 ---
Updated September 21
The second of three Blade Runner 2049 sequel video shorts was released last week. Twelve years after the first short (detailed in our last update), 2048: Nowhere to Run introduces audiences to a new character named Sapper Morton, played by Dave Bautista. 
---
Updated August 29
Collider debuted an exclusive "in-world" video short this morning starring Jared Leto as Niander Wallace. The piece—titled Nexus: 2036—tells part of the story between the years 2019, when the first Blade Runner film takes place, and 2049 when the upcoming story picks up. As described by Collider:
This in-world short film takes place in the year 2036 and revolves around Jared Leto's character, Niander Wallace. In this short, directed by Luke Scott (Morgan), Wallace introduces a new line of "perfected" replicants called the Nexus 9, seeking to get the prohibition on replicants repealed. This no doubt has serious ramifications that will be crucial to the plot of Blade Runner 2049.
Warner Bros. has also recently released new photos of what is sure to be a visual feast of a film.
Blade Runner 2049 opens in theaters October 6. 
---
Updated August 24
Official Movie Poster has been released!
---
Updated June 22
Go behind-the-scenes with Ridley Scott, Denis Villeneuve, Ryan Gosling and Harrison Ford in this new Blade Runner 2049 "Time to Live" featurette. The video includes new footage from the film, first-looks of new cast members, and interview snippets with stars Gosling, Ford and director Villeneuve. 
And to get your Blade Runner mojo really going, this Sunday marks the original film's 35th anniversary. Why not spend the lazy days of summer catching up with the 2019 version of Rick Deckard (Ford) so you'll be ready for the 2049 Deckard come October 6 when the film hits theaters.
---
Updated May  19
New images have recently been released in support of Blade Runner 2049. 
This gorgeous neon, dream-like photo featuring Ana De Armas as Joi and Ryan Gosling as K looks to be an homage to the 1982 Blade Runner film.
Fans can also get a closer look at the barren, wasted world of 2049 and the two blade runners at the heart of the story: Officer K and Rick Deckard.
For more photos, videos and information visit our Blade Runner 2049 title page. The film opens in theaters October 6.
---
Updated May 8
In case you missed this morning's Facebook Live Q&A with Ryan Gosling, Harrison Ford and director Denis Villeneuve, here it is...
And here's the exciting new trailer that was just released hours ago!
---
Updated May 5
Just announced!
The story is far from over. New trailer is arriving Monday. #BladeRunner2049
Prepare for a once-in-a-lifetime chance to spend a morning with the Blade Runner 2049 stars Ryan Gosling and Harrison Ford along with director Denis Villeneuve during a Facebook Live Q&A session on Monday, May 8 at 9 am PST.
Two new character posters were also released this morning in support of the film. The moody, murky terrain shown in the artwork is a world 30 years since Blade Runner and Rick Deckard (Harrison Ford), a former LAPD blade runner has been missing for all of them.
 

Get reacquainted with the Announcement Trailer to tide yourself over until Monday's big event! Blade Runner 2049 arrives in theaters October 6.