June 8, 2017 at 1:05 AM PDT
National Best Friends Day
25 Movies For You & Your BFF
June 8. It's not just another Thursday. In fact it's National Best Friends Day. So here are a few dozen  films from the Warner Bros. Film Library to celebrate the magic and power of BFFs the world over. From coming-of-age tales of youth to heartfelt dramas, bawdy comedies, rom-coms and fantastic adventures, there's a wide array of movies for you and your best friend to rediscover just what makes your own unique friendship the special one it is.
Sisters From Other Misters

The Sisterhood of the Traveling Pants
Okay, so we don't know how the traveling pants managed to fit all four of these young ladies either, but it's not enough to change our love for this joyful look at friendship.

The Color Purple
Featuring the film debuts of Whoopi Goldberg and Oprah Winfrey, director Steven Spielberg's first dramatic film was nominated for 11 Academy Awards as it beautifully demonstrated how the power of friendship can help us overcome even the most heinous of life's obstacles.

The Women (1939)
Featuring an array of silver screen legends, including  Norma Shearer, Joan Crawford, Rosalind Russell and Joan Fontaine, this classic dramatic comedy has the honor of not including one single male among the 130 actors with speaking roles. However the male species is the topic of conversation throughout this one-of-a-kind film.

Divine Secrets of the Ya-Ya Sisterhood
Starting with a youthful blood oath of friendship—dubbed the "Ya-Ya Sisterhood"—this warm-hearted comedy-drama spans more than 50 years of loyalty among four women. Played by various actresses over the course of the film, including Ashley Judd, Ellen Burstyn, Shirley Knight, Maggie Smith, the sisterhood goes to extreme lengths to get one of their daughters (Sandra Bullock) better understand her mother.

Sex and the City: The Movie
Based on the mega-hit HBO series, this big screen adaptation continued the saga of four women—Carrie (Sarah Jessica Parker), Samantha (Kim Cattrall), Charlotte (Kristin Davis) and Miranda (Cynthia Nixon)—still navigating life and love in the Big Apple.

How to Be Single
The stellar cast of Dakota Johnson, Rebel Wilson, Alison Brie and Leslie Mann makes for a funny and emotional roller coaster ride with four women searching for love in all the wrong places.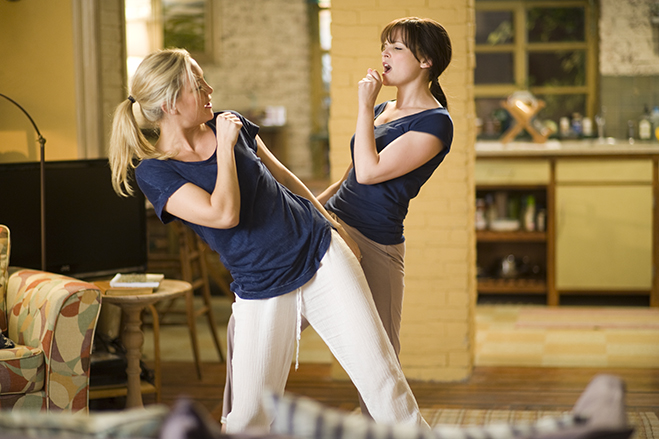 Something Borrowed
Kate Hudson and Ginnifer Goodwin are the quintessential opposites-attract best friends, but in this rom-com it also leads to lying, cheating and...well, we won't spoil it for you. We'll just leave you with this one question: Can best friends forgive the unforgiveable?

LEGO Friends: Girlz 4 Life
Just because they're animated doesn't mean these LEGO girlz aren't really best friends. Just ask Stephanie, Olivia, Emma, Mia and Andrea, whose friendships are put to the test when the manager of the world's most famous pop star steals their song and it becomes a hit for his client.
Bros

Harold & Kumar Go to White Castle
White Castle, where best friends go for munchies after partaking in a little smoking of the ganja, mon. 

The Hangover
What happens in Vegas doesn't always stay in Vegas.

Going in Style 
Friendship has no age limit; it's all about working together like Michael Caine, Morgan Freeman and Alan Arkin do in this year's hit comedy.

The Shawshank Redemption
Morgan Freeman also was Tim Robbins' best friend in a place where you definitely need a friend whose got your back, and the reward does come in this masterful drama.

Sherlock Holmes
When it comes to the socially awkward, one best friend is a must, and there's no better example than Sherlock Holmes (Robert Downey Jr.) and Doctor Watson (Jude Law).

The Outsiders
Francis Ford Coppola's 1983 film about a gang of greasers in 1960s Oklahoma is a testament to loyalty amongst friends. It also introduced the world to then-unknown actors Matt Dillon, Tom Cruise, Patrick Swayze, Rob Lowe, Emilio Estevez, Ralph Macchio, C. Thomas Howell and Diane Lane.

Diner
A year before The Outsiders, director Barry Levinson brought another group of friends to the screen—the equally unknown Kevin Bacon, Mickey Rourke, Steve Guttenberg, Daniel Stern, Paul Reiser and Tim Daly—in this comedy-drama about the always awkward transition to early adulthood.

Grumpy Old Men
Close friends off-screen and longtime co-stars, Jack Lemmon and Walter Matthau proved that old-timers could still sell movie tickets with this surprise box-office smash in 1993 about two childhood friends-turned-adult rivals.
Platonic Pals, Dogs, Goonies & Potter

The Intern
Anne Hathaway and Robert DeNiro showed that neither generations nor gender can stand in the way of true friendship. Their on-screen chemistry was also a big part of the massive success of this heartwarming 2015 comedy.

Driving Miss Daisy
Apparently, Morgan Freeman is just about everyone's friend on our list. Winner of the "Best Picture" Oscar, this memorable film traces the 25-year odyssey between a chauffeur (Freeman) and his employer (Jessica Tandy). An intimate look at how society can impact our personal relationships.

Scooby-Doo: The Movie
Who says your best friend has to be human? Just ask Shaggy.

The Goonies
Sean Astin, Corey Feldman, Ke Huy Quan and Jeff Cohen took friendship on a crowd-pleasing adventure back in 1985. Fun for all ages, this is one film that is even more popular today than it was back in the day.

Harry Potter and the Sorcerer's Stone
There are no three friends who stuck together longer cinematically than Harry Potter (Daniel Radcliffe), Ron Weasley (Rupert Grint) and Hermonie Granger (Emma Watson). Working hand-in-hand on eight films in only ten years, we not only watched the characters grow up but also these now-iconic actors.
Romance

Best Friends
Can marriage ruin a perfectly good relationship? That's the question posed in this 1982 rom-com starring Goldie Hawn and Burt Reynolds as two Hollywood screenwriters who have lived and worked together for years before deciding to take the matrimonial step.

Love & Basketball
This 2000 romantic drama was a sleeper hit that has grown in popularity over the ensuing decade. Starring Sanaa Lathan and Omar Epps as childhood next-door neighbors whose love of basketball cements their early friendship which evolves over a 13-year-period. Can friendship between a man and a woman survive romance? Definitely worth your time to find out.

Flipped
Director Rob Reiner's touchingly dramatic rom-com takes a look at childhood friendship from the differing perspectives of the two main characters played by Callan McAuliffe and Madeline Carroll.

You've Got Mail
Can an online friendship succeed in the real world? In this wildly successful romantic comedy from 1998, Tom Hanks and Meg Ryan have no idea that the anonymous online friend they have become enamored with is actually their worst enemy offline. Definitely a film that still resonates today in this social media driven society.
And that's it for our viewing tips for today. So call your BFF and make a date night!