August 17, 2017 at 10:36 AM PDT
Enjoying the Dog Days of Summer
Woof It Up with These Hollywood Hounds
There's nothing we love more than digging deep into our library and highlighting titles from the vast corners of the Warner Bros. catalog. And when we get to do a showcase with dog pictures? Well, that's just the peanut butter cup of blog posts. Two great tastes... You know the rest. 
Today we're slowing down and savoring the last of the dog days of summer with a tribute to a man, woman and child's best friend. Always at the ready to be a faithful companion, a workout buddy, a cuddly bed warmer or to just knowingly stare into your eyes as you confess your deepest secrets. Dogs just get us and that's probably why our library has so many great photos of them hanging out behind the scenes, working on set and visiting their humans between takes. 
Enjoy this gallery of Hollywood pups and the stars who loved them.
Dogs on the Go
Audrey Hepburn took her beloved Yorkshire Terrier, Mr. Famous, with her on location to shoot The Nun's Story. Here they do a little sightseeing during their free time.
Fred Astaire as Petrov (Peter P. 'Pete' Peters) and Ginger Rogers as Linda Keene enjoy the company of their four-legged co-stars as they prepare to perform the "Walking the Dog" number on a luxury liner bound for New York in Shall We Dance.
There's that joke about owners starting to look like their dogs after a while. Do you see the resemblance? The dashing Errol Flynn (Kim) was a tender-hearted animal lover and guardian of many pets, from horses, cats, monkeys and sheep.
Roadtrippin' Rovers
Glamorous car, glamorous woman, glamorous dog. Jean Harlow and her borzoi are ready to ride on the set of Red Headed Woman. 
Brinkley, the golden retriever, is wild and free while Tom Hanks (as Joe Fox) dangles a useless leash in this still from You've Got Mail. Energy like Brinkley's can't be contained.
Merle Oberon let her fluffy friend ride shotgun in this behind-the-scenes look at the film Deep in My Heart.
Playtime Partners
Dogs are always ready for a good rough-and-tumble play session, an impromptu walk, ride or any way to burn off some energy and be with their favorite people. In this behind-the-scenes photo from 1951's Angels in the Outfield, it's two-against-one as Donna Corcoran (left) and Janet Leigh (right) play a game of tug-of-war with a canine who seems to be holding his own pretty well.
A bicycle built for...four? A scruffy terrier hitches a ride with Spencer Tracy, Mickey Rooney and Bobs Watson in this shot from Men of Boys Town, the sequel to the 1938 Oscar-winning Boys Town.
Walking a dog is also a sure-fire way to meet people. Sometimes even movie stars. Here Jean Harlow greets Clark Gable's pack on the set of Wife versus Secretary.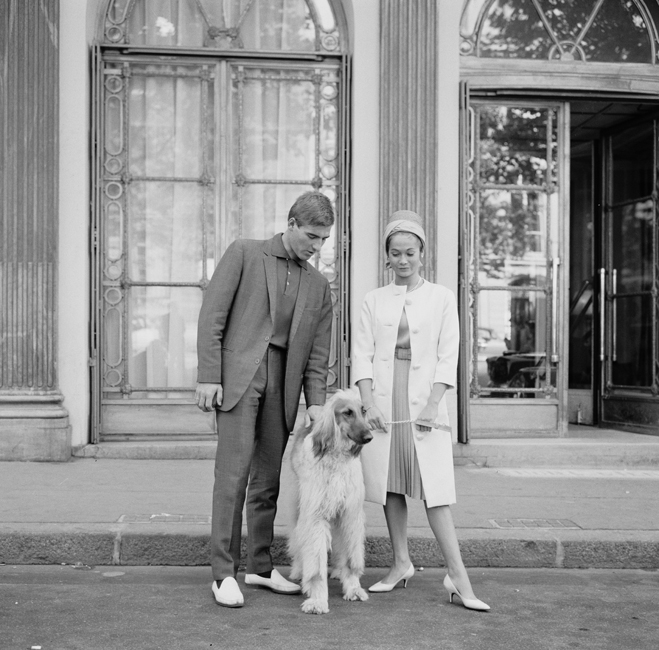 It's also an excellent means of showing off your style, as Nancy Kwan and husband Peter Pock did in spades while out for a stroll with this gorgeous Afghan hound named Gaugin while Kwan shot 1964's Tamahine.
Kristen Bell takes five so her pals can get in a game of chase between takes in this 2004 Veronica Mars photo.
This little pug outsmarts 'em all as Spencer Tracy, Akim Tamiroff and John Qualen try to catch up with the squiggly-tailed bandit in the 1942 adaptation of Steinbeck's Tortilla Flat.
And sometimes our pups need a helping hand (or two) and a walk ends as a carry. But who could say no to that face? Here, Robert Walker as Jimmy Dobson makes a special delivery in the Her Highness and the Bellboy.
Barking BFFs
You're never alone with a dog in your home. Esther Williams is twinning with this soulful spaniel during the production of Easy to Wed.
Ricardo Montalban found his pack in My Man and I.
Animal activist Doris Day gives Hobo the sheepdog what looks to be a much-needed hug on the set of Please Don't Eat the Daisies.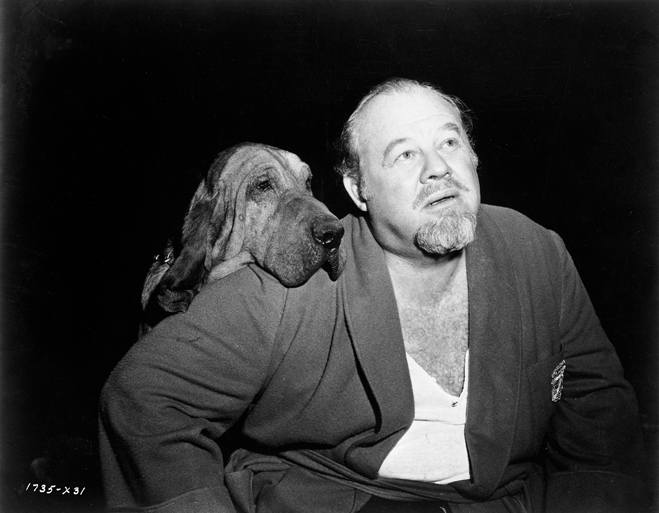 Burl Ives starred as Big Daddy in 1958's Cat on a Hot Tin Roof. Here he is behind the scenes with an impressive blood hound who's definitely got his back.
Not the worst way to spend an afternoon. Buster Keaton as Reginald Irving in Parlor, Bedroom and Bath.
Lucille Ball makes sure a litter of puppies stays well fed while making The Long, Long Trailer.
Just One of the Family
This little puppy is right at home with Tarek Sharif as Young Yuri Zhivago and Mercedes Ruiz as Young Tonya while filming the 1965 masterpiece, Doctor Zhivago.
A comical great Dane makes himself useful as he holds Esther Williams' yarn during a knitting circle on the set of Bathing Beauty.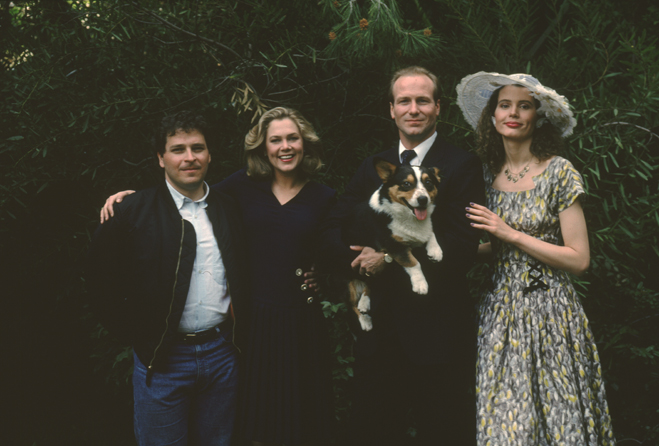 Edward the Corgi (real name Bud) was clearly delighted to be included with director Lawrence Kasdan and the cast of The Accidental Tourist—Kathleen Turner, William Hurt and Geena Davis—in their group photo. Edward does play a pretty pivotal role in the film, after all. 
As you catch the last rays of summer, send kids off to school and keep the grill going for a few more weeks, we hope you'll enjoy these dog days to their fullest!