November 15, 2017 at 9:53 AM PST
"Justice League" Press Conference
Cast & Producers Geek Out
With less than 48 hours to go before the DC Universe takes over the world with the eagerly anticipated release of the epic superhero action/adventure, Justice League, the film's producers and cast recently gathered before the press in London to discuss this journey which began nearly a decade ago.
First out of the gate was 2013's Man of Steel, followed by 2016's Batman v Superman: Dawn of Justice and this year's box-office blockbuster Wonder Woman. With Justice League, things took a tragic turn during the post-production phase when director Zack Snyder (who also helmed Man of Steel and Batman v Superman) turned things over to Joss Whedon following the death of his 20-year-old daughter. Whedon, no stranger to the superhero genre, having directed two billion-dollar-grossers in the Marvel franchise, had already been hired to write and direct some Justice League re-shoots before Snyder's family tragedy. His role was then expanded. Whedon received a screenwriting credit for the film.
"This whole thing is sort of bittersweet, because we have been working on this franchise for almost eight years when we started developing the script for Man of Steel," explains producer Deborah Snyder. "Then we moved on to BvS and Zack developed the story for Wonder Woman which was leading up to the point of Justice League where these characters were finally going to come together. This really was a great heroes journey with these characters becoming the characters they are today.
"So not being able to complete his vision was extremely difficult [for Zack]," the producer continues, "but we were lucky that we already had Joss working on script pages and our feeling is that we hope people don't think about how the movie was made when they see it because these characters are bigger than any director. They're bigger than any of us."
Ben Affleck, who once again dons the Batman cape, agreed, saying, "This movie is Zack's DNA. There's something that people who don't work in movies don't understand and that is how much of the work is done in prep: there's the casting, the sets get built, the story is written, and the ship is, in essence, sailing [before filming begins]. I've found as a director that you can maybe change ten or maybe 15 percent on the [set]. So, Zack's ship set sail with us and we were fortunate that when Zack was not able to continue we got [Joss Whedon] who is very accomplished in his own right; particularly in this genre and he sort of sprinkled some of his fairy dust on our movie and finished it. I don't think there's any way to go back and say, "That's a Joss scene" or "That's a Zack scene." They were both working together towards a common goal."
And while Henry Cavill's Superman and Affleck's Batman have previously shared the screen with one another (and Gal Gadot's Wonder Woman to a lesser extent with her brief appearance alongside them in BvS), seeing all the new characters—Ezra Miller as The Flash, Ray Fisher as Cyborg and Jason Momoa as Aquaman—together for the first time was a memorable experience for all involved.
"We've made a number of these films with the individuals, or maybe two of them," explains producer Charles Roven, "but to have them all together was epic. As a producer, sometimes you go, 'How are we gonna get these guys to work together? How are we gonna get them to bond?' With this movie, we didn't have to do anything. It was the easiest coming together of any group experience in a movie that I have ever seen."
Wonder Woman herself, Gal Gadot, agreed: "Going back to Zack, I think he did magnificent work with the casting and knowing which actor is going to make the most of their character and how the 'whole' will work together," before adding with a laugh, "No hours spent with the psychologist talking about each other. It's just been super fun and very easy. I remember coming to the set and seeing everyone in their costumes. I was just observing everything and then I just started to laugh to myself. It was surreal and crazy."
The physically impressive Momoa, who has his own Aquaman film coming out this time next year, admits, "I'm a bit of a big kid and I kinda geeked out, like walking around Ben and pulling on his cape. It's just surreal that I'm here playing this guy and being around these guys. When you see us all up there, you'll feel the same way."
More geeking out came from the other two newbies to the franchise. "I'm a big comic fan," states Miller, "so when everyone first got together it was really like looking at a frame from some of the early Justice League comics." Fisher nods in agreement, noting: "I would watch a lot of the dailies over Zack's shoulder and I was geeking out watching everybody in their costumes."
Affleck put it in perspective: "In these movies, you have a lot of effects and green screens, so you have to use your imagination a lot, so it was really great to be all around these great actors dressed the way they're dressed, looking so cool and inspiring, because it felt considerably less ridiculous."
The most veteran of the franchise, Henry Cavill, who may or may not be in the movie (no spoilers here), summed it up, saying: "On the days where I went to the set—because I'm not in the movie—I was lucky enough to see all these guys all lined up in costume. And, for me, it's been six years since I started on this journey and during Man of Steel I never imagined that I would be sitting up here with these other superheroes. And they are superheroes in the movie and they are superheroes in life, so I consider it a great honor to be sitting here with these guys."
In terms of the characters themselves, Affleck welcomes the new tone he sees with his caped crusader this time around: "Batman is not necessarily by nature anti-social, but he is pretty private and a loner. In this movie, he's not only thrust into the role of having to work with other people but also bring them together and convince them to come together. That was a really interesting thing for me to play, rather than the less typical version that we saw in Batman v Superman, where he was kind of blinded by rage and wanting to take on Superman. So, this was fun for me. I also got to have kind of a dry wit and play off Ezra which was a lot fun. It was fun to show some other colors."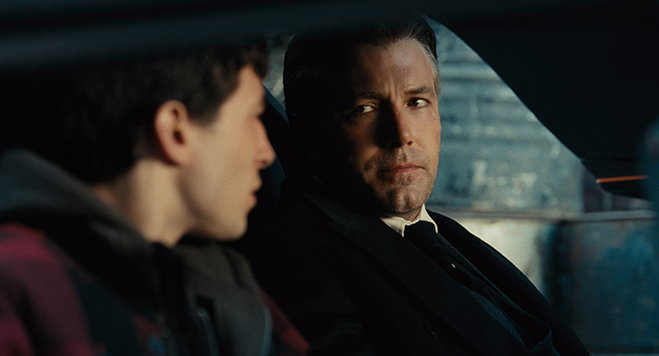 As for Cyborg, arguably the lesser-known meta-human in the Justice League, Fisher describes him this way: "In a lot of ways Cyborg is super reluctant to join the team, because of the trauma he's had due to his accident and the fact that he can't live a normal life the way these other members can. He can't take off his costume and just walk the streets and assume a different identity. He's both Victor Stone and Cyborg, 24/7, so balancing that duality within one's self was a very interesting process."
And for Fisher, the development of his character was indeed a long process, "Zack put [screenwriter] Chris Terrio and I together and we started talking about concepts from the very beginning. I had about a three-year process from start-to-finish with this film, which was absolutely necessary because the character is super deep. I think [the character] being able to put the negative notions aside about himself and about his powers is what this is all about, and being able to become part of a team in the way he was when he was a football player. I hope that resonates with the fans."
As noted previously, Aquaman makes his solo debut next year, but Momoa is excited about his character's first outing in Justice League: "I want people to know that you're gonna understand where he came from, what happened to his mother, what happened to his father, and how it was treated in this world and how he didn't know how to use his powers, and that sometimes he saved people and sometimes he lost people.
"There's a lot of layers to this guy," he adds, "and I think that once we do get to the solo film, you'll get to see the man who is going to take responsibility and help the world and become king eventually. In this one, he is Aquaman, he is Arthur Curry, but he hasn't done the Trident yet. For the people who might say, 'That's not my Aquaman;' just wait a little bit longer [laughs]."
When it comes to the overall message behind the film and the how the audience will react, the answers were as diverse as the character's superpowers. Producer Deborah Snyder believes that "What has always been so awesome about comic books is that you can approach things that may be a little difficult to talk about in a group. But when you do talk about them in comics and you have these superheroes portraying that and if it makes you do anything that makes you feel like a superhero, then they did their job."
Gadot echoes that sentiment, saying, "In the real world, we don't fight monsters, we don't have alien attacks, right? It's us creating the problem, and I think it would be wonderful if somehow we humans could come together and just do good for each other and try to make the world a better place. I'm giving you a cheesy answer, but I mean it from the bottom of my heart."
"One of the reasons that we make these films," adds Roven, "and why these characters have lasted for so long is because they are inspirational and aspirational characters. If these meta-humans, who haven't figured out all their own issues, can come together then hopefully that will resonate to the world."
Affleck is just hoping "that people have fun and enjoy the ride and get as much enjoyment out of the camaraderie of the group as we did in performing it." Miller adds, "If they feel even an iota of excitement that we felt making this film, then it will have been a success."
But we leave the final word to Cavill: "Watching the team dynamic is one of my favorite things about this movie, because superheroes are just reflections of the human psyche and human personality traits; just personified and made grander.
"Everyone watching this movie will have something they can associate with when it comes to watching each one of these performances. And everyone watching this movie is going to identify with the differences between characters and the similarities between characters as well. I think these guys really, really nailed it when it came to their interaction or their lack of interaction. And, ultimately, all having their eyes on the same goal but just having no idea how to get there, which I think a lot of viewers will be experiencing in life anyway. These guys smashed it; knocked it out of the park."
Justice League opens in theaters this Friday. Buy Tickets Now!