February 21, 2018 at 8:08 AM PST
On This Day in History
Malcolm X Assassinated
"MALCOLM X MURDERED: Gunned Down at Rally" the headline to the New York Daily News read reporting the assassination of the controversial civil rights leader by three members of the Nation of Islam on February 21, 1965. X, 39, had been addressing a rally of his followers at the Audobon Ballroom in New York City—his wife and children in the crowd—when he was attacked. X had made a very public split with the Nation of Islam, and had been involved in a public feud with the Nation's leader Elijah Muhammad for nearly 11 months. After the leaving the group in 1964, X founded the Organization of Afro-American Unity, which preached a more moderate philosophy and began gaining followers rapidly. 
X, also known as El-Hajj Malik El-Shabazz, the name he took after making a pilgrimage to Mecca, was murdered one week after his home had been firebombed while he and his family were inside. No charges were ever filed in the crime.
Of the three men charged with gunning down the charismatic civil rights pioneer, only one pleaded guilty: Thomas Hagan. Hagan was released on parole in April of 2010 after 44 years in prison. Two other men, Muhammad Abdul Aziz and Kahlil Islam, were also found guilty of X's murder, though maintain their innocence. Aziz received parole in 1985 and Islam was freed in 1987. Hagan testified in both men's parole hearings that they were innocent of their charges.
Twenty-seven years after Malcolm X's assassination, visionary director Spike Lee would bring his storied life to the big screen with the biopic Malcolm X. Directed and co-written by Lee, the film starred Denzel Washington as the powerful orator Malcolm X. The film itself had started and stopped and stalled out for years before finally landing with Lee. There was even an original script that dated back to the 1960s, shortly after X was assassinated with multiple directors having been attached to the project at various points in time. But in the end, it was Lee's and he called it "the picture I was born to make." 
The New York Film Critic's Circle awarded Denzel Washington Best Actor for his role in what Newsday calls "an extraordinary movie...powerful and compelling. Denzel Washington's performance is a tour de force!"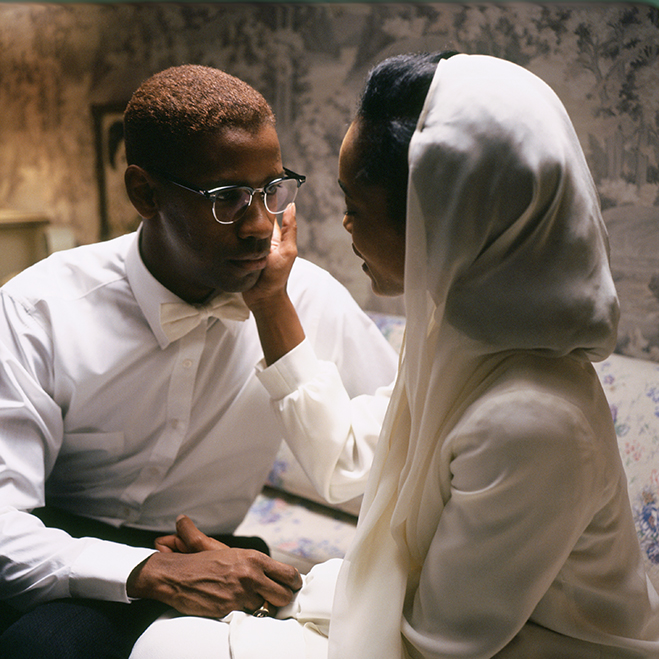 One of the most charismatic and politically controversial voices in history, Malcolm X burst into the public consciousness with a radical perspective on race relations in America. His inspiring and enlightening ideologies touched and continue to influence the lives of millions.