April 5, 2018 at 1:02 AM PDT
Are You Ready?
Experience "Ready Player One"
Steven Spielberg's long-awaited cinematic adaptation of Ernest Cline's bestseller Ready Player One is now in theaters and the marketing machine keeps rolling along in high gear! From sweepstakes, online adventures and arcade games to live events across the country, here are just a few of the exciting things happening right now!
June 1 Update
Own Ready Player One on Digital 7/3 & on Blu-ray™ 7/24. Pre-order Now!
May 30 Update
Escape into the Oasis for a chance to win the ultimate Ready Player One prize pack!
READY. SET. GO.
April 5 Update
RPO Music Available Now
If you've been as enthralled as us with the music powering the amazing Ready Player One adventure, be sure to check out two new releases from WaterTower Music, Warner Bros.' in-house music label for movies, television and games, Available now for digital download is the Ready Player One - Original Motion Picture Soundtrack, featuring the score from veteran composer Alan Silvestri spanning 22 tracks.
Director Steven Spielberg said of Silvestri's work on the film: "While all sorts of culturally iconic references populate Ready Player One, the score that Alan Silvestri composed is completely and intoxicatingly original. It's bound together by multiple themes that identify plot and character and is infused by such percussive adrenaline and soaring strings that Alan has made Ready Player One appear to fly. I think his score is fantastic."
For his part, Silvestri notes: 
An invitation to travel arrived just about a year ago, not just to a place, but to a time. Actually, to a number of times—primarily the year 2045, along with a few stops in the '80s. A rather detailed map had been drawn by Ernest Cline and the Captain of the voyage, none other than Mr. Spielberg himself. What could one possibly do or say? Pencil in hand, one firmly fastens one's seatbelt, says 'Sir, Yes, Sir,' and prepares for the trip of a lifetime.
In addition to the current digital release, you can also pick up a double-CD version of Ready Player One - Original Motion Picture Soundtrack on April 6.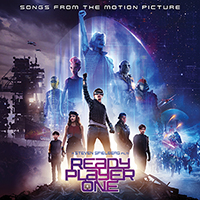 If that weren't enough, WaterTower has also digitally released Ready Player One - Songs from the Motion Picture Soundtrack, featuring 10 songs found in this pop culture dream of a film from the likes of Prince, Bruce Springsteen, Tears for Fears, Blondie, Earth, Wind & Fire, The Bee-Gees, The Temptations, New Order, Twisted Sister and Hall & Oates. There is one new recording found among the 11 tracks as well, and that's the beautiful and haunting cover of "Pure Imagination" from Bryan Nguyen featuring Merethe Soltvedt. You may remember Gene Wilder's take on the song as Willy Wonka more than 45 years ago. 
April 2 Update
Tye's Takeaway
March 29 Update
The Fans Speak
Ready Player One is officially in theaters everywhere! Get tickets now.
March 26 Update
Livestream Tonight!
Join us tonight at 6p PT and enter the OASIS at the LA premiere of Steven Spielberg's Ready Player One!
March 24 Update
RPO Maze Open Now
March 23 Update
Behind the Scenes IMAX Video
March 20 Update
With less than 10 days to go before the global hunt for a digital Easter egg begins, more than 60 photos from the set of Steven Spielberg's Ready Player One have been released. Here's just a taste: 
View all the Ready Player One photos.
March 15 Update
March 14 Update
High 5x5 Live Tournament
Movie Poster Mania
RPO Adventure [Clue 1]
Only one person will win the Golden Dominus, and if you're skilled and clever enough, it could be you. Watch this first clue very, VERY carefully and start searching for the Copper Key.
March 11 Update
March 9 Update
Support the Starlight Children's Foundation and get a chance to attend the L.A. Premiere of Ready Player One and meet the cast! Deadline for entries is March 15, so donate and enter now.
March 7 Update
This one-of-a-kind experience kicks off in Atlanta tomorrow.
The Ready Player One Challenge
Are you ready? The Ready Player One Challenge awaits you! Sign up for your chance to enter the maze March 18-April 1 in Tinsel Town.
Sweeps ends on March 12, so enter today!
Some of your favorite arcade games from the past are now available online with more to come!
Video Gallery