May 4, 2018 at 10:23 AM PDT
Remembering the "Friends" Series Finale
Its Been How Long?!?
Were you an original "friend" 'til the end? Or a recent adopter watching the series on Netflix and syndicated TV? However you came to know and love Friends, we're remembering our besties and celebrating (and maybe shedding a tear or two) as the fateful last episode commemorates its 14th anniversary on May 6. We'll take a look at some of the most memorable images from the episode and then some rare, emotional behind-the-scenes moments with the cast and crew. 
The finale was split into two episodes, which aired on the same night: The Last One - Part One and The Last One - Part Two. We're covering both because like the Friends themselves, they're inseparable.
THE LAST ONE - PART ONE
Ross (David Schwimmer) and Rachel (Jennifer Aniston) spend the night together with two very different expectations about what it means for the future of their relationship.
Joey (Matt LeBlanc) introduces Phoebe (Lisa Kudrow) to his housewarming presents for Monica and Chandler: Chick Jr. and Duck Jr. Monica's reaction to getting live fowl as a housewarming gift? "Oh great. Just what you want for a new house with infants—bird feces!"
Monica (Courteney Cox) and Chandler (Matthew Perry) watch in wonderment as their son Jack is born. Anna Faris guest starred as birth mom, Erica. After cutting the umbilical cord, Chandler zinged in his usual deadpan delivery, "Well that's spongey."
Minutes later wonderment has turned to shock when the delivery doctor (played by John Rubenstein) announces that (surprise) baby #2 is on its way. Let the freak out begin.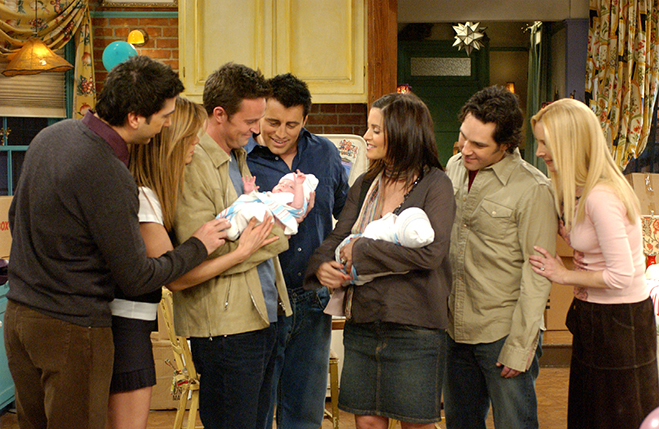 The gang meets Baby Jack and Baby Erica for the first time and Rachel heads off to begin her new life and job in Paris.
Unhappy that he didn't express his true feelings to Rachel, Phoebe races Ross to the airport for a last-ditch effort to confess his love.
THE LAST ONE - PART TWO
After an airport mix-up—Rachel is leaving from Newark, Ross and Phoebe went to JFK—Phoebe tries to buy time and convince Rachel to get off the plane by making up a phony excuse about a problem with the plane's left "phalange." Confusion spreads among the passengers and the entire flight deplanes. Score one for Phoebe and the ongoing series' "phalange" inside joke.
In an emotionally gut-wrenching scene, we all know that Rachel got back on the plane.
Saying goodbye to a piece of their younger selves, Joey and Chandler must break apart their beloved foosball table to free the new baby birds stuck inside. But, first, they must bid adieu to their faithful players Jordan, Victor, Joel and all the guys.
Reflecting upon Ross' confession at the airport, Rachel makes every fan's heart jump from their chest when the big question is answered. Did she get off the plane?
The last time we get to see Joey, Phoebe, Rachel, Ross, Chandler and Monica all together as they drop their keys for the building's super and leave Unit #20 for the next lucky tenants to live in an enormous Greenwich Village apartment with rent control.
BEHIND-THE-SCENES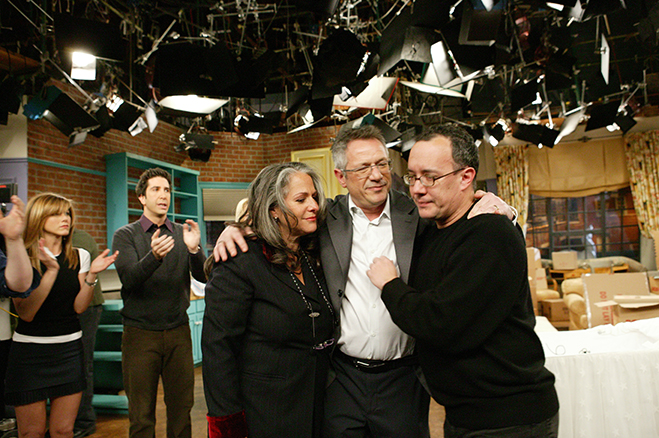 Without Executive Producer Marta Kauffman, Director/Executive Producer Kevin Bright and Executive Producer David Crane, there would be no Friends. Crane and Kauffman created the series and wrote the pilot episode.
Aniston, Schwimmer and Kudrow at an emotional curtain call.
If you ever wondered what Friends looked like through the viewfinder of a camera operator, now you know.
May we present to you Miss Chanandler Bong and Dr. Drake Ramoray. 
Phoebe was right; there's definitely something wrong with that plane's phalange!
The crew working hard on location at the Triborough Bridge in New York as they get the shot of Phoebe's cab racing to the airport. The structure was officially renamed the Robert F. Kennedy Bridge in 2008, just in case you're planning your own Friends tour of the Big Apple.
The cutest couple award goes to...
Filling up that orange couch one final time, the cast sits for a group photo with Bright, Kauffman and Crane (oh, and Gunther too!)