May 11, 2018 at 2:06 PM PDT
Happy Mother's Day!
Celebrating Moms in Film, TV, and Images
You know what your Mom really wants this Sunday? (By the way, that's Mother's Day!) She wants to spend some time with her beautiful family. Nothing fancy, she just wants to see you! Why not visit mom—Skyping and Facetiming will work too—pop some popcorn and binge-watch some Mom-ish movies and TV shows from the classics to present? And, yes, we just happen to have some suggestions!
Anna Faris is Christy, a newly sober mom to two kids and struggling to make ends meet. When her estranged mom Bonnie (played by Allison Janney, who won the Best Supporting Actress Emmy for this role in 2014 and 2015), also newly sober, unexpectedly pops back into Christy's life, they decide to bury the hatchet and rebuild their relationship. This surprisingly heartwarming, ride-or-die look at mothers and daughters is as funny as it is touching.
DIVINE SECRETS OF THE YA-YA SISTERHOOD
Told through the eyes of the present and flashbacks to younger, but not necessarily simpler lives, Divine Secrets of the Ya-Ya Sisterhood explores the often rocky relationships that mothers and daughters experience and the emotional distance that can keep them apart. Unable to resolve their differences, the members of the Sisterhood take it upon themselves to mend a broken relationship between Siddalee Walker (Sandra Bullock) and her mom Viviane (Ellen Burstyn). It's no secret that when they take time to examine the past they realize they have more in common with each other than they ever thought possible.
ALICE DOESN'T LIVE HERE ANYMORE
In a decidedly different type of mother role than the Ya-Yas, Ellen Burstyn plays the title role of Alice, a recent widow who takes her tween son on the road in search of a better life. Directed by Martin Scorsese, Burstyn won the Academy Award for Best Actress for her portrayal of a struggling singer/waitress/single mom. Alice Doesn't Live Here Anymore also features the heavy-hitter talent of Jodie Foster, singer/actor Kris Kristofferson, Harvey Keitel and Oscar-nominee Diane Ladd. The film also served as a springboard for the popular Seventies' TV sit-com, Alice.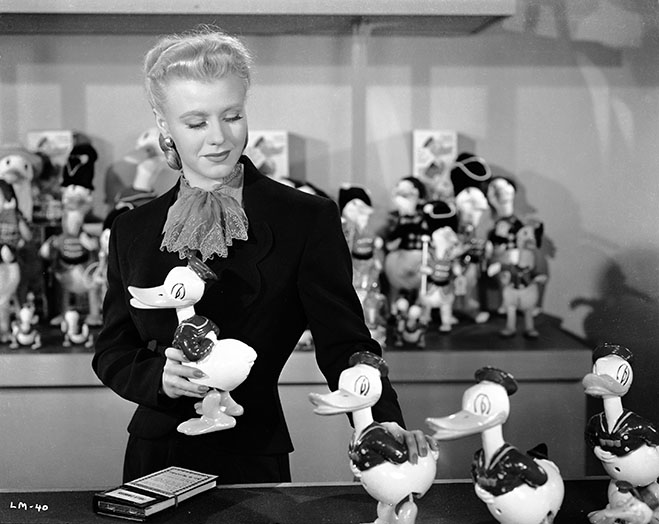 File this one under: How Things Don't Work in the Real World. Polly Parrish (Ginger Rogers) is losing her department store job at the end of the holiday season. Through a series of events (you know how these things happen), she winds up finding an abandoned baby left on the steps of a nearby orphanage. Now seen as a pitiable unwed mother she's able to keep her job. Huzzah! But of course there are mistaken identities, love triangles, bad timing, and all the hallmarks of a 1930s comedy.
Can you say stage mom? Rosalind Russell won her fifth Golden Globe Best Actress award for her portrayal of Rose, the ambitious—okay, some might say domineering and overbearing—mother to wallflower-turned-sophisticated stripper Gypsy Rose Lee (Natalie Wood). As the years go by, and Gypsy's star becomes brighter and brighter, and the tension between mother and daughter grows tighter and tighter. It's only when Rose finally has an epiphany about her own life that they can begin to heal their broken relationship.
As a final salute to moms and mother figures everywhere, we've compiled this pretty adorable photographic time capsule of Hollywood moms and their kids. We hope you'll share it with your mom and any woman you love this Mother's Day!
Ann Blyth
Ann Blyth (Mildred Pierce) with one of her five children with Dr. James McNulty.
Debbie Reynolds
Debbie Reynolds (Singin' in the Rain) holding daughter Carrie Fisher while her mother Maxene Reynolds and grandmother Maxe Harmon look on.
Lana Turner
Lana Turner (The Postman Always Rings Twice) and Steve Crane, gazing at their daughter Cheryl Crane.
Jean Harlow's Birth Announcement

March 3, 1911—Birth announcement for Harlean Harlow Carpenter to Dr. and Mrs. M.C. Carpenter. The future movie star Jean Harlow, who was born in Kansas City, Missouri weighed nine pounds at birth!
Jean Harlow
Jean Harlow and her mother, on the set of Hold Your Man.
Deborah Kerr
Deborah Kerr (Tea and Sympathy) with daughter Melanie Jane Bartley.
Sara Sothern and Elizabeth Taylor
Elizabeth Taylor as an infant cradled in the arms of her mother, Sara Sothern.
Elizabeth Taylor
Elizabeth Taylor (Father of the Bride), at home in 1954, with her son Michael Wilding Jr.
Jane Powell and Elizabeth Taylor
Jane Powell (Seven Brides for Seven Brothers) and Elizabeth Taylor (Little Women) attend a children's birthday party.
Lucille Ball
Lucille Ball (Easy Living) and Desi Arnaz (The Long, Long Trailer) with their son, Desi Arnaz Jr.
Judy Garland
Judy Garland (The Wizard of Oz) in her dressing room hugging her mother, Mrs. Ethel Garland (Gumm) in 1940.
Judy Garland and Liza Minnelli
Liza MInnelli (future Cabaret star) with her parents, director Vincente Minnelli (Lust for Life) and Judy Garland (A Star is Born) on her fourth birthday in 1950.
Esther Williams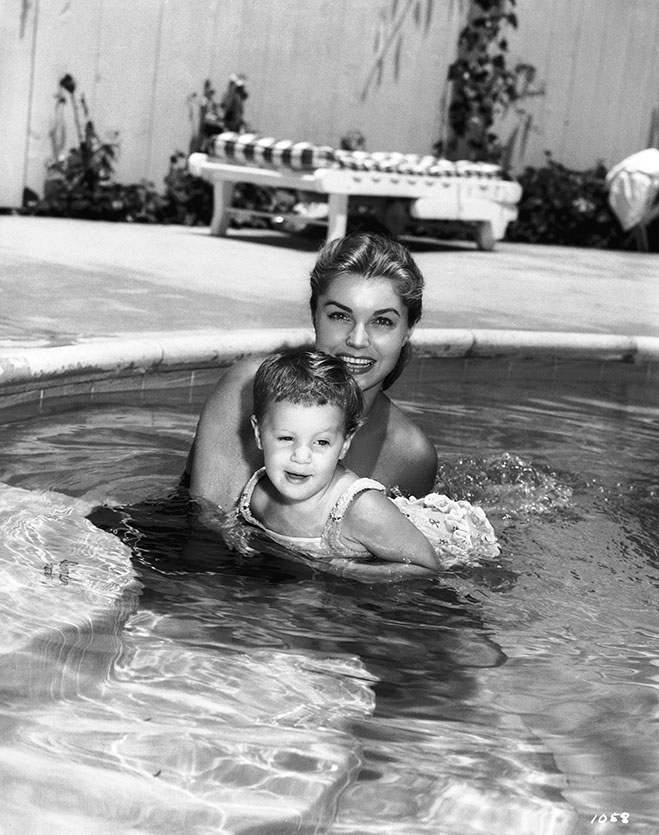 Like mother, like daughter. Former U.S. National Swimming Champion turned actress Esther Williams (Bathing Beauty) showing her daughter Susan some swimming pool basics.
Kathryn Grayson
Kathryn Grayson (Anchors Aweigh) celebrating her daughter Patricia Kathryn Johnston's first birthday.
Marta Linden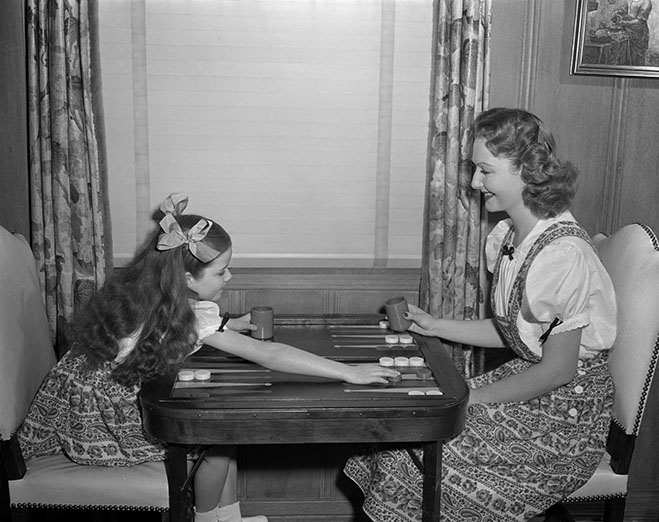 Marta Linden (A Yank at Eton) with daughter Barbara in their best matching jumpers.
Lauren Bacall
Lauren Bacall (Key Largo) with doppelgänger daughter Leslie and son Stephen, who is the spitting image of his father, actor Humphrey Bogart (Casablanca).
Olivia de Havilland
Behind-the-scenes on the set of Libel with Olivia de Havilland as Lady Margaret Loddon with her daughter Giselle.
Gloria and Jimmy Stewart
Proud parents Gloria and Jimmy Stewart (The Philadelphia Story) with twins Judy and Kelly on their laps, and sons Ronald and Michael beside them.