September 14, 2018 at 12:01 PM PDT
Happy Birthday Rin Tin Tin
Warner Bros.' First Star Turns 100
On September 15, 1918, in the waning months of the First World War, Lee Duncan, a corporal in the U.S. Army Air Service, found himself in Flirey, France, inspecting the village after the retreat of German troops.  He came across a bombed-out kennel filled with dead dogs, but in one corner lay a terrified German Shepherd and her five nearly newborn puppies, all of whom were very much alive.  Incredibly, five years later, one of these puppies would become one of the biggest movie stars of the 1920s, and would put a newly incorporated motion picture studio, Warner Bros., on its path to becoming one of the major players in the entertainment industry.
Lee Duncan, pictured here with the young Rin Tin Tin in France, rescued the six dogs from the kennel, eventually keeping a male and female puppy for himself.  He named them Rin Tin Tin and Nanette, after a pair of good luck charm dolls that French children would often give to soldiers.  Lee brought the siblings back to the United States with him after the war, but Nanette unfortunately died of pneumonia shortly after her arrival.  Returning to his native California, Lee enrolled "Rinty" in several dog shows with varying results.  However, Rinty's athleticism and quick responses to Lee's commands convinced him that he might have a future in movies.  After appearing in a few independent shorts and features, Lee signed a contract with Warner Bros., and Rinty's first WB film, Where the North Begins, was an unqualified hit upon its release in July 1923.
Rin Tin Tin's second and third films, Find Your Man and The Lighthouse by the Sea, were both written by Darryl F. Zanuck (under the pseudonym Gregory Rogers) and directed by Malcolm St. Clair.  Pictured here are Zanuck, Jack Warner, and St. Clair posing with Warner Bros.'s biggest star in 1924. Zanuck wrote several of the Rin-tin-tin films, and their success led to him quickly moving up the studio ladder.
One of Rin Tin Tin's co-stars in The Lighthouse by the Sea was Louise Fazenda.  This still is signed to "Lee and Rinty" by Fazenda herself.  The human star of the film, William Collier Jr., was paid $150 for his work, while Rinty made $1000!

Rin Tin Tin and actress June Marlowe on location (note that both are wearing wristwatches). Marlowe appeared in three features and one serial with Rinty, but would enter cinema immortality in 1930 when Hal Roach gave her a blonde wig and cast her as "Miss Crabtree" in six of the Our Gang short subjects.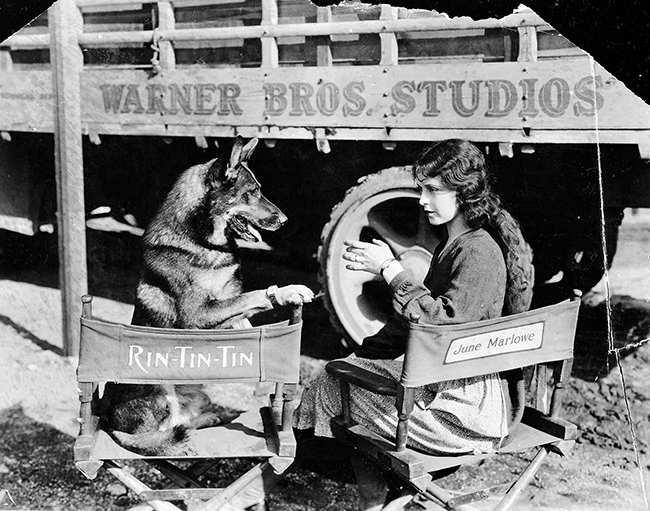 "Master and friend" to Rin Tin Tin, Lee Duncan, directs his protégé in front of child actress Mary Louise Miller on the set of 1926's The Night Cry. The film's director, Herman C. Raymaker, is standing behind the camera.
A large crowd awaits an in-person appearance by Rin Tin Tin in front of Warners' Theater in New York City in early 1926.  At the height of his popularity, Rinty was receiving thousands of fan letters every week, and was referred to as "The Mortgage Lifter" on the Warner Bros. lot due to the ever-reliable success of his films.
Lee Duncan and Rin Tin Tin on location in Monterey, California.  The man standing in the foreground on the right is, according to the caption, "Major Knears, who signed passport for puppies" when Lee brought them out of France.
A vintage advertisement for the 1927 feature Tracked by the Police, also written pseudonymously by Darryl F. Zanuck (who would become one of the founders of 20th Century Fox the following decade).  That year, Rin Tin Tin appeared in four features, all critical and box office hits, and was one of the most popular movie stars in the world.
Passing the torch: Warner's superstar of the silent screen meets Warner's new superstar of talking pictures, Al Jolson, in 1927.  The moviegoing public's quick acceptance of, and demand for, sound movies meant that Rin Tin Tin's silent heroics were soon being viewed as old-fashioned.
An odd publicity still of Rin Tin Tin enjoying afternoon tea at the Hotel Roosevelt in Hollywood.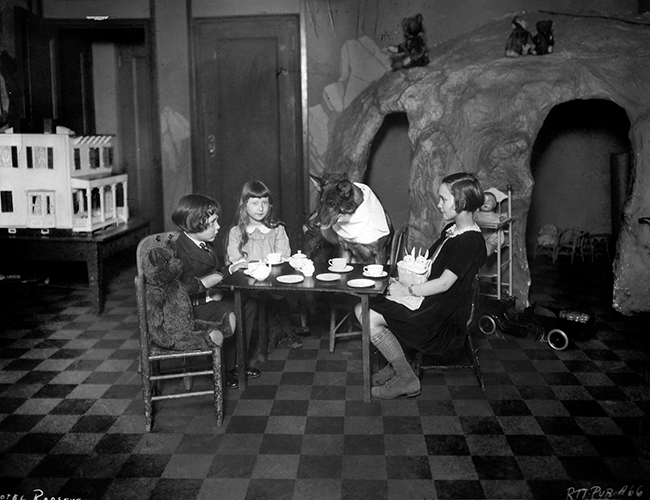 Rin Tin Tin made a brief appearance as himself (with barks and in Technicolor, no less!) in the 1929 sound revue The Show of Shows.  In December of that year, Rinty's contract with Warner Bros. was terminated, with the following rationale: "It has been decided that since the talking pictures have come into their own…that the making of any animal pictures…is not in keeping with the policy that has been adopted by us for talking pictures, very obviously, of course, because dogs don't talk…"
Rin Tin Tin's 23nd and final movie for Warner Bros., Rough Waters, was released in June 1930.  Afterwards, he appeared in two serials for Mascot Pictures.  His death on August 10, 1932 made international news.  Lee Duncan eventually returned Rinty to his home country for burial, in a pet cemetery just outside of Paris.  Some of Rin Tin Tin's descendants also appeared in various films and TV shows throughout the years, and his bloodline continues to this day.  To learn more about the Rin Tin Tin phenomenon, see Susan Orlean's excellent book, Rin Tin Tin: The Life and the Legend.