September 30, 2018 at 11:41 PM PDT
Music from Smallfoot
Original Motion Picture Soundtrack
An animated adventure for all ages, with original music and an all-star cast, Smallfoot turns a myth upside down when a bright young yeti finds something he thought didn't exist—a human. News of this "smallfoot" throws the simple yeti community into an uproar over what else might be out there in the big world beyond their snowy village, in an all new story about friendship, courage and the joy of discovery. Now playing in theaters, watch the trailer below:
Buy tickets for Smallfoot, now playing in theaters. 
From WaterTower Music, the soundtrack features Niall Horan's song "Finally Free," that plays over the end title sequence, plus original new songs written by Wayne Kirkpatrick and "Smallfoot" director Karey Kirkpatrick, with several performed by members of the film's all-star cast. The soundtrack also includes 18 tracks from Grammy-winning Brazilian composer Heitor Pereira.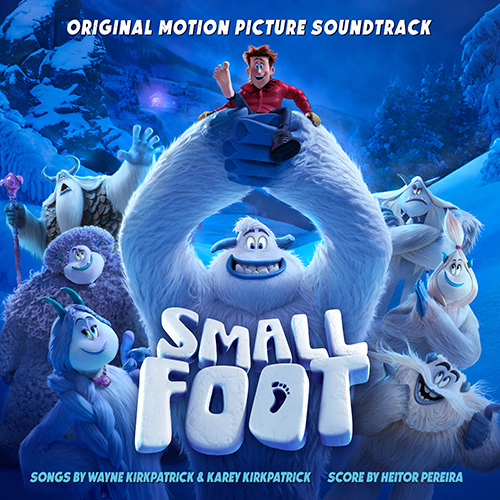 Listen: https://lnk.to/smallfootWB
The Smallfoot: Original Motion Picture Soundtrack
"Finally Free" performed by Niall Horan
"Wonderful Life" is performed by Zendaya
"Let It Lie" is performed by Common
"Perfection" is performed by Channing Tatum
"Wonderful Questions" is a duet performed by Tatum and Zendaya
"Moment of Truth," written by the Kirkpatricks and performed by CYN
"Percy's Pressure," a karaoke version of the classic '80s hit "Under Pressure," performed by James Corden, with additional lyrics by Wayne and Karey Kirkpatrick, the Tony-nominated songwriters for the acclaimed Broadway musical "Something Rotten!"    
Smallfoot: Original Score by Heitor Pereira
"This is My World"
"Practice Gong"
"Plane Crash"
"Banished"
"Jumping Spider"
"The S.E.S."
"New World"
"Migo Meets the Smallfoot"
"Bear Cave"
"Grow a Conscience"
"Up the Mountain"
"Behold, the Smallfoot!"
"Meechee and Percy"
"Public Betrayal"
"Dorgle Pep Talk"
"Where is Meechee?"
"Village Escape"
"Clouds Lifted"