November 20, 2018 at 9:03 PM PST
Get Lost in Love
Crazy Rich Asians and A Star Is Born at WB Studio Tour Hollywood
Updated: January 6, 2019
You are invited to relive the magic of some of the most romantic scenes from this year's hits, Crazy Rich Asians and A Star is Born at the interactive soundstage, Stage 48: Script to Screen.
Fans from around the world can't stop smiling over this summer's breakout hit, Crazy Rich Asians, making it the highest-grossing romantic comedy in a decade as well as the first film by a major Hollywood studio in 25 years to feature an all-Asian cast in a modern setting. For a limited time, the Studio Tour has recreated some of the film's most memorable scenes, from the enchanting Singapore wedding reminiscent of a meadowed hilltop, to Peik Lin's (Awkwafina) eccentric "nouveau riche" style closet. The glamorous lifestyle of Singapore's elite is brought to life in this visually stunning exhibit, showcasing eight flawless costumes and original props, straight from the set.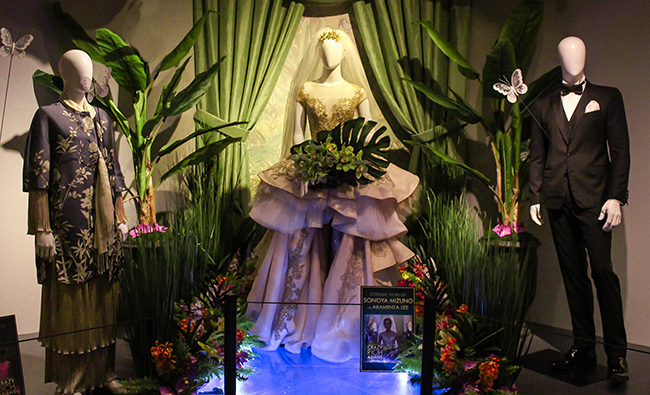 In the Studio's most recent rendition of the classic love story, A Star is Born, Bradley Cooper and Lady Gaga give an electric performance and fuse their distinct talents to depict the raw, passionate tale of artists Jack and Ally. In the all new exhibit, guests are invited to step into the spotlight where Lady Gaga gave her heartbreaking performance of "I'll Never Love Again," and see her elegant blue gown and original props that illuminated the stage of The Shrine. Also on display, the dazzling gold Gucci dress worn by Ally in her defining moment as a star at The Grammy Awards, costumes worn by Jack and Ally from their initial encounter at the Bleu Bleu club, the bedazzled guitar that Jack borrows for his impromptu serenade and other memorable props.
Warner Bros. Studio Tour Hollywood is open Monday through Sunday, 8:30 AM to 3:30 PM, with studio tours departing every 30 minutes. The Studio Tour is offered in English, Spanish, French, and Mandarin. Book your tickets online at www.wbstudiotour.com or by calling 818-977-TOUR (8687). *Restrictions apply.