March 19, 2019 at 2:16 PM PDT
"Rio Bravo" Turns 60
Celebrating a Classic Through Pictures
One of the greatest Westerns of all time, Rio Bravo, celebrates its 60th birthday this week. Born out of a mutual dislike of aspects of another Western film, High Noon, director Howard Hawks and star John Wayne set out to make a movie where the protagonists, without seeking outside help, take a unified and determined stand against the bad guys. The result is a classic, rich in characterization, dialogue, story, action, and even featuring a couple of songs courtesy of co-stars Dean Martin and Ricky Nelson! Here are some wonderful production and behind-the-scenes images from the movie. All the black and white images below have been scanned from the original negatives, which were recently uncovered in the WB archives.
First up is the original theatrical three-sheet poster.
The three stars of Rio Bravo: Ricky Nelson as Colorado Ryan, John Wayne as Sheriff John T. Chance, and Dean Martin as Dude.
Sheriff Chance subdues and arrests Claude Akins as Joe Burdette at the tail end of Rio Bravo's bravura (and nearly dialogue-free) opening sequence. It is this arrest that sets the plot in motion.
Dean Martin gives what may be the finest performance of his career as the alcoholic sheriff's deputy.
John Wayne shows off some impressive balancing skills.
Estelita Rodriguez and Pedro Gonzalez Gonzalez play Consuelo and Carlos Robante, local hotel owners who prove invaluable allies for Sheriff Chance.
Ricky Nelson and John Wayne in action.
Walter Brennan as Stumpy, Dean Martin, and Ricky Nelson sing "Cindy" in a quiet moment before the movie's final showdown with the Burdette gang.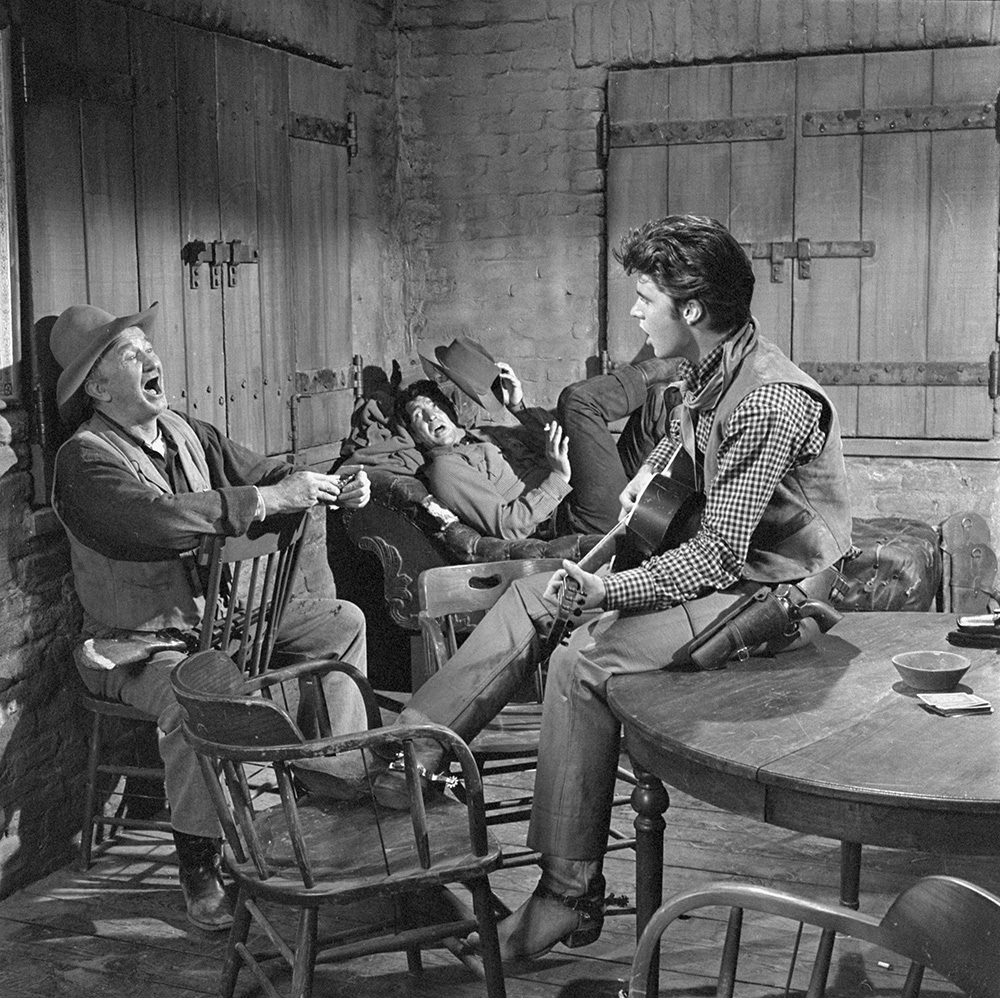 Angie Dickinson and Ricky Nelson take a publicity still on location in Tucson, Arizona.
An out-of-costume John Wayne demonstrates gun slinging skills for Ricky Nelson while veteran character actor Ward Bond as Pat Wheeler looks on.
John Wayne, Walter Brennan, and Dean Martin converse between takes while director Howard Hawks and script supervisor Meta Carpenter Rebner go over the script.
Estelita Rodriguez sneaks up on Dean Martin during a chess game.
John Wayne and son Patrick Wayne also engage in a chess match.
Angie Dickinson and Dean Martin behind the camera on the Old Tucson set. The note taped to the camera magazine reads "Silence Please! You are Now in the Presence of a Genius at Work".
John Wayne clowning with set visitor, and then-World Middleweight boxing champion, Sugar Ray Robinson.
Howard Hawks, Dean Martin, John Wayne, and Angie Dickinson behind-the-scenes.
More chess! John Wayne plays against a crew member while John Russell as Nathan Burdette, Walter Brennan, Angie Dickinson, and Dean Martin look on. Shortly after Rio Bravo wrapped principal photography in July 1958, John Russell debuted as the star of the Warner Bros. Television western Lawman, which ran for four seasons.
Wayne, Martin, and Nelson consult with legendary director Howard Hawks. Hawks's relationship with Warner Bros. started with The Dawn Patrol in 1930, and included such classics as To Have and Have Not, The Big Sleep, and Sergeant York, which became the biggest hit in WB history upon its release. Rio Bravo was his tenth and final film for the studio.