April 4, 2019 at 11:19 AM PDT
"Ben-Hur" 60th Anniversary
Spellbinding Classic Returns to Theaters
One of Hollywood's greatest epics, Ben-Hur, celebrates its 60th Anniversary this year. Previously filmed by MGM in 1925, that version was one of the biggest productions, and biggest hits of the silent era. However, this remake even managed to surpass that version, both in its staggering production values and popular success. Indeed, in terms of tickets sold, it's still one of the 15 biggest movies in history. Additionally, the movie won a record-setting eleven Academy Awards, a total that has since been equaled but never surpassed.
"BEN-HUR" RETURNS TO THEATERS
For a special 60th anniversary event, Ben-Hur is returning to the big screen on April 14 and 17! 
Tickets for Ben-Hur can be purchased at https://www.fathomevents.com/events/tcm2019-ben-hur-60th-anniversary-1959 or participating theater box offices.
CELEBRATING A CLASSIC THROUGH PICTURES
Below are some unique images from the movie's production, starting with the original 1959 one-sheet poster.
Co-stars Charlton Heston and Stephen Boyd, in costume as Judah Ben-Hur and Messala, respectively, stage a Vespa vs. bicycle race behind-the-scenes.
Director William Wyler (also riding a Vespa) on the massive chariot arena set built at Cinecittà Studios in Rome, Italy. Wyler won his third Best Director Academy Award for Ben-Hur (he had previously won for Mrs. Miniver and The Best Years of Our Lives), and with 12 total nominations remains the most nominated director in Oscar history.
Charlton Heston checks out a shot under the watchful eye of legendary director of photography Robert Surtees. Note the massive MGM Camera 65 camera above them.
Charlton Heston demonstrates his chariot-driving skills for a lone spectator: television host Ed Sullivan!
William Wyler, Charlton Heston, and Stephen Boyd chat with set visitor Bette Davis. Wyler had directed Davis in three classics earlier in their careers: The Little Foxes, The Letter, and Jezebel (for which Davis won her second Best Actress Oscar).
William Wyler and lead Ben-Hur actress Haya Harareet welcome another distinguished set visitor, Audrey Hepburn, who is in costume for Warner Bros.'s The Nun's Story, also filming in Rome at the same time. Like Bette Davis, Wyler had previously directed Hepburn in an Academy Award-winning performance: Roman Holiday.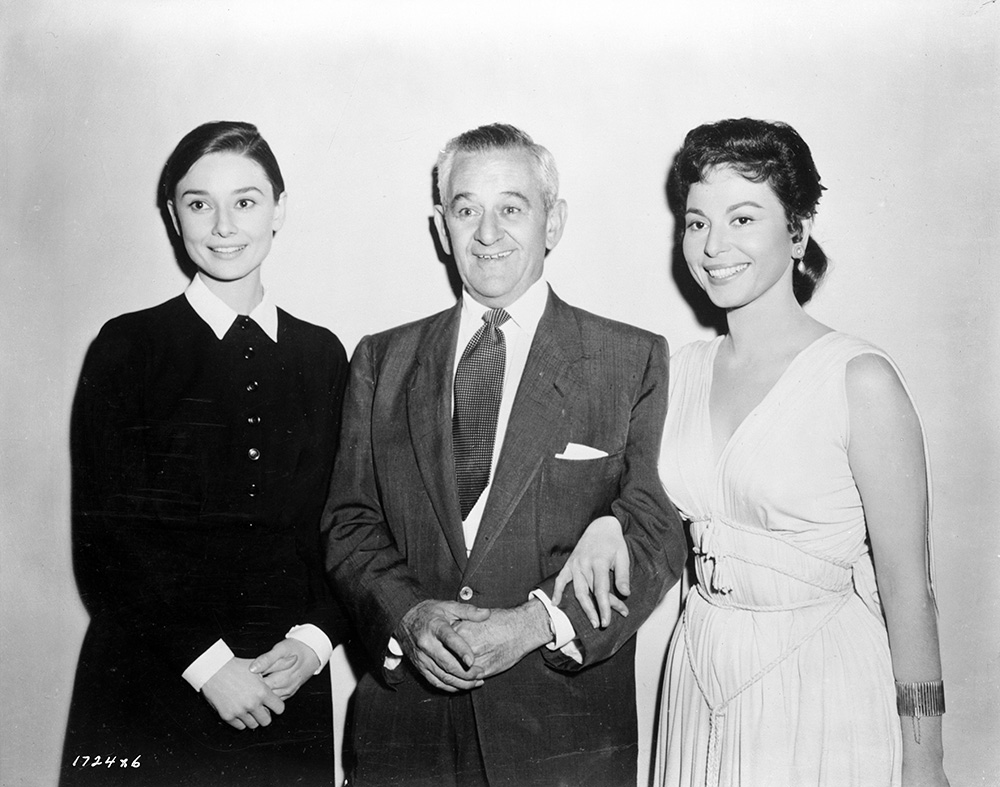 Cameras capture one of the greatest action scenes in motion picture history: the thrilling chariot race in Ben-Hur.
Charlton Heston and Stephen Boyd appear with a display of Ben-Hur merchandise.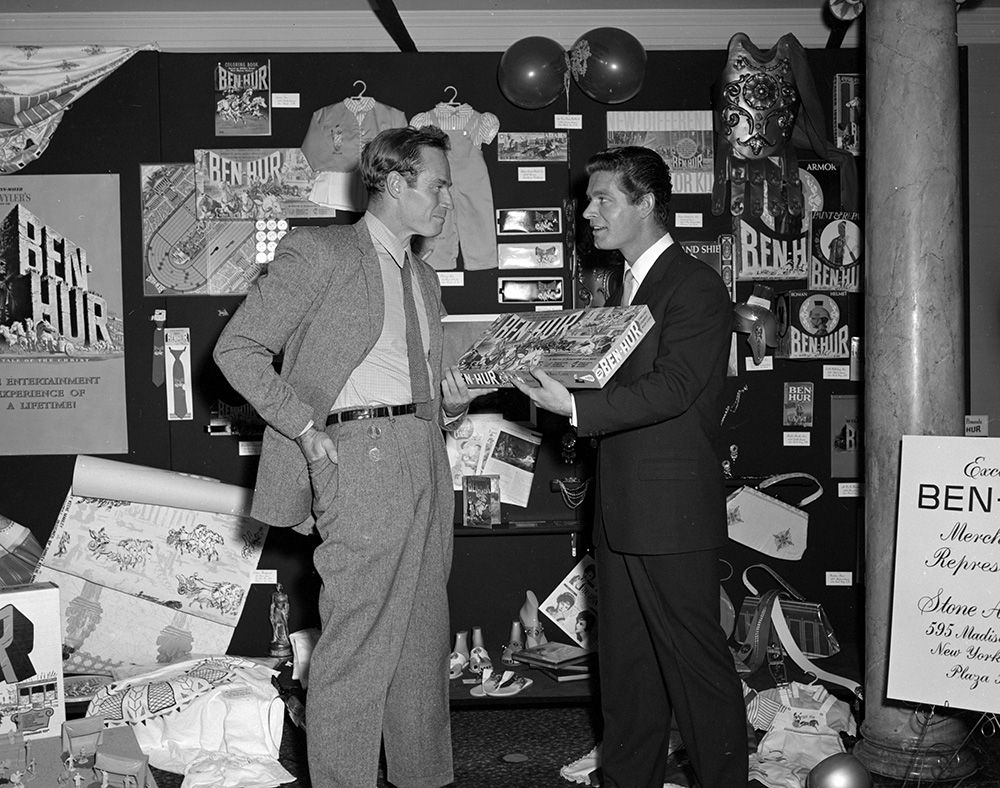 The sheer size and scope of this 3-1/2 hour-plus epic is, without question, best experienced theatrically on a large screen, and this frame shows the incredibly wide aspect ratio of Ben-Hur. MGM Camera 65 used 65mm film with a small anamorphic squeeze, resulting in an image roughly 2.75 times as wide as its height. Ben-Hur was the second and last film to shoot in MGM Camera 65 (Raintree County was the first), although the process was later renamed Ultra Panavision 70 and used on several films in the 1960s.

OWN IT TODAY
Experience the visual splendor, thundering action and towering drama of this record-setting film at home - own Ben-Hur today!