November 11, 2019 at 9:00 AM PST
Leonardo DiCaprio Turns 45
Celebrating the Actor, Producer and Environmentalist
Leonardo DiCaprio, the iconic actor, producer and environmentalist celebrates 45 years of his life today! With almost 40 of those years being in the entertainment industry, DiCaprio has earned 206 awards and nominations and starred in 27 feature films to date, according to his website.
Not surprisingly, DiCaprio knew that he wanted to act his whole life, as he recently told Ellen DeGeneres on her show. Most notably known for his role as Romeo in "Romeo + Juliet" and Jack in "Titanic," DiCaprio is recognized today as one of the leading actors in TV and cinema history.
To celebrate his birthday, we're taking a look back at some highlights from his cinematic career in chronological order.
DiCaprio joined the cast of "Growing Pains" from 1991 to 1992 as Luke Brower, a troubled homeless teen taken in by the Seaver family in Long Island, New York. This was the last TV show that DiCaprio starred in his teens before moving on to films like "This Boy's Life."
You can watch a clip from Season 7 below.
"This Boy's Life" marked a significant turning point in DiCaprio's career, offering him his first challenging role after his film debut in "Critters 3." Coming out from years of TV shows like "Growing Pains" and TV commercials, working on set with major co-stars Robert De Niro and Ellen Barkin was a huge breakthrough for the then 16-year-old DiCaprio.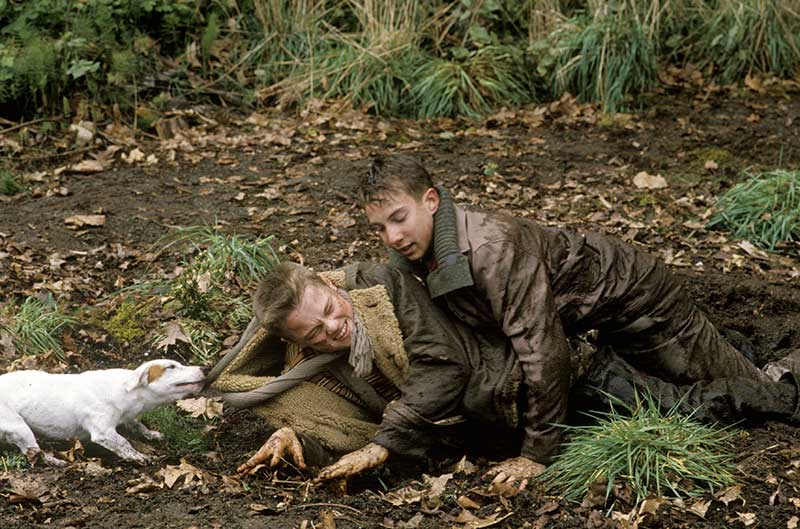 Based on the memories of writer Tobias Wolff, "This Boy's Life" is a story set in the 1950s of rebellious teenager Toby (DiCaprio) and his relationship with his abusive stepfather, Dwight (De Niro) whom his mother, Caroline (Barkin) marries.
One of the earliest films where DiCaprio and director Martin Scorsese worked together, "The Aviator" covers a 20-year span between the 1920s and 1940s, following the life of the mysterious and flamboyant Howard Hughes (DiCaprio) – business tycoon, inventor, aviation pioneer and film producer. Starring alongside DiCaprio, Cate Blanchett plays Katharine Hepburn, Hughes' then-girlfriend, and Jude Law as Errol Flynn.
The film was nominated for 11 Academy Awards, including DiCaprio's nomination for Best Actor in the 2005 Oscars, and brought home 5 awards total.
DiCaprio's performance won him Best Actor for the 2005 Golden Globe Awards. He was also nominated for several other film awards including Best Actor in a Leading Role for the BAFTA Awards.
"The Departed" stars DiCaprio as an undercover cop, Billy, with Matt Damon as a mole in the police force, Colin Sullivan, as they each try to infiltrate an Irish mob gang. The movie is also a remake of the 2002 Hong Kong movie, "Infernal Affairs."
Once again teamed with Scorsese, the pair considered to be one of the most successful actor-director collaborations in Hollywood history, with almost $1.3 billion from the five features including "The Departed."
DiCaprio was nominated for Best Actor in the Golden Globes 2012 as well as Best Actor in a Leading Role in the 2007 BAFTA Awards.
Delivering a stunning performance alongside Djimon Hounsou, both DiCaprio and Hounsou captured the eyes of many in the production of "Blood Diamond," earning them both nominations for the Academy Awards in 2007. DiCaprio also earned a nomination for Best Actor in the 2007 Golden Globes.
Set during the Sierra Leone Civil War in 1990s South Africa, the film follows smuggler Danny Archer (DiCaprio) and fisherman, Solomon Vandy (Hounsou) as they come together to recover a rare pink diamond and rescue Solomon's captured son amid the war.
While filming "Blood Diamond" in 2006, DiCaprio told Ellen that he was stuck in a cage with a great white and according to him, it was "awesome."
One of the many well-known facts about DiCaprio is his fight for environmental change. Dedicating his social pages to his environmental work by the Leonardo DiCaprio Foundation (LDF) and his first Oscar-winning speech filled with passionate drive for the planet's ecosystems. As an environmentalist, it's a no-brainer for the cinematic icon to narrate this documentary picturing the then-current state of the global environment and solutions for change.
In relation to his works on the environment, scientists named a water beetle species after the actor, calling it, "Grouvellinus leonardodicaprioi." In true spirit, DiCaprio even changed his profile picture on Facebook to the beetle when the announcement was made in May last year.
Directed and produced by Ridley Scott, "Body of Lies" is a film set in the Middle East as it follows a CIA soldier, Roger Ferris (DiCaprio) infiltrate the cell of a master terrorist, Al-Saleem (Alon Aboutboul). To operate his plan to flush Al-Saleem out in the open, Ferris needs the backing of his boss, Ed Hoffman (Russell Crowe), and a wily, but suspect, Jordanian intelligence officer, Hani Salaam (Mark Strong). Although the two men appear to be his allies, Ferris questions if he can trust them or if they are putting his entire operation, and his life, in danger.
This was the first movie since "The Quick and the Dead" in 1995 that Crowe and DiCaprio come together again for the action-thriller "Body of Lies."
During the production of this film, DiCaprio wore brown contact lenses and dyed his hair black for the role.
Diving into the mind of director Christopher Nolan, "Inception" played into the theory of psychoanalytic dreaming and extracting information from people's minds through entering their subconscious.
The movie is based on Dom Cobb (DiCaprio), a skilled thief who enters the mind of unsuspecting victims, deep into their subconscious, to plant thoughts and steal their secrets. To get him home, Cobb pulls in a team of specialists (Joseph Gordon-Levitt as Arthur, Ellen Page as Ariadne, Tom Hardy as Eames, Ken Watanabe as Saito and Dileep Rao as Yusuf) to conduct one last heist on the biggest, impossible task ever: inception. 
DiCaprio and the cast were said to have done much "detective" work on the script to try and figure out the entire plot and mind of Nolan. 
Many of the scenes were done without the help of CGI. This scene below is an example where the room was put on hydraulics tilts. DiCaprio has reported that he and Murphy had to hold on to the sets as they tilted while delivering their monologues. 
Another fun fact, apparently by taking the first letters of each of the main cast, Dom, Robert, Eames, Arthur, Mal, and Saito, they spell "Dreams." Adding Peter, Ariadne, and Yusuf makes up "Dream Pay," which is essentially what they do for a mind thief. Whether this is true or not, we will leave it up to your interpretation.
DiCaprio stars as J. Edgar Hoover, head of the Federal Bureau of Investigation for nearly 50 years. As the face of law enforcement in America for almost fifty years, J. Edgar Hoover was feared and admired, reviled and revered. But behind closed doors, he held secrets that would have destroyed his image, his career and his life. Directed by Clint Eastwood, this movie takes a look back at Hoover's controversial life, as told through his eyes.
DiCaprio's performance earned him a nomination for the 2012 Golden Globes for Best Actor. 
Adapted from the F. Scott Fitzgerald's 1925 novel of the same name, "The Great Gatsby" stars DiCaprio as Jay Gatsby, an over-the-top millionaire who draws in writer and Wall Street trader, Nick Carraway (Tobey Maguire) into his lifestyle.
During "The Great Gatsby" world premiere, DiCaprio commented that, "I think everyone has little Gatsby in their life. Everyone dreams when they're young and that's what people identify with."
DiCaprio filmed three movies back-to-back for almost a year and a half straight including "The Great Gatsby," "Django Unchained," and "The Wolf of Wall Street."
The multi-talented actor not only plays characters on screen, he has produced films like "Red Riding Hood," "Orphan" and most recently the upcoming movie "Richard Jewell."
"Richard Jewell" is based on a true story of a security guard who becomes a suspect after risking his life to stop the bombing at the 1996 Summer Olympics in Atlanta. "Richard Jewell" will be playing in theaters on December 13.
We hope you have enjoyed a look back at some of DiCaprio's films. Happy birthday, Leonardo DiCaprio!