May 31, 2020 at 12:00 AM PDT
Happy Birthday, Clint Eastwood!
Celebrating 90 Incredible Years
Sunday, May 31, 2020, marks the 90th birthday of one of the world's greatest and most prolific filmmakers and stars, Clint Eastwood. In a career that has spanned 65 years, including 38 movies as a director, Eastwood has earned a place in motion pictures like few others. While he is often seen as an action and Western icon, it's the incredible variety of films and performances he has given audiences throughout the years that define him as one of the industry's most versatile talents.
Here is a pictorial look highlighting just some of Eastwood's seminal cinematic moments:
One of Eastwood's first credited roles was opposite Carol Channing in the comedy "The First Traveling Saleslady" (1956).
Co-starring with Richard Burton in the thrilling World War II daring rescue mission tale "Where Eagles Dare" (1968).
In "Dirty Harry" (1971), Eastwood's Inspector Harry Callahan became one of the most iconic movie characters of the 1970s and 1980s, leading to four additional films where he reprised the role. This film also marked the first collaboration of Eastwood's Malpaso Productions and Warner Bros. Pictures, a relationship that has lasted for nearly 50 years and resulted in more than 40 features.
Few expected that Eastwood's turn to comedy in 1978's "Every Which Way but Loose" would measure up to his action roles, but he proved them wrong. The movie turned out to be one of the biggest hits of his career, spawning a successful sequel two years later.
In "Honkytonk Man," Eastwood co-starred with his son Kyle Eastwood, playing an ailing Country-Western singer eager for a chance to perform at the Grand Ole Opry.
Eastwood gave one of his darkest and most complex performances as a New Orleans police detective who must wrestle with inner demons as he hunts down a serial killer in "Tightrope" (1984).
A lifelong jazz fan, Eastwood is seen here directing Forest Whitaker as jazz legend Charlie Parker in "Bird" (1988). Whitaker won Best Actor at the Cannes Film Festival for his portrayal, and Eastwood himself was awarded the Golden Globe Award for Best Director.
"White Hunter, Black Heart" (1990) is a semi-fictionalized account of the making of the 1951 classic, "The African Queen." In it, Eastwood plays a director (based on John Huston) who is obsessed with hunting an elephant while shooting his movie on location in Africa.
The classic western "Unforgiven" (1992) is one of the masterpieces of Eastwood's career, winning four Academy Awards, including Best Picture and Best Director for Eastwood.
Surprising many, Eastwood directed and co-starred with Meryl Streep in the poignant movie version of the best-selling romantic novel, "The Bridges of Madison County" (1995).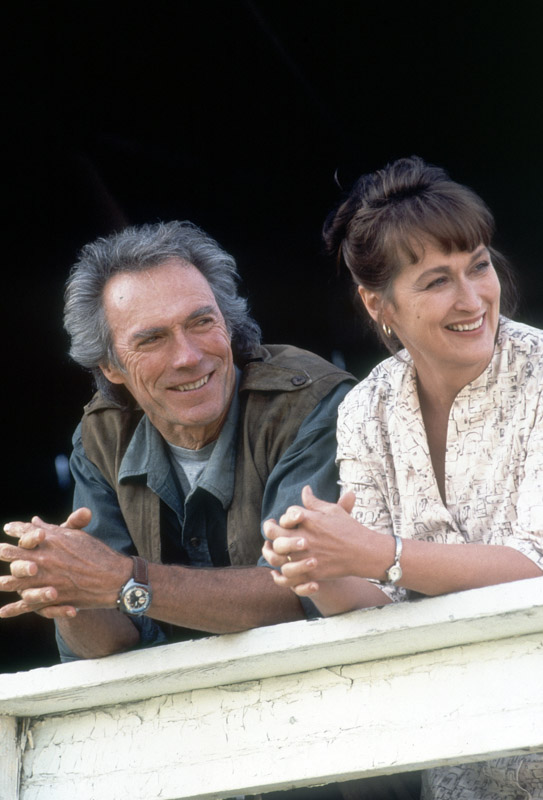 2003's drama "Mystic River" was another critical and commercial hit for Eastwood as a director, who is seen here with actors Tim Robbins and Sean Penn, both of whom won Oscars for their performances.
The moving and unforgettable "Million Dollar Baby" (2004) was Eastwood's second movie to take home both the Best Picture and Best Director Oscars. Equally impressive is that, for the second year in a row, he directed two actors, Hilary Swank and Morgan Freeman, to Academy Awards!
In 2007, Eastwood made two landmark films about the momentous Battle of Iwo Jima. The first, "Flags of Our Fathers," dealt with the American soldiers during the battle and its aftermath. The second, "Letters from Iwo Jima," showed the Japanese soldiers' perspectives up to and during the battle itself.
Although Eastwood had starred in "Paint Your Wagon" in 1969, he had never directed a musical – that changed in 2014 when he helmed "Jersey Boys," an adaptation of the smash Broadway musical about Frankie Valli and The Four Seasons.
Later in 2014, Eastwood moved from a musical to the Iraq War with "American Sniper." Featuring a brilliant performance by Bradley Cooper, the movie became the biggest box office success of Eastwood's career.
Eastwood's most recent role as an actor came in "The Mule" (2018), which he also directed, proving that, on both sides of the camera, Eastwood continues to entertain and inspire us.
Eastwood's last film to date was the critically acclaimed and timely "Richard Jewell" (2019), which earned co-star Kathy Bates an Oscar nomination for Best Supporting Actress.
Happy Birthday, Clint Eastwood!
For the titles mentioned above, as well as other Eastwood titles, please check out the Clint Eastwood collection.