August 19, 2020 at 9:12 AM PDT
TCM Presents "Women Make Film," a 14-Part Documentary
U.S. Premiere on Sept. 1: Includes 100 Films by Female Filmmakers on TCM
Updated December 1, 2020
Mark your calendars as
Turner Classic Movies (TCM)
presents the U.S. premiere of the 14-part documentary "
Women Make Film
" on Sept. 1 at 5 p.m. PT / 8 p.m. ET.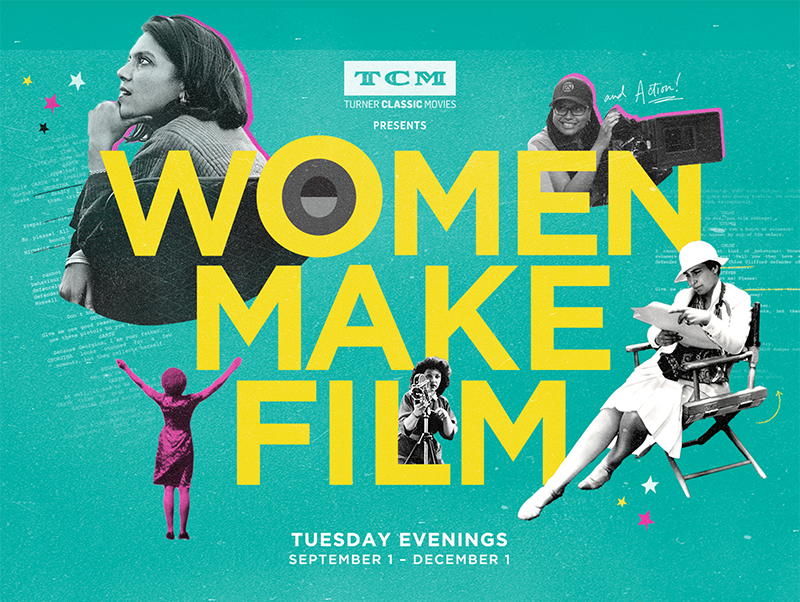 "
Women Make Film
" is narrated by 
Tilda Swinton
, 
Jane Fonda
, 
Adjoa Andoh
, 
Sharmila Tagore
, 
Kerry Fox
, 
Thandie Newton
 and 
Debra Winger
. The documentary delves into how films are made, shot and edited; how stories are shaped and how movies depict life, love, politics, humor and death, all through the compelling lens of some of the world's greatest directors – all of them women.
The groundbreaking documentary, written and directed by 
Mark Cousins
, will be supplemented on air with 100 classic and contemporary titles from 100 female filmmakers from 44 countries in 6 continents over 14 weeks, including films by:
India's Mira Nair, "Salaam Bombay!" (1988)
U.S.A.'s Barbara Kopple, "Harlan County U.S.A." (1976)
Kenya's Wanuri Kahiu, "Rafiki" (2018)
Germany's Leontine Sagan, "Maedchen in Uniform" (1931)
Spain's Ana Mariscal, "El Camino" (1963)
Israel's Talya Lavie, "Zero Motivation" (2014)
Venezuela's Margot Benacerraf, "Araya" (1959)
China's Shaohong Lee, "Stolen Life" (2005)
Pakistan's Sabiha Sumar, "Silent Waters" (2003)
Brazil's Julia Murat, "Found Memories" (2011)
Burkina Faso's Fanto Regina Nacro, "The Night of Truth" (2004)
Visit the 
Women Make Film site
 for the 
full schedule
 and 
filmmaker bios
.
TCM WOMEN MAKE FILM DAY
The City of Los Angeles declared Tuesday, December 1st as "TCM Women Make Film Day." Watch the official proclamation presentation with Los Angeles City Councilmember
Mitch O'Farrell
and
TCM
General Manager
Pola Changnon
, followed by a conversation with "
Women Make Film
" director
Mark Cousins
, Kenyan director
Wanuri Kahiu
, director
Kirsten Johnson
and hosted by
TCM
host
Alicia Malone
.
CONTEST
TCM
is partnering with
re:Imagine/ATL
to host a contest for burgeoning female filmmakers. Entrants from the nonprofit's
No Comment
program will have the chance to have their narrative or documentary featured on the 
TCM YouTube page
, along with a filmmaking equipment package and cash prize. 
Full winning package and contest details on the
Women Make Film site
.  
--
About Turner Classic Movies (TCM)
Turner Classic Movies (TCM)
is a two-time Peabody Award-winning network that presents great films, uncut and commercial-free, from the largest film libraries in the world highlighting the entire spectrum of film history. TCM features the insights from Primetime host Ben Mankiewicz along with hosts Alicia Malone, Dave Karger, Jacqueline Stewart and Eddie Muller, plus interviews with a wide range of special guests and serves as the ultimate movie lover destination. Currently in its 26th year as a leading authority in classic film, TCM offers critically acclaimed series like The Essentials, along with annual programming events like 31 Days of Oscar® in February and Summer Under the Stars in August. TCM also directly connects with movie fans through events as the annual TCM Classic Film Festival in Hollywood, the TCM Big Screen Classics series in partnership with Fathom Events, as well as through the TCM Classic Film Tour in New York City and Los Angeles. In addition, TCM produces a wide range of media about classic film, including books and DVDs, and hosts a wealth of material online at tcm.com and through the Watch TCM mobile app.