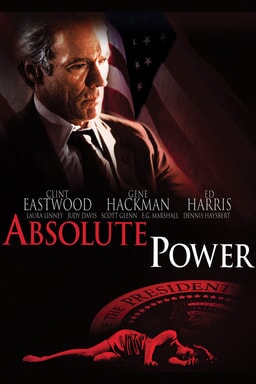 About
Academy Award winner Clint Eastwood directs and stars as a notorious master thief who stumbles upon a bizarre murder involving the President of the United States in the white-knuckle thriller Absolute Power. He was where he shouldn't have been and saw what he shouldn't have seen. Now, who will believe the word of a career thief and ex-con?
Despite meticulously planning his final heist at a Virginia estate, expert at disguise and career criminal Luther Whitney (Eastwood) gets the surprise of his life when he discovers President Alan Richmond (Gene Hackman) engaged in an extra-marital affair that leaves a woman shot dead. The President's Chief of Staff (Judy Davis) initiates a cover-up implicating Luther as the killer. But enterprising homicide detective Seth Frank (Ed Harris) knows there's more to this mystery. Now, should Luther run ... or stay to fight a conspiracy led by the White House?
Clint Eastwood portrays Whitney and directs this crisp, finely acted thriller based on David Baldacci's best-selling novel.
A stellar cast which includes Gene Hackman, Laura Linney, Judy Davis and Ed Harris creates well-rounded characters that intensify a constantly spiraling game of cat and mouse between Whitney, local police and the highest levels of White House power. Eastwood is a master at steadily raising the stakes in thrillers. Here his mastery is absolute.
TM & © 2019 Warner Bros. Entertainment Inc. All rights reserved.