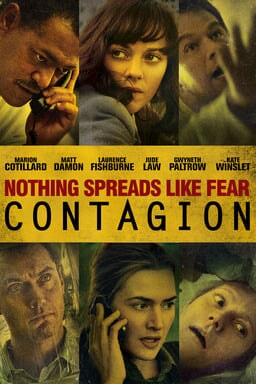 About
When Beth Emhoff (Gwyneth Paltrow) returns to Minneapolis from business in Hong Kong, what she thought was jet lag takes a virulent turn. Two days later, she's dead in the ER and the doctors tell her shocked and grieving husband (Matt Damon) they have no idea why.
Soon more cases are reported as the virus begins to spread. Doctors at the United States Center for Disease Control and the World Health Organization mobilize to break the code of this unique biological pathogen as it continues to mutate.
Deputy Director Cheever (Laurence Fishburne) tries to allay the growing panic despite his own personal concerns, and must send a brave young doctor (Kate Winslet) into harm's way.
As the death toll escalates and people struggle to protect themselves and their loved ones in a society breaking down, one activist blogger (Jude Law) claims the public isn't getting the truth about what's really going on, and sets off an epidemic of paranoia and fear as infectious as the virus itself.
Starring Academy Award® winners Matt Damon, Kate Winslet, Gwyneth Paltrow and Marion Cotillard, and Academy Award® and Golden Globe® nominees Jude Law, Laurence Fishburne and John Hawkes. 
Directed and produced by Academy Award-winner Steven Soderbergh.
TM & © 2019 Warner Bros. Entertainment Inc. All rights reserved.