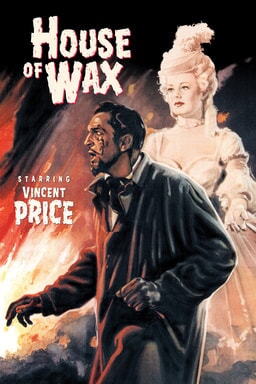 About
In the wicked performance that crowned him the movie's master of the macabre, Vincent Price plays a renowned wax sculptor plunged into madness when an arsonist destroys his life's work. 
In his first full-fledged "horror" role, Price plays Prof. Henry Jarrod, the owner of a wax museum, whose partner, Matthew Burke (Roy Roberts), intends to burn the place down for the insurance money. When Jarrod tries to prevent Burke from torching the museum, he himself is trapped in the conflagration.
Years pass: though now confined to a wheelchair, Jarrod manages to open up a new wax museum in New York, boasting the most incredibly lifelike wax statues ever seen.
At the same time, a masked prowler has been stalking the city, murdering people and then stealing their bodies from the mortuary. One of the victims is Jarrod's old nemesis Burke; another is Cathy Gray (Carolyn Jones), the roommate of art student Sue Allen (Phyllis Kirk).
On a visit to the wax museum, Sue can't help but notice that the wax likeness of Joan of Arc is a dead ringer for her deceased friend Cathy—while the courtly Jarrod declares joyously that Sue is the living image of Marie Antoinette. Guess where this is going to wind up?
Frank Lovejoy and Paul Picerni co-star as the nominal heroes, while Charles Bronson—still billed as Charles Buchinsky—is a menacing presence as Jarrod's deaf-mute chief sculptor (appropriately named "Igor"). 
TM & © 2019 Warner Bros. Entertainment Inc. All rights reserved.