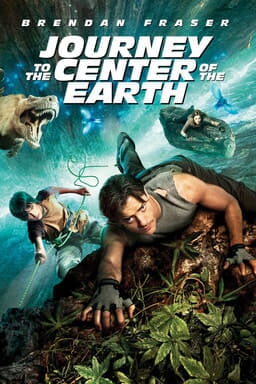 About
An exciting adventure based on the classic Jules Verne novel, Journey to the Center of the Earth stars Brendan Fraser (Crash, The Mummy) as a science professor whose untraditional hypotheses have made him the laughing stock of the academic community. But while in Iceland, he and his nephew stumble upon a major discovery.
During a scientific expedition, visionary scientist Trevor Anderson (Fraser), his nephew Sean (Josh Hutcherson) and their beautiful local guide, Hannah (Anita Briem), are unexpectedly trapped in a cave from which their only escape is to go deeper and deeper into the depths of the Earth.
Traveling through never-before-seen worlds, the trio comes face-to-face with surreal and unimaginable creatures—including man-eating plants, giant flying piranha, glow birds and terrifying dinosaurs from days past.
The explorers soon realize that as volcanic activity increases around them, they must find a way back to the earth's surface before it is too late.
With spectacular photo-real environments and revolutionary new filmmaking techniques, Journey to the Center of the Earth is an epic adventure that takes audiences directly into the heart of our heroes' voyage, bringing them along for a wild, visceral ride. Directed by Academy Award-winning visual effects veteran Eric Brevig (Total Recall, Pearl Harbor) from a screenplay by Michael Weiss and Jennifer Flackett & Mark Levin.
TM & © 2019 Warner Bros. Entertainment Inc. All rights reserved.