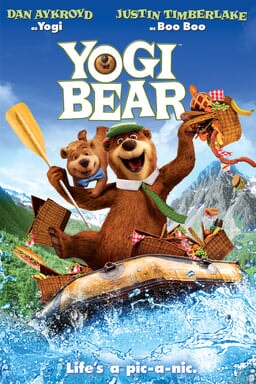 About
Everyone's favorite pic-a-nic basket-stealing bear comes to the big screen in Yogi Bear. 
This new adaptation of Hanna-Barbera's classic cartoon stars Academy Award nominee Dan Aykroyd (Driving Miss Daisy) as the voice of Jellystone Park's most famous troublemaker, Yogi Bear. Two-time Emmy Award winner (Saturday Night Live) and six-time Grammy Award winner Justin Timberlake stars as the voice of Boo Boo, Yogi's faithful pal and co-conspirator in his tireless schemes to separate Jellystone Park patrons from their lunches.
Jellystone Park has been losing business, so Mayor Brown has decided to shut it down and sell the land. That means families will no longer be able to experience the natural beauty of the outdoors—and, even worse, Yogi and his pal Boo Boo will be tossed out of the only home they've ever known.
Faced with his biggest challenge ever, Yogi must prove that he really is "smarter than the average bear" as he and Boo Boo join forces with Ranger Smith to find a way to save the park from closing forever.
TM & © 2019 Warner Bros. Entertainment Inc. All rights reserved.